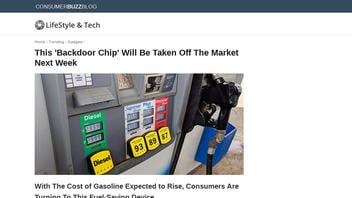 Did a Japan-based startup company come up with a new, innovative and inexpensive fuel-saving device that not only helps lower a vehicle's fuel consumption but also reduces the carbon footprint? No, that's not true: The three men pictured -- purportedly at a Tokyo tech expo -- are not founders of an automotive tech company called Effuel. The men were spearheading a 2016 conference to promote Japanese startups in New York City, and no ties between them and the elusive company behind "Effuel" can be found.
The claim appears in an advertorial (archived here) published by consumerbuzzblog.com sometime in April 2021 under the title "This 'Backdoor Chip' Will Be Taken Off The Market Next Week." It opened:
With The Cost of Gasoline Expected to Rise, Consumers Are Turning To This Fuel-Saving Device

If you've noticed your gas prices rising recently, know that they may continue to increase.

It's a stark difference from the beginning of last year, when prices were on a steep downward trajectory.

So what is causing the fuel price to skyrocket? Experts say that the Keystone XL pipeline's shutdown is the driving force behind the price increase. The pipeline was expected to bring oil 1,200 miles from Alberta to Nebraska.
This is how the article appeared on April 28, 2021: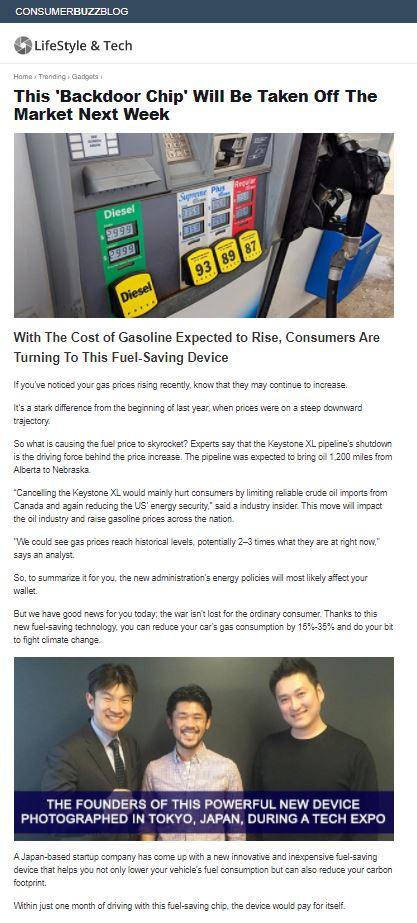 (Source: consumerbuzzblog.com Screenshot Wed Apr 28 16:18:01 2021 UTC)
The article pictures three men who are purportedly "the founders of this powerful new device" who were photographed in Tokyo. A reverse image search for this photo reveals that it dates back to a March 7, 2016, conference to promote Japanese startups that took place in New York City, and that these men are not partners in an automotive technology company called Effuel.

Online searches for more information about the Effuel company find the results saturated with advertising and self-published advertorials, many of them designed with negative phrases like "Is it a scam?" intended to drown out real reviewers who might be trying to raise the alarm. Many legitimate websites are carrying advertorials for this product. APnews.com shows up in the Google search results with a "PRESS RELEASE: Paid content from KISSPR 'Effuel Reviews (2021) Effuel ECO OBD2 Fuel Saver Device Works or Consumer Complaints? FitLivings Review.'"
Further complicating matters, the identical device is sold in the same packaging by many different companies and for a wide variety of prices. While searching CNET.com, two sponsored ads were delivered both pointing to Wish.com -- the same product, one priced at $2.89 and the other at $58.00. The archive copy of that search shows the same dynamic with Amazon.com ads. We found this little gadget being sold with such brand names as: Liplasting, Trilighting, BanHotFire, Fulshi, Fesjoy, Lifegadget and Isabelvictoria.

(Source: CNET.com screenshot: Wed Apr 28 14:24:03 2021 UTC)
Many review videos on YouTube pull apart the claims that this gadget does anything other than put on a little LED light show that makes the driver think it is doing something. Lead Stories has not independently verified the results shown in these videos:
As for the advertorial's claim that "the Keystone XL pipeline's shutdown is the driving force behind the price increase," Lead Stories debunked that, explaining the reasons for fuel price increases.
A search of the Better Business Bureau website shows a recent ticket opened on April 19, 2021. The Ohio address listed by the Better Business Bureau is that of a registered agent, and the Effuel company is not physically at that location. These customer complaints were not due to the little plastic gadget failing to do what was claimed. The alert reads:
Alert:
BBB began receiving scam tracker submissions on April 19, 2021. Consumers state the company is
selling a product that will increase your fuel economy by 35%. Consumers that have filed scam tracker
reports indicate they purchased and paid for the device. When the item was shipped, they state they
were given fake USPS tracking numbers and never received the ordered items. The BBB is still
conducting our investigation and will update the file once our investigation is complete.