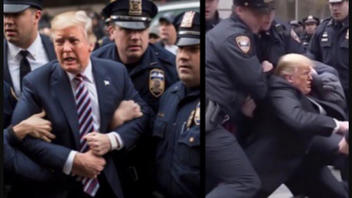 Do these photos show former President Donald Trump being arrested by a group of New York City law enforcement officers? No, that's not true: At the time these images appeared online, on March 20, 2023, and March 21, 2023, Trump had not been indicted or arrested. These images were generated with an artificial intelligence program that produces images from text prompts.
On March 20, 2023, fabricated images of an imagined scene showing a Trump arrest were posted on Twitter (archived here) by Elliot Higgins, the founder of the investigative journalism website Bellingcat. Answering a commenter, he identified Midjourney V5 as the AI program he used to produce the images.
Higgins captioned the March 20, 2023, tweet:
Making pictures of Trump getting arrested while waiting for Trump's arrest.
Buttcrack Sports posted pictures on Twitter (archived here) on March 21, 2023. The tweet was captioned:
BREAKING: Donald Trump was just arrested by New York law enforcement.
That same day, a screenshot of the Buttcrack Sports tweet was posted on Instagram. The caption on the @nateclipsl post read:
Donald trump getting arrested today, what a time to be alive
This is how the image appeared on Instagram at the time of writing. Additional images from Higgins' series post were included in a slideshow: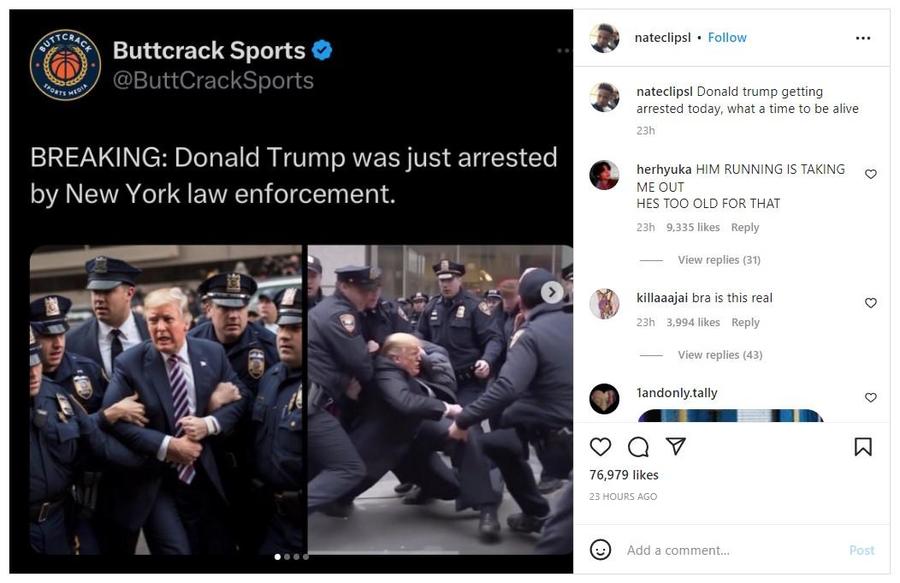 (Image source: Instagram screenshot taken on Wed Mar 22 15:41:09 2023 UTC)
Higgins posted images on Twitter of "an entirely fictional perp walk" featuring the likeness of Trump on March 16, 2023. He has been experimenting with the capabilities of the AI tool in recent weeks.
The image pictured on the right (above) is one of many posted by Higgins. Lead Stories has not attributed the image on the left to Higgins although it did appear at roughly the same time, and many reposts have coupled the two images.
Higgins posted many AI-generated images that followed a fictional storyboard of Trump's arrest. While the images with the police officers may at first seem believable, the series continued in a preposterous direction. Trump's likeness is shown in an orange prison jumpsuit (at times with an orange tie) working out in the prison gym and eventually escaping through a tunnel to a McDonald's. On March 22, 2023, Higgins reported in a tweet that he had been banned from using the AI tool:
Apparently doing a viral thread about Donald Trump using Midjourney images is enough to get you banned from Midjourney, oops.
Trump has not been indicted or arrested as of noon on March 22, 2023. NBC News reported the grand jury would not be meeting on March 22, 2023:
BREAKING: The grand jury in New York weighing whether to indict Donald Trump will not meet today and has been told to be on standby tomorrow, two sources tell NBC News. https://t.co/jqJGVTwZA7 pic.twitter.com/HjjU6nB5CO

-- MSNBC (@MSNBC) March 22, 2023