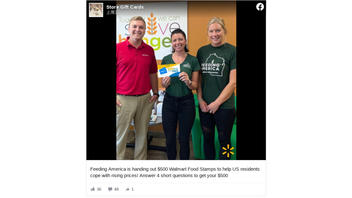 Is Feeding America running promotions on Facebook to give away $500 Walmart gift cards or food stamp vouchers to people who will answer four short questions? No, that's not true: Feeding America is a real charity but these promotions are not real. Spoofed pages are using the Feeding America name and logo. Real photos have been altered to bolster the fake promotions. The promises of gift cards made in the Facebook posts are not realized at the website destination. Users should not click the links or give out personal information.
Many spoof pages are running similar promotions. One example is a post on the Facebook page Store Gift Cards on March 10, 2023. It opened with this caption:
Feeding America is handing out $500 Walmart Food Stamps to help US residents cope with rising prices! Answer 4 short questions to get your $500
This is what the post looked like on Facebook at the time of writing:
(Source: Facebook screenshot taken on Wed Mar 15 16:54:34 2023 UTC)
The link included with the post directs to a website, bostore.info. According to whois information, this website was registered on March 10, 2023 -- the same day the post was made. This website employs a technology called cloaking that hides the malicious website from technologies designed to detect spam.
When a user clicks the bostore.info link on the Facebook post, the misleading fake website with a Feeding America logo and Walmart gift card promotion loads (below left), but if a search engine or an archiving service tries to access the site, a cookbook blog -- a copy of a real cookbook website, is loaded instead (below right). Another misleading post links to arstore.info which is cloaking (archived here) with a hijacked copy of a nutrition blog.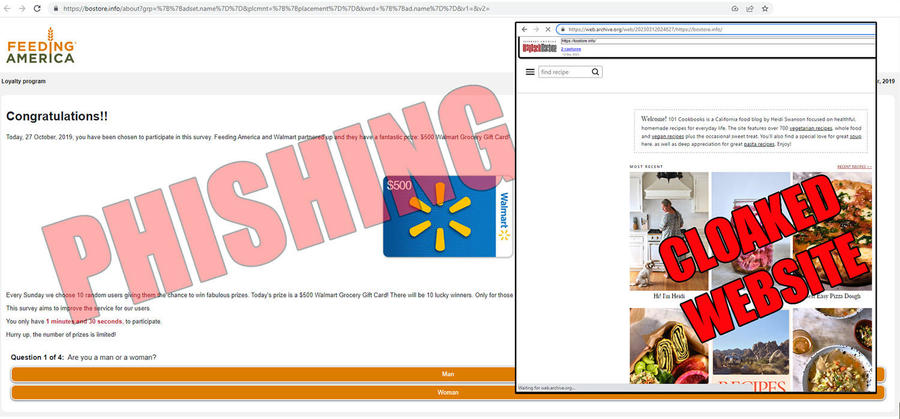 (Image source: Lead Stories composite image from bostore.info and web.archive.org screenshots taken on Wed Mar 15 18:39:37 2023 UTC)
The text on the bostore.info webpage reads:
Congratulations!!
Today, 27 October, 2019, you have been chosen to participate in this survey. Feeding America and Walmart partnered up and they have a fantastic prize: $500 Walmart Grocery Gift Card!
Every Sunday we choose 10 random users giving them the chance to win fabulous prizes. Today's prize is a $500 Walmart Grocery Gift Card! There will be 10 lucky winners. Only for those living in the United States!
This survey aims to improve the service for our users.
You only have 1 minutes and 30 seconds, to participate.
Hurry up, the number of prizes is limited!
The Facebook post falsely promised that answering the questions was the only requirement to receive the $500 gift card -- but the website says that after taking the survey only 10 people will win and it employs the "scarcity principle" -- creating a false sense of urgency. The image below shows an invitation to "Try your luck!"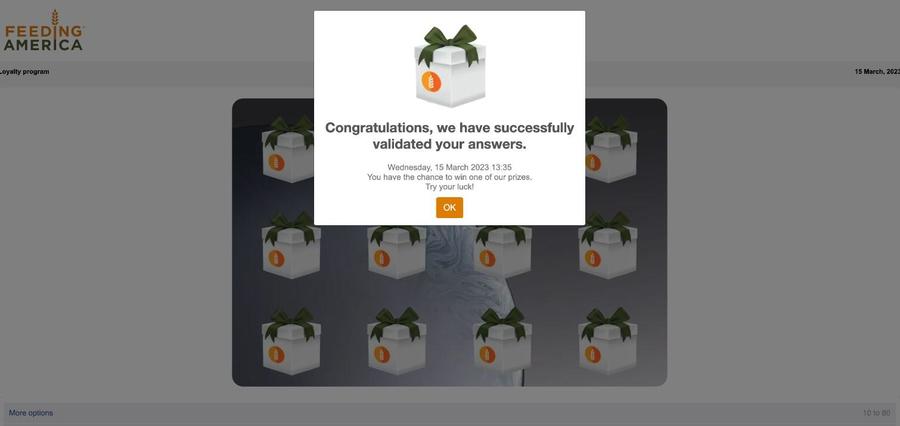 (Image source: bostore.info screenshot taken on Wed Mar 15 17:35:37 2023 UTC)
Many of the images used to make the misleading Facebook posts were lifted from real Feeding America posts. They have been deceptively edited to feature what looks to be evidence of a real Walmart card promotion. Below are examples of real posts made by the real Feeding America Eastern Wisconsin page (here and here) and the edited versions posted by misleading pages, WMart Promo Cards and Store Gift Cards.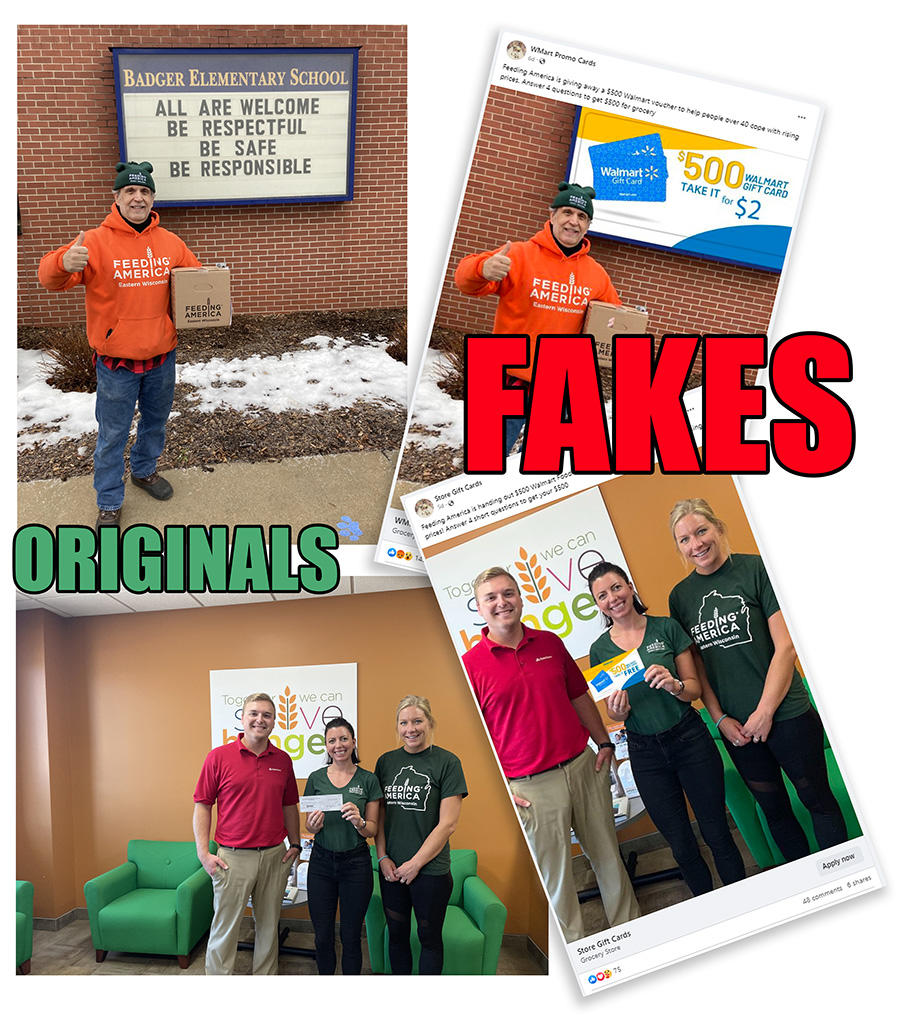 (Image source: Lead Stories composite image from Facebook screenshots taken on Wed Mar 15 18:39:37 2023 UTC)
The page "Store Gift Cards" appears to be hiding negative comments on this deceptive post. At the time of writing the post indicated there were 49 comments but only nine comments show. Each of these had a positive message posted by a profile that had no posts, no cover photo and one profile photo uploaded in the week between June 30 - July 3, 2022. These comments had many likes and loves, and this engagement came from other fake profiles produced in that same timeframe. The Lead Stories composite image below (opens larger in a new window) shows the nine visible comments and the nine empty profiles that made them.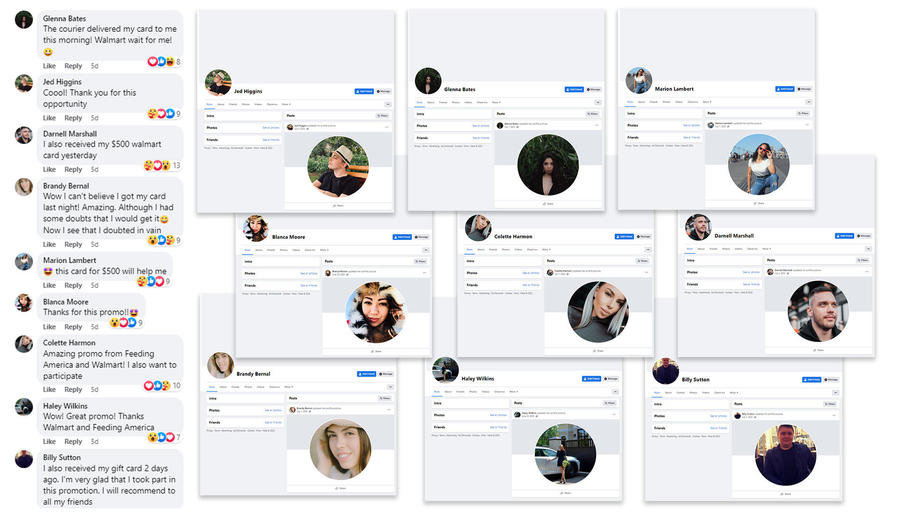 (Image source: Lead Stories composite image from Facebook screenshots taken on Wed Mar 15 18:39:37 2023 UTC)
Feeding America has partnered with Walmart and Sam's Club for many years with a campaign called "Fight Hunger. Spark Change." This is not a voucher or gift card giveaway. The Walmart page on the 2022 program lists the participating companies and what they have pledged to donate to Feeding America. A press release published by Feeding America on April 5, 2021, lists three ways the public can participate:
Donate at check-out in stores and clubs, or at either www.FeedingAmerica.org/Walmart or www.FeedingAmerica.org/SamsClub.
Round-up at check-out on Walmart.com and the Walmart app.
For every participating product purchased in store or online at Walmart.com or SamsClub.com, the supplier will donate the monetary equivalent of at least one meal ($0.10) on behalf of a Feeding America member food bank at Walmart and five meals ($0.50) at Sam's Club, up to applicable limits. See specially marked packages for full details.
Food Banks Canada reports the "Fight Hunger, Spark Change." campaign to benefit local food banks ran in Canada from February 16, 2023, through March 15, 2023. It was not immediately apparent if this campaign was run in the United States at the same time. Lead Stories reached out to Feeding America and Walmart for comment and will update this article if appropriate.
(Editors' Note: Facebook is a client of Lead Stories, which is a third-party fact checker for the social media platform. On our About page, you will find the following information:
Since February 2019 we are actively part of Facebook's partnership with third-party fact checkers. Under the terms of this partnership we get access to listings of content that has been flagged as potentially false by Facebook's systems or its users and we can decide independently if we want to fact check it or not. In addition to this we can enter our fact checks into a tool provided by Facebook and Facebook then uses our data to help slow down the spread of false information on its platform. Facebook pays us to perform this service for them but they have no say or influence over what we fact check or what our conclusions are, nor do they want to.)