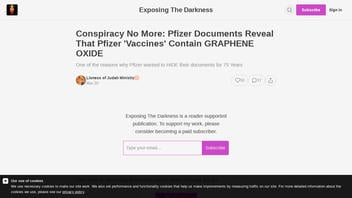 Do Pfizer documents show that the company's COVID-19 vaccines contain graphene oxide? No, that's not true: The section of the document in question describes a procedure for analyzing a protein sample from the virus under a sophisticated microscope that includes the use of graphene oxide to help with imaging. Graphene oxide is not among the ingredients for the COVID shots.
The claim appeared in an article (archived here) published in the Exposing the Darkness blog on Substack on March 20, 2023, titled "Conspiracy No More: Pfizer Documents Reveal That Pfizer 'Vaccines' Contain GRAPHENE OXIDE." The blog's subheading reads:
One of the reasons why Pfizer wanted to HIDE their documents for 75 Years
This is what the blog looked like at the time of writing:

(Source: Exposing the Darkness screenshot taken on Thu Mar 23 16:02:50 2023 UTC)
Pfizer document
The blog cites a Pfizer document, "Structural and Biophysical Characterization of SARS-CoV-2 Spike Glycoprotein (P2 S) as a Vaccine Antigen," as evidence the company's COVID vaccine contains graphene oxide. The paragraph that mentions the compound is on page 7; the term is circled in blue below: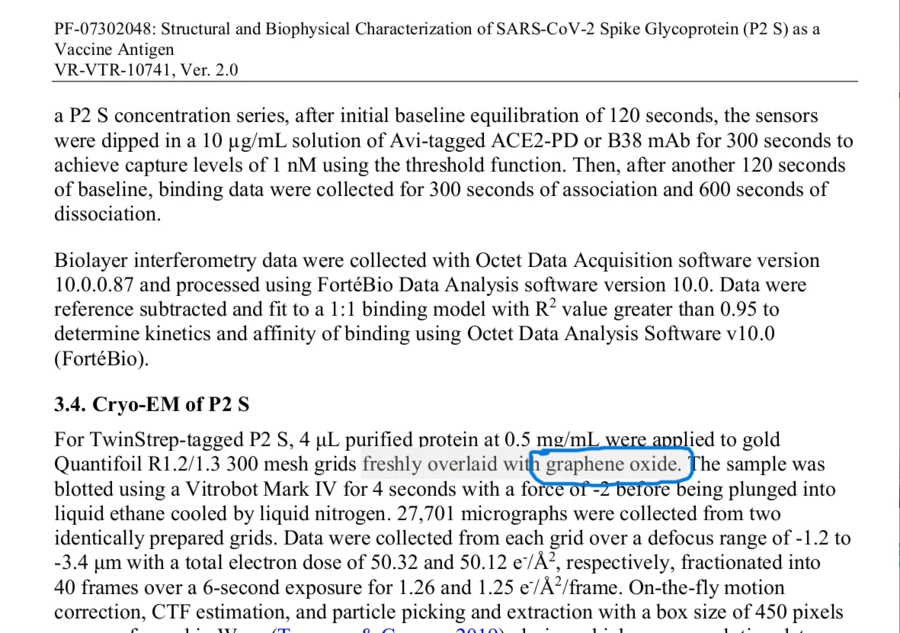 (Source: Pfizer document screenshot taken on Thu Mar 23 18:12:00 2023 UTC)
Dr. David Brett-Major, internal medicine and infectious diseases physician at the University of Nebraska Medical Center, said in a March 23, 2023, email to Lead Stories that the document does not show Pfizer's mRNA COVID vaccines contain graphene oxide. He continued:
This section of the document is part of their description of their due diligence, testing to see that the protein that was supposed to result from their designed mRNA actually results, that they get what they expect to get. The graphene oxide is being used as part of the imaging process, verifying what protein they were producing. This section has nothing to do with the actual ingredients or production process of the vaccine.
In a section called "Understanding How COVID-19 Vaccines Work," the Centers for Disease Control and Prevention website says "mRNA vaccines use mRNA created in a laboratory to teach our cells how to make a protein--or even just a piece of a protein--that triggers an immune response inside our bodies."
Brett-Major said the highlighted section is simply confirming what was produced in the laboratory.
Pfizer response
Pfizer media relations provided this response to the blog's claim in another March 23, 2023, email to Lead Stories:
Graphene oxide is not used in the manufacture of the Pfizer-BioNTech COVID-19 vaccine.
The full list of ingredients for Pfizer COVID vaccines is included in the fact sheets for them on the Food and Drug Administration website. None of them contain graphene oxide.
What is graphene oxide?
Graphite is a three-dimensional carbon crystal. Graphene is a single layer of this honeycomb-shaped carbon lattice that is only one molecule thick. It is considered a two-dimensional material. Graphene oxide, an oxidized form, can be dispersed in water and other solvents. Graphene was only discovered in 2004. There are many potential uses for the new material being studied. Britannica.com has a video that introduces some of the potential applications scientists are looking into, such as flexible solar panels and touchscreen displays.
Other Lead Stories fact checks involving graphene oxide can be found here.