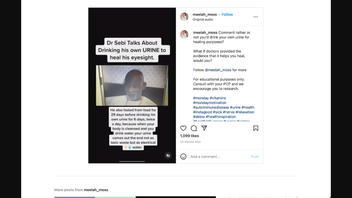 Does drinking urine improve eyesight? No, that's not true: A medical doctor told Lead Stories there are no clinical studies concluding that drinking urine would improve one's eyesight. In addition, drinking urine can give the body bacteria like E. coli, salmonella or staphylococcus, a University of Pittsburgh Medical Center article says.
The claim appeared in a video on Instagram on March 13, 2023. The video has the on-screen caption, "Dr Sebi Talks About Drinking his own URINE to heal his eyesight." It opened with "Dr. Sebi" saying:
I don't have a problem with my eyes, but I taught, I could read, I could see ... clear. But then one day I decided to do urine therapy.
This is what the Instagram post looked like at the time of writing: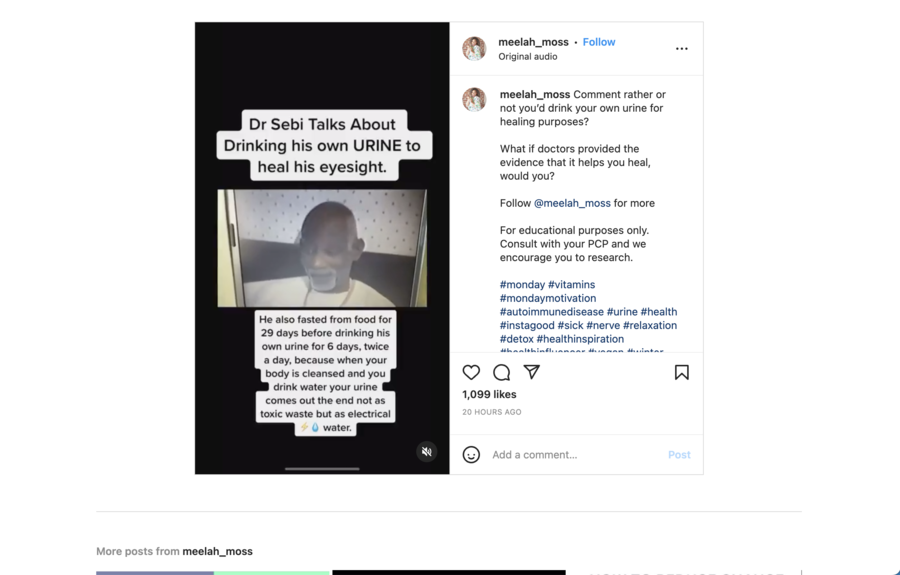 (Source: Instagram screenshot taken on Tue Mar 14 14:57:28 UTC 2023)
He said he fasted for a month, and when his urine was "as clear as water" he decided to drink it. Days after this, his vision went dark. Five days later, he began to see again. He explains that he went blind because his body was breaking down "inflammation," and as it crossed the eyes, he lost his vision.
The on-screen caption underneath the video reads, "He also fasted from food for 29 days before drinking his own urine for 6 days, twice a day, because when your body is cleansed and you drink water your urine comes out the end not as toxic waste but as electrical ⚡️💧 water."
Lead Stories contacted Dr. Kirk Campbell, a doctor who is board certified in nephrology and a professor of medicine in the Mount Sinai Health System, about the claim. In a March 22, 2023, email, Campbell responded:
Urine contains mostly water, but also waste products from our dietary intake and body metabolism including urea, uric acid, salts, proteins and hormones. There are no validated clinical studies demonstrating that drinking urine improves eyesight.
Finally, urine also can contain numerous bacteria, according to a study in the Pan African Medical Journal. The study found several different bacteria types in human urine, including antibiotic-resistant bacteria. The bacteria included:

Escherichia coli (E. coli)
Staphylococcus
Salmonella
Shigella
Bacillus
Citrobacter
Klebsiella
Proteus
Pseudomonas
More Lead Stories fact checks on "Dr. Sebi" -- a self-proclaimed healer and non-doctor whose health claims have been repeatedly debunked -- can be found here.