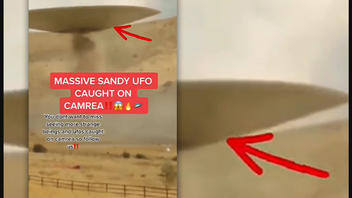 Was a massive "sandy UFO" caught on camera? No, that's not true: This footage is not real; it's special effects graphics in the 2022 sci-fi horror movie "Nope," directed by Jordan Peele.
A short video clip was published on Instagram by @yeshuachoseyou on March 7, 2023. It was captioned:
yeshuachoseyou
HUGE SANDY UFO CAUGHT ON CAMREA ‼️😱🛸🔥 #sand #ufo #ufos #rapture #conspiracytheory #conspiracytheories #conspiracies #endtimes #government #christiansofinstagram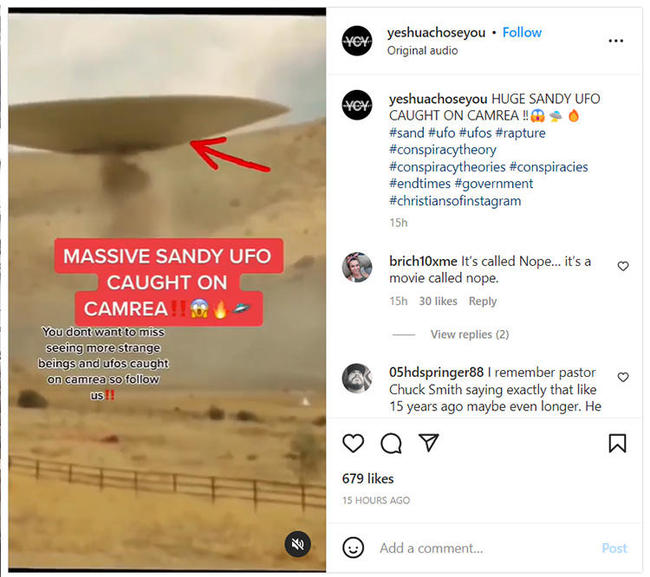 (Image source: Instagram screenshot taken on Wed Mar 08 17:17:36 2023 UTC)
Text captions on the video contain self-promotion for their account and a religious message, which is not the focus of this fact check. The captions read:
MASSIVE SANDY UFO CAUGHT ON CAMREA!!
You don't want to miss seeing more strange beings and ufos caught on camrea so follow us!!
Tell us if you think this is real or not. Since we are in the last days im taking all the alien stuff going around as the governments getting the world ready for what they will possibly use to cover up the coming rapture and the second coming of Jesus Christ. repent your sins. Jesus is coming back soon.
The first time Jesus came, He died on a cross for all mankind and God raised him from the dead 3 days later so that anyone who repents of their sins and accepts Jesus as their Lord and Savior can be forgiven of their sins and be saved from hell.
The Universal Pictures caption on IMDb describes the storyline of the movie "Nope" this way:
After random objects falling from the sky result in the death of their father, ranch-owning siblings OJ and Emerald Haywood attempt to capture video evidence of an unidentified flying object with the help of tech salesman Angel Torres and documentarian Antlers Holst.
The scene that appears in the Instagram clip appears in the full-length movie at the 1:51:20 mark as the movie is presented on peacocktv.com. This service requires a subscription. Lead Stories identified a video compilation of all UFO scenes in the movie "Nope" on the YouTube channel filmTime, titled, "Jean Jacket from 'Nope' Appeared Approximately 4 minutes." The UFO in the movie is referred to by the name "Jean Jacket." At the 2:14-minute mark (pictured below) a whirlwind of sand can be seen under the craft as objects appear to be falling from the orifice on the underside.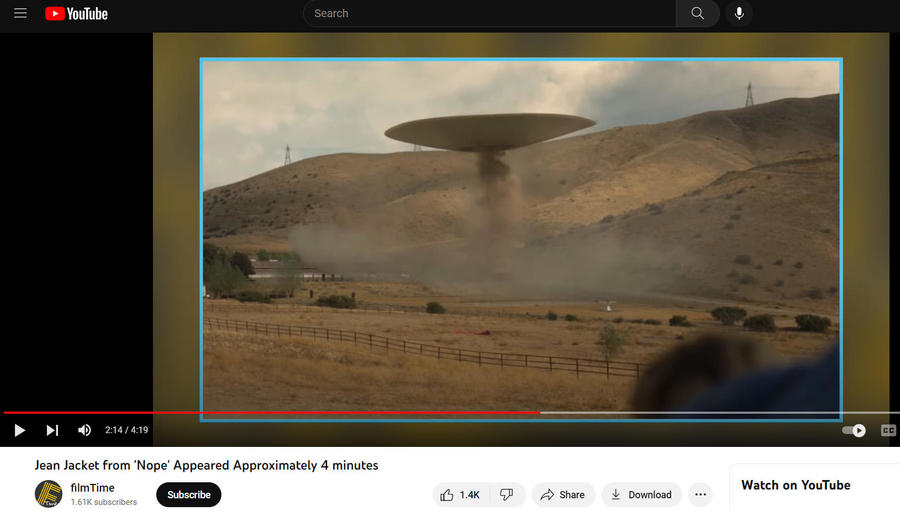 (Image source: YouTube screenshot taken on Wed Mar 08 17:17:36 2023 UTC)