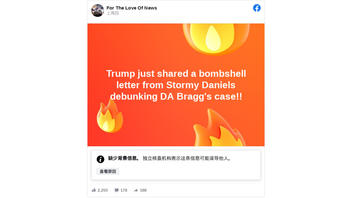 Does a "bombshell letter from Stormy Daniels debunk" Manhattan District Attorney Alvin Bragg's pursuit of potential criminal charges against former President Donald Trump? No, that's not true: The statement circulating on social media in March 2023 was first publicly released on January 30, 2018, and was widely reported at that time. Since then, Daniels has said the document is false, the signature on it is not hers and that she did have a sexual affair with Trump. Bragg was pursuing a case related to Trump's payment to her as part of a nondisclosure agreement as of March 29, 2023.
The claim appeared in a post on Facebook on March 23, 2023. It opened:
Trump just shared a bombshell letter from Stormy Daniels debunking DA Bragg's case!!
This is what the post looked like on Facebook at the time of writing:
(Source: Facebook screenshot taken on Wed Mar 29 14:51:38 2023 UTC)
A signed statement with Daniels' name and purported signature on it was widely reported when it was released on January 30, 2018, but the adult film actress almost immediately rejected the contents of the letter. This Associated Press story is from January 31, 2018, the day after the letter was released:
Stormy Daniels, the woman who allegedly had a sexual relationship with a then-married Donald Trump in 2006, said in a statement issued Tuesday afternoon that the alleged affair never occurred.

By that night, however, Daniels appeared to disown the statement in an appearance on ABC's 'Jimmy Kimmel Live!,' saying she didn't know where it came from and the signature didn't look like hers.
In a "60 Minutes" interview with Anderson Cooper on CBS that same year, Daniels said her initial denials of the alleged affair with Trump were because of a nondisclosure agreement (NDA). The CBS report said:
The deal was an offer not to tell her story. It came from Mr. Trump's attorney Michael Cohen. In return for signing this non-disclosure agreement, Cohen would pay her $130,000 through a Delaware-based limited liability corporation he had established in mid-October 2016 called Essential Consultants. Daniels says the agreement was appealing because it meant she would receive some money but also not have to worry about the effect the revelation of the affair would have on her child who was now old enough to watch the news. She signed the agreement eleven days before the election.
In the years since her recant, Daniels has not changed her declaration that she had an affair with Trump. On May 3, 2018, the former president also appeared to acknowledge the payout to Daniels, whose real name is Stephanie Clifford, and the NDA in a series of three posts on his Twitter account. They appear below: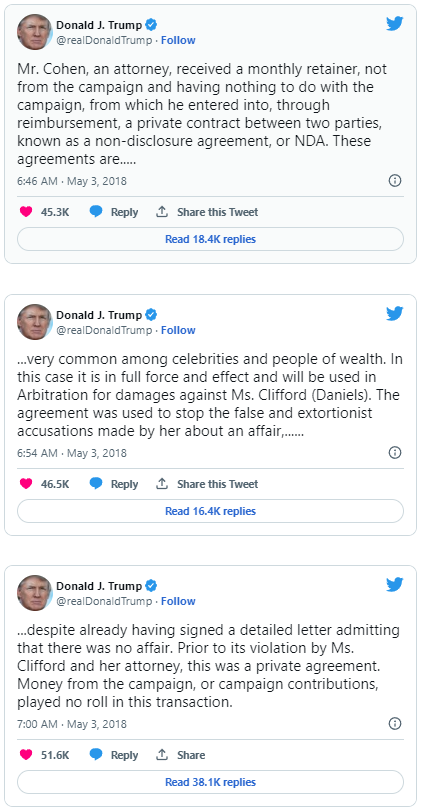 (Source: Twitter screenshots taken on Wed Mar 29 16:58 2023 UTC)