STORY UPDATED: check for updates below.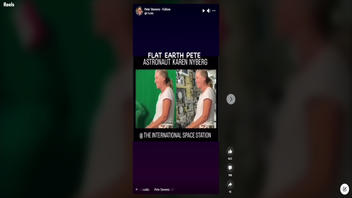 Does a video on social media show former NASA astronaut Karen Nyberg faking a visit to the International Space Station (ISS) in front of a green screen? No, that's not true: In the original version of the clip, the narrator never identifies the woman in the video as Nyberg. He calls her Paige. One iteration of the video posted by podcaster David Weiss, who also goes by "Flat Earth Dave," is specifically labeled, "NOT Karen Nyberg." In an email, Weiss told Lead Stories that the video is a skit making fun of NASA and that the woman is his "significant other."
The claim appeared in a post and video on Facebook (archived here) published on March 24, 2023. The text surrounding the video, attributed to someone else with a similar-sounding moniker to Weiss, says:
FLAT EARTH PETE

ASTRONAUT KAREN NYBERG

@ THE INTERNATIONAL SPACE STATION
This is what the post looked like on Facebook at the time of writing: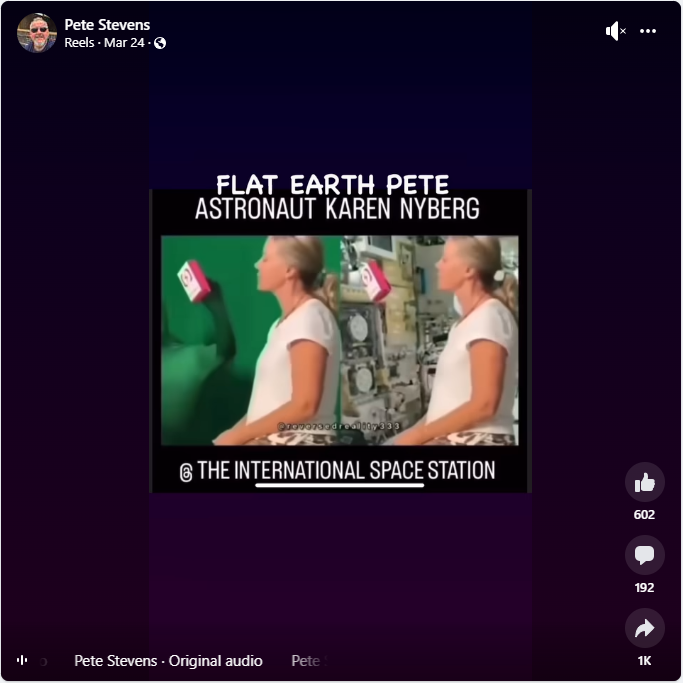 (Source: Facebook screenshot taken on Tue Mar 28 14:14:10 2023 UTC)
This video has appeared in many forms over the years. An earlier version posted to Instagram from September 2022 appears below:
In a video posted to his YouTube channel DITRH on July 4, 2021, Weiss gives a behind-the-scenes look at how the video was made. He told Lead Stories in a March 28, 2023, email that it's a spoof of NASA and what he said are "fake scenes on the international space station." He continued:
If you actually listen to the video, you can see, and hear that we are making fun of NASA on the show called Globebusters. It's a comedy sketch and anybody that thinks it's real isn't thinking.

There is one channel somewhere that clipped a short clip of it, and said NASA was busted and that [it] was Karen [Nyberg] and people ran with it.
Weiss and Globebusters both subscribe to and promote the disproven flat Earth theory, that the Earth exists as a flat disc and isn't round.
Here's a screenshot from his video: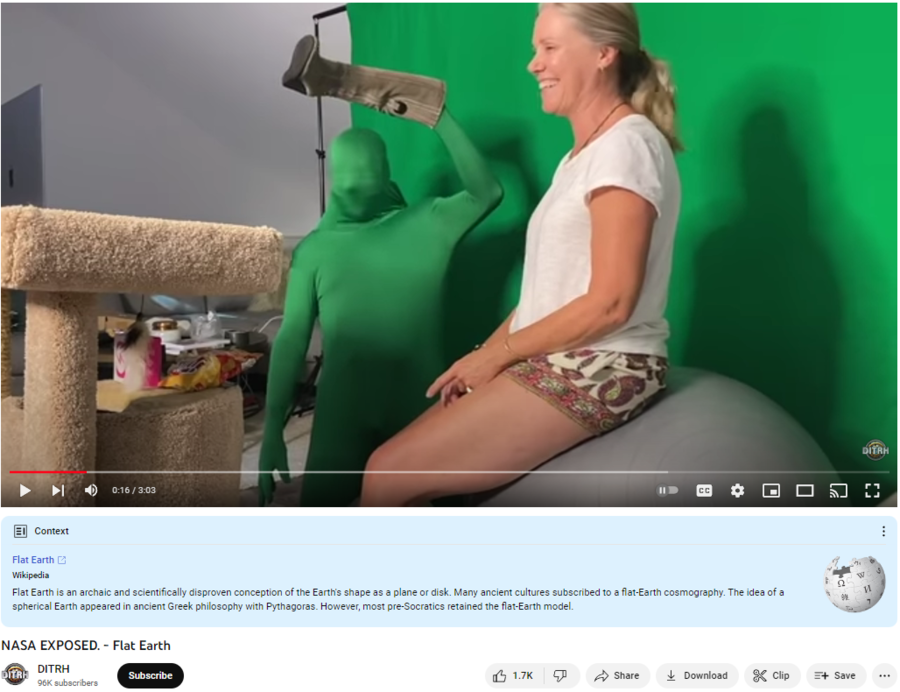 (Source: YouTube screenshot taken on Tue Mar 28 20:51:06 2023 UTC)
In a TikTok video posted on August 23, 2022, Weiss specifically notes that the video is not showing Nyberg. You can see it below: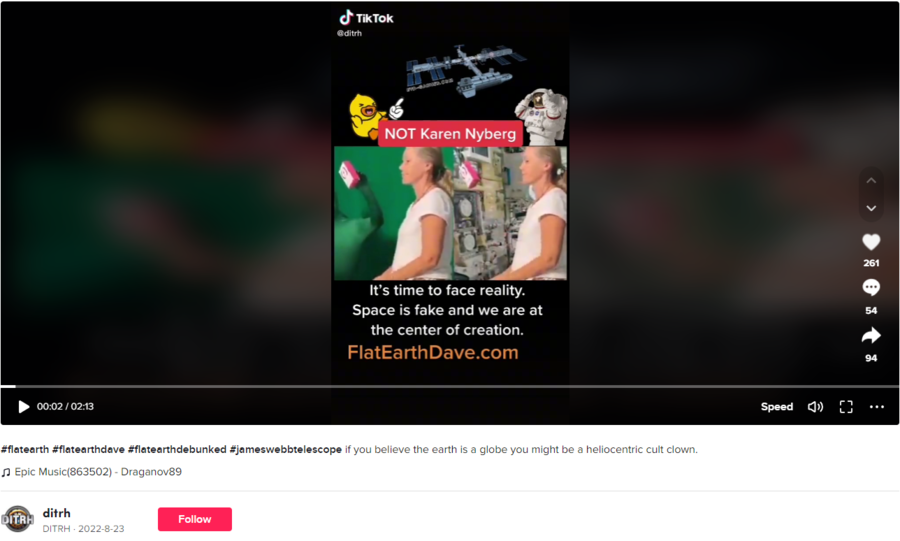 (Source: TikTok screenshot taken on Tue Mar 28 21:27:01 2023 UTC)
Weiss identified the woman in the video as Paige Windle. In his email, he referred to her as "my significant other." You can hear her called by her first name in the videos. The narrator says:
You are so much better of an astronaut, Paige, than those other fakes.
Also, a Google search for Nyberg produced the images of the astronaut seen below: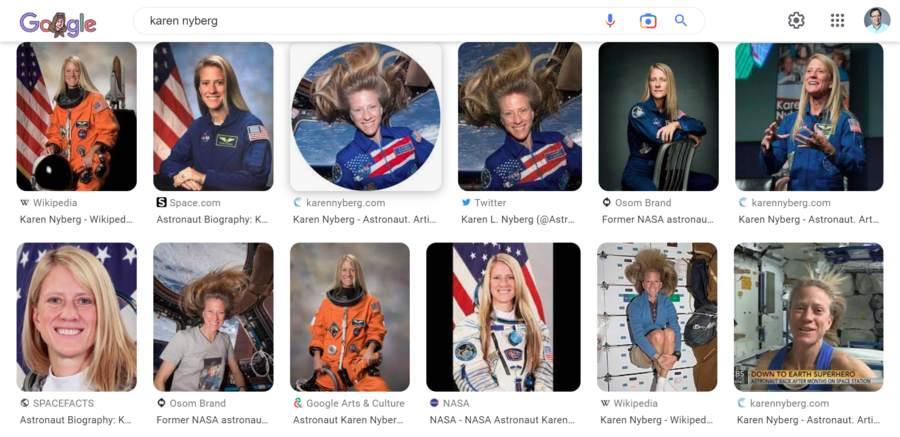 (Source: Google screenshot taken on Tue Mar 28 21:47:11 2023 UTC)
In a March 29, 2023, email to Lead Stories, NASA Public Affairs Officer Lora Bleacher provided this response to the claim on Facebook:
The link provided does not appear to reference a NASA video. Retired NASA astronaut Karen Nyberg flew in space twice, once as a member of STS-124 in 2008, and again as a member of Expedition 36/37 in 2013. Both missions visited the International Space Station, and she accumulated 180 days in space. Nyberg retired from NASA in April 2020. For NASA spaceflight videos, including those of Nyberg, visit https://images.nasa.gov.
Lead Stories has collected other fact checks of flat Earth claims here.
2023-03-29T17:16:30Z

2023-03-29T17:16:30Z

Adds response and context from NASA Public Affairs Officer Lora Bleacher