STORY UPDATED: check for updates below.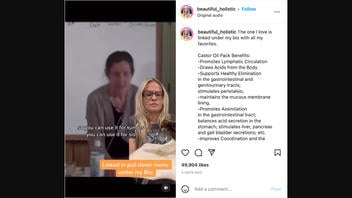 Are castor oil compresses a proven effective treatment for tumors and breast cancer? No, that's not true: There is no scientific evidence that suggests castor oil has therapeutic benefits beyond its approved laxative properties. Claims that castor oil compresses cured breast cancer and uterine fibroids, as well as treated tumors, are purely anecdotal stories from a former naturopath barred from practicing by New Zealand health officials in 2019. The National Cancer Institute told Lead Stories that its resources don't support this claim. Social media posts that tout castor oil compresses as cancer cures are doing so to sell products online.
A version of the claim was shared in a clip posted on Instagram on March 22, 2023. It featured a video recording of an unidentified woman who suggested that castor oil compresses were an effective treatment for tumors, breast cancer, cysts and uterine fibroids. A caption that accompanied the video read:
The one I love is linked under my bio with all my favorites.

Castor Oil Pack Benefits:
•Promotes Lymphatic Circulation
•Draws Acids from the Body
•Supports Healthy Elimination
in the gastrointestinal and genitourinary tracts;
stimulates peristalsis;
•maintains the mucous membrane lining.
•Promotes Assimilation
in the gastrointestinal tract; balances acid secretion in the stomach; stimulates liver, pancreas and gall bladder secretions; etc.
•Improves Coordination and the functioning major organs, glands and systems; stimulates
the nervous systems; regulates metabolism; etc.


⭐️ Have you tried it?

#castoroil #castoroilpack
#queenofthethrones #constipationrelief
#bonespurremedy #bonespur # metabolism #lymphaticdrainage #cancer #breastcancer #barbaraoneill #naturalremedieswork
Below is how the post appeared at the time of writing: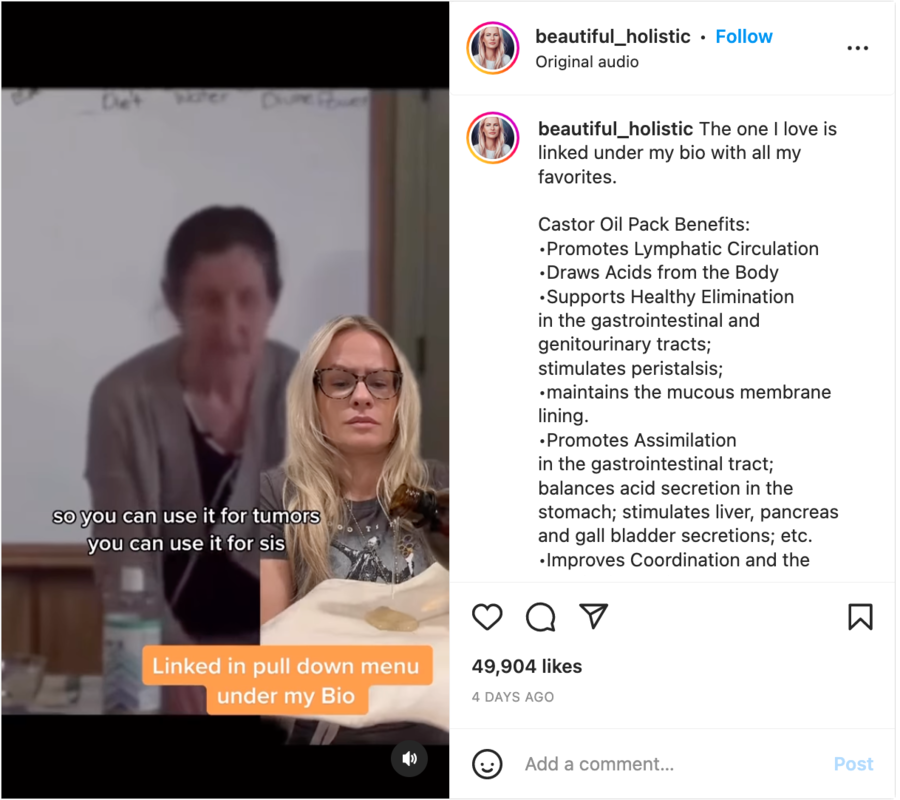 (Source: Instagram screenshot taken Mon March 27 21:18:56 UTC 2023)
The clip shared in the above post originated in a one-hour video posted to YouTube on February 2, 2018, by the account Living Springs Retreat. The title identified the speaker as Barbara O'Neill, a former naturopath who was permanently prohibited by the New South Wales Health Care Complaints Commission (HCCC) in 2019 from practicing any form of health care after an investigation revealed her spreading of misinformation had breached New Zealand's Code of Conduct for Unregistered Practitioners.
At the 13:45 mark, O'Neill said the following:
Now, castor oil penetrates deeper than any other oil and wherever castor oil penetrates, it breaks up lumps, bumps, congestion, adhesion. It will break up a bone spur. If the bone spur has been there three years, it may take three months to break it up. If it's been there three months, it may take three weeks. If it's been there three weeks, it might only take three days. So, it all depends how long it's been there, but the key is consistency ...

So, you can use it for tumors, you can use it for cysts, I met a lady who told me she'd conquered her breast cancer by castor oil wearing the castor oil compresses. In fact, one young girl I knew had a fibroid in her uterus. They wanted to operate but she wanted to do it naturally so she took the Anna's Wild, or applied the Anna's Wild Yam Cream to get the estrogen down and applied the castor oil compresses to her abdomen.
Writing in a September 24, 2019, news release (archived here), HCCC wrote that O'Neill made "dubious and dangerous health claims regarding infant nutrition, causes and treatment of cancer, antibiotics and vaccinations that are not evidence based or supported by mainstream medicine." O'Neill was not able to stay within the limits of her training and experience, failed to provide health service in a safe and ethical manner and misled vulnerable people by discouraging them from seeking medical treatments appropriate to their conditions, the agency said. Ultimately, these findings resulted in her permanent prohibition from practicing health care in any capacity.
O'Neill's claims that castor oil compresses cured breast cancer and uterine fibroids, as well as treated tumors, are purely anecdotal stories made by a naturopath who provided no additional evidence, including the names, ages or official diagnoses of these supposed patients.
It appears that the video posted both on YouTube and Instagram are used as a means to sell unproven products. Living Springs Retreat in Roanoke, Alabama, which posted the original video on YouTube in 2018, sells the product -- Anna's Wild Yam Cream -- mentioned by O'Neill in the video: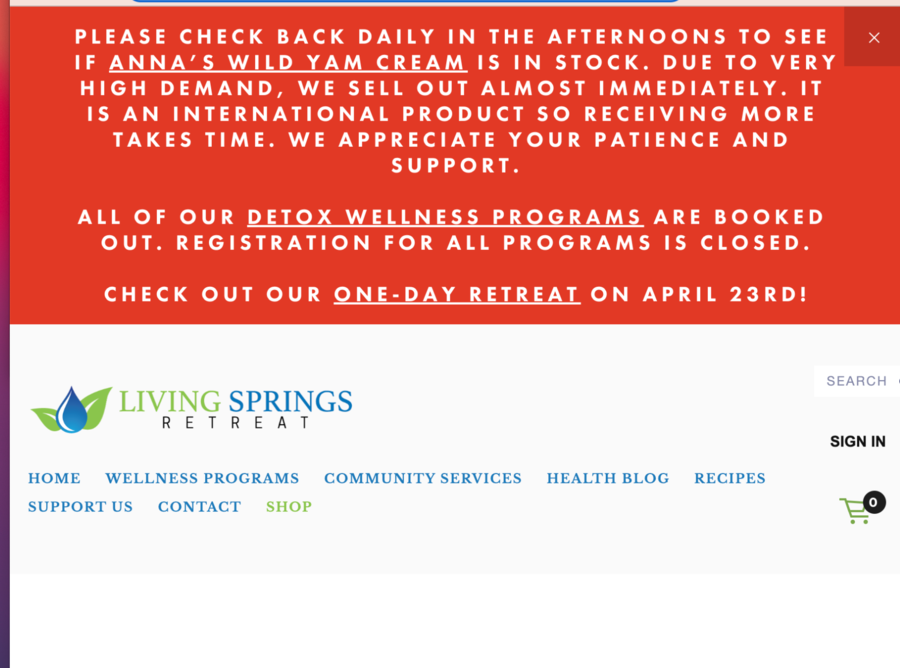 (Source: Living Springs Retreat webpage screenshot taken Mon March 27 at 20:22:50 UTC 2023)

The Instagram account that reshared the video in 2023 sells castor oil kits, supposedly for various purposes, at a link posted in the profile bio: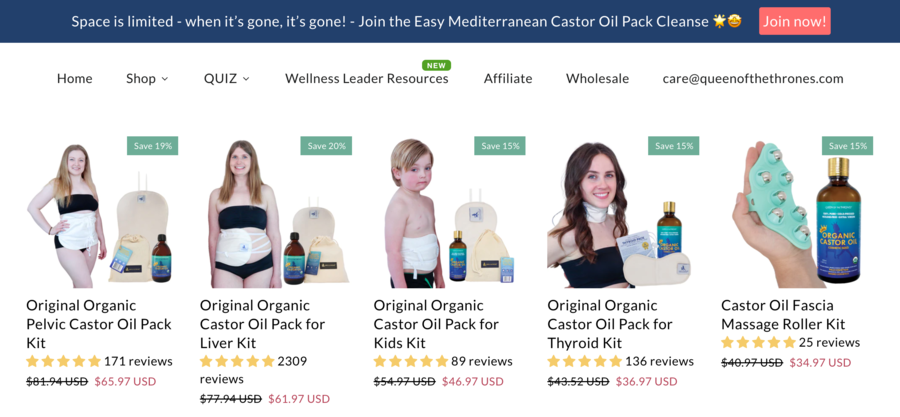 (Source: www.shopqueenofthethrones.com webpage screenshot taken Mon March 27 15:53:32 UTC 2023)

A disclaimer on the bottom of the above website read:
Always check with your doctor before starting any new health practice. This is not medical advice. This is not meant to treat, cure, prevent or diagnose. This is for educational purposes only. Results vary.
There is no substantive evidence that castor oil compresses are an effective treatment for tumors, breast cancer, cysts and uterine fibroids.
Castor oil is cold-pressed from the castor plant, scientific name Ricinus communis. It is classified by the U.S. Food and Drug Administration (FDA) as "generally recognized as safe and effective for use as a stimulant laxative." When taken orally, castor oil is approved to treat occasional constipation; it does so by contracting intestinal muscles to move stool, notes The Cleveland Clinic. In 2012, scientists determined that Ricinoleic acid, a fatty acid accounting for about 90 percent of the oil, binds to receptors in the intestines and uterus, which helps to induce bowel movement and potential labor.
The National Library of Medicine drug database Daily Med includes Rexall, an over-the-counter castor oil that can be taken for no longer than a week and should be done only under the supervision of a physician. Because side effects of castor oil ingestion can include cramping, vomiting, bloating and dizziness, physicians generally agree that other laxative options are better. Furthermore, there are contraindications associated with the consumption of castor oil that include premature contractions in pregnant people and appendicitis, among other conditions.
In an email to Lead Stories received on March 30, 2023, the National Cancer Institute, which disseminates evidence-based, scientifically accurate information about cancer to the public, wrote that a search of the agency's resources did not return information that supported the claim that castor oil compresses cure or treat cancer.
The preliminary findings of studies conducted only on animals did conclude that castor oil extract had a strong suppressive effect on body tumors and cancer in male Kunming mice. Also, injecting in-heat female rats with castor oil on the first day after estrus prevented pregnancy. This Final Report on the Safety Assessment of castor oil was first published in May 2007 in the International Journal of Toxicology.
These findings are not proof that castor oil can treat or cure cancer in humans.
Lead Stories previously debunked O'Neill's claim that cayenne pepper can be used as a medicinal component and to treat stomach ulcers.
Lead Stories has debunked other pseudo-health science claims, including that rubbing ears does not improve kidney health, that there is no evidence seafood causes leukemia, that women cannot "get pregnant by sunlight," and that there is no evidence copper bracelets treat diabetes.
2023-03-30T19:41:54Z

2023-03-30T19:41:54Z

Adds statement from the National Cancer Institute.