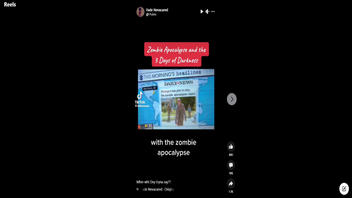 Are the Pentagon and the U.S. Centers for Disease Control and Prevention (CDC) planning for a zombie apocalypse? No, that's not true: The Department of Defense created a fictitious scenario for a training program for the U.S. Strategic Command (USSTRATCOM). Additionally, the CDC launched a campaign to raise awareness of emergency preparedness in an attention-grabbing manner, using the pop-fiction idea of a zombie apocalypse so as to avoid the scare that could arise from using a realistic crisis.
The claim appeared in a video (archived here) posted on Facebook on April 14, 2023, under the title "Zombie Apocalypse and the 3 Days of Darkness." The description for the post says:
Mhm what Dey tryna say??
This is what the post looked like on Facebook at the time of the writing of this fact check:
(Source: Facebook screenshot taken on Fri Apr 28 15:25:12 2023 UTC)
The 90-second video starts with a clip from a May 15, 2014, CBS news story about how the Pentagon has a plan to stop a zombie apocalypse; the video then transitions to a voice-over about a CDC poster with a zombie theme and speculations that numerology proves it's a Satanist plan.
Pentagon plan
It's true that the Pentagon created a "COUNTER-ZOMBIE DOMINANCE" plan, but, according to the Defense Department, it was simply a "fictitious" training scenario. The plan's disclaimer, shown below, makes clear that the notion of a zombie apocalypse was never meant to be taken seriously: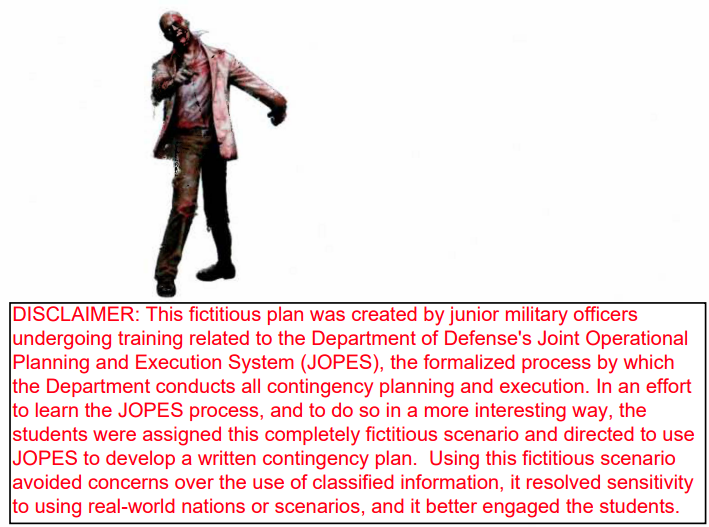 (Source: U.S. Strategic Command screenshot taken on Fri Apr 28 16:50:13 2023 UTC)
The disclaimer continued:
This plan was not actually designed as a joke. During the summers of 2009 and 2010 ... members of a USSTRATCOM component found out (by accident) that the hyperbole involved in writing a 'zombie survival plan' actually provided a very useful and effective training tool ...

Because the plan was so ridiculous, our students not only enjoyed the lessons; they actually were able to explore the basic concepts of plan and order development (fact, assumptions, specified and implied tasks, references etc) very effectively.

We posted this plan because we feel it is a very enjoyable way to train new planners and boost retention of critical knowledge.
The mission of the U.S. Strategic Command is to deter strategic attacks against the United States.
CDC poster
The CDC poster on emergency preparedness also played on the popularity of zombies in pop culture to teach the public how to handle various national emergencies. The public health agency's website explained the campaign (archived here) in a release on July 5, 2011. The statement said:
Wonder why Zombies, Zombie Apocalypse, and Zombie Preparedness continue to live or walk dead on a CDC web site? As it turns out what first began as a tongue in cheek campaign to engage new audiences with preparedness messages has proven to be a very effective platform. We continue to reach and engage a wide variety of audiences on all hazards preparedness via Zombie Preparedness; and as our own director, Dr. Ali Khan, notes, 'If you are generally well equipped to deal with a zombie apocalypse you will be prepared for a hurricane, pandemic, earthquake, or terrorist attack.' It can be tough to get people thinking about emergency preparedness before disaster strikes. We've created these zombie posters to spark some attention and get people involved before it's too late. Download the pdf to print copies for your office or home." - from Centers for Disease Control and Prevention's Office of Public Health Preparedness and Response Zombie Preparedness Web page
The zombie poster appears below: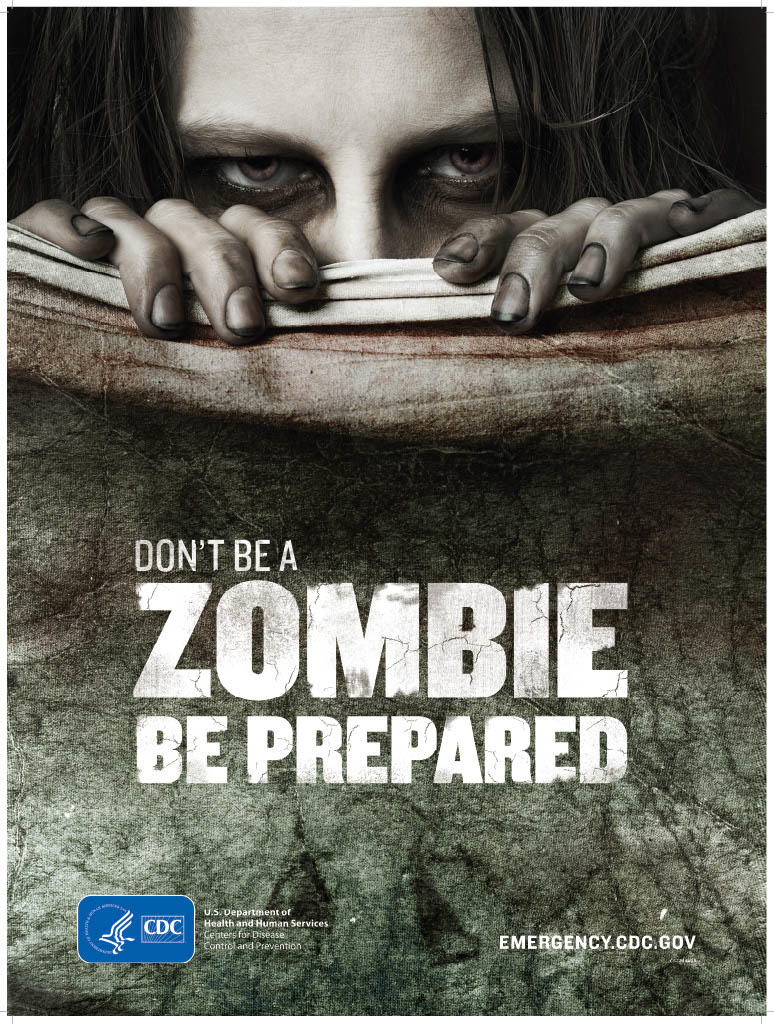 Additional Lead Stories fact checks of claims related to zombies can be found here.