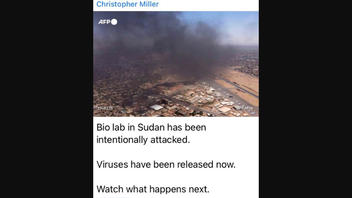 Does this photo show the aftermath of a bio lab intentionally attacked in Sudan? No, that's not true: The photograph is a screengrab from a video taken by a global news agency on April 20, 2023 days after internal conflict in Sudan's capital began. The World Health Organization (WHO) confirmed to Lead Stories that the National Public Health Laboratory in the capital of Khartoum was occupied as of April 27, 2023. As the image in the post was taken before the occupation, it can't logically support the claim made in a Telegram post about the photo.
The claim appeared in a post on Telegram on April 25, 2023 (archived here). Text below a photo read:
Bio lab in Sudan has been intentionally attacked.

Viruses have been released now.

Watch what happens next.
Users on social media only saw this title, description and thumbnail: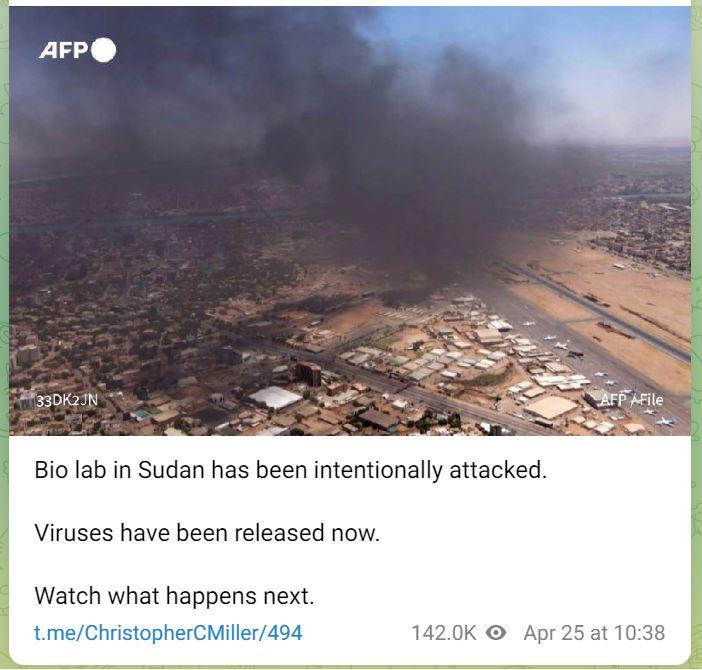 (Source: Telegram.org screenshot taken Fri Apr 28 at 19:34 2023 UTC)
The image posted on Telegraph on April 25, 2023, is clipped from a video by global news agency AFPTV (Agence France Presse) that shows the conflict in Khartoum as of April 20, 2023. The AFPTV caption read:
This image grab taken from AFPTV video footage on April 20, 2023, shows an aerial view of black smoke rising above the Khartoum International Airport amid ongoing battles between the forces of two rival generals. Hundreds of people have been killed since the fighting erupted on April 15 between forces loyal to Sudan's army chief Abdel Fattah al-Burhan and his deputy, Mohamed Hamdan Daglo, who commands the paramilitary Rapid Support Forces (RSF).
Even if the timeline were logical, Google Maps shows the lab could be up to two miles from the airport, where the smoke is concentrated in the photo.
In addition to misrepresenting the photo as proof of some kind of fire or munitions strike at the lab, the Telegram post overstates - without evidence - what is known about a take-over of the lab by one or the other side in Sudan's April 2023 political crisis.
The WHO announced the occupation of the National Public Health Laboratory in Khartoum on April 25, 2023, in a press conference, as news agencies reported here and here. On April 27, 2023, the WHO told Lead Stories via email it was not clear what the current status of the lab was or whether it had been damaged by missiles or gunfire, only that it was occupied.
The statement given to Lead Stories included quotes from the press conference by WHO Director-General Dr Tedros Adhanom Ghebreyesus on April 26, 2023. He said:
Technicians no longer have access to the laboratory, which means the lab is no longer able to perform its normal diagnostic and reference function. We are also concerned that those occupying the lab could be accidentally exposed to pathogens stored there. WHO is seeking more information and conducting a risk assessment.
While noting that the internet is down and communication is difficult in the country, Mike Ryan, executive director of WHO's emergencies programme, said in the statement sent to Lead Stories that they do not have "complete information at this point around the incident," but "we know that the lab was occupied," and said teams are carrying out a risk assessment:
When lab workers are forced to leave a laboratory and untrained people enter that laboratory there are always risks but the risks are primarily to those individuals, first and foremost, to accidentally expose themselves to a pathogen. But there are always, obviously, secondary risks that someone might leave that laboratory and infect someone else.

We want to make sure that the people occupying that building know the risks to themselves and we will try to continue to communicate those risks. But, as I said, the team on the ground, and with our biorisk and biosafety teams here, are carrying out a risk assessment to the best of our capabilities.
Lead Stories previously debunked the claim that a video showed that Sudan's Rapid Support Force controlled "Khartoum International Airport And Military Base" on April 15, 2023.