STORY UPDATED: check for updates below.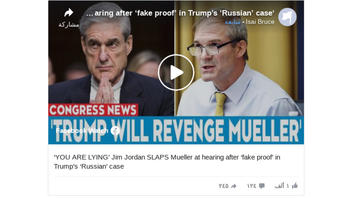 Did Rep. Jim Jordan slap former Special Counsel Robert Mueller during a congressional hearing? No, that's not true: The social media post making the claim provides no proof. More importantly, such an assault on Mueller by Jordan never happened.
The claim appeared in a post on Facebook on April 10, 2023. The title of the video read:
'YOU ARE LYING' Jim Jordan SLAPS Mueller at hearing after 'fake proof' in Trump's 'Russian' case
This is what the post looked like on Facebook at the time of writing: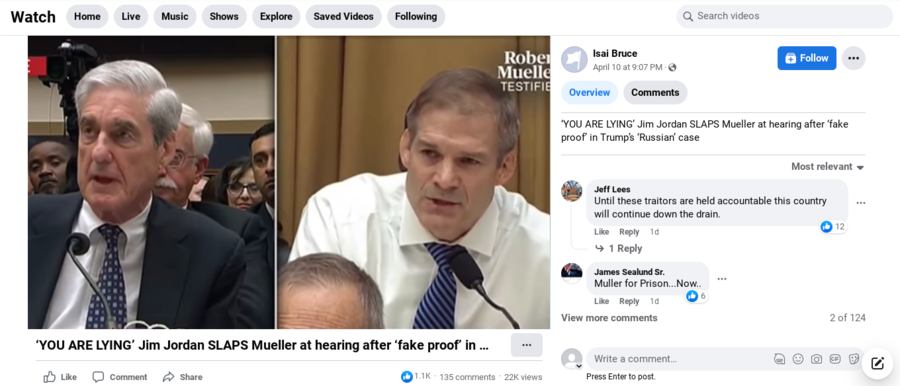 (Source: Facebook screenshot taken on Wed Apr 12 18:08:02 2023 UTC)
The video shows a clip from Mueller's testimony before the House Judiciary Committee on July 24, 2019. Mueller was called before the committee to testify about his investigation into possible Russian interference in the 2016 presidential election and whether there was evidence that former President Donald Trump committed obstruction of justice.
A video of Mueller's entire testimony can be found here, with Jordan's questioning of Mueller starting at the 1:29:02 mark. A full transcript of the testimony, which does not indicate that any assault on Mueller by Jordan took place, can be found here.
During Jordan and Mueller's exchange, Jordan asked Mueller a series of questions, many of which Mueller said he could not answer. Additionally, Jordan didn't accuse Mueller of lying as the title of the video posted to Facebook claims.
Lead Stories has uncovered a spam network of Facebook pages that publish similar clickbait video posts. The titles of the videos do not match the scenes shown in the videos.
More Lead Stories fact checks involving clickbait networks can be found here.
2023-04-12T20:06:21Z

2023-04-12T20:06:21Z

Updated to include debunk of "lying" claim