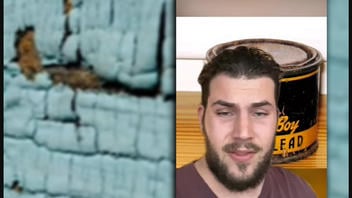 Was lead paint banned from residential use in the United States because homes coated in lead paint could protect residents from radiation that someone wanted them to be exposed to? No, that's not true: Laws regulating lead paint, starting with the Lead-Based Paint Poisoning Prevention Act in 1971 and followed by the Consumer Product Safety Commission's final ban on lead-containing paint in 1978, were enacted due to the health risks posed by lead paint, specifically for children. These regulations were not designed to deprive residents of hypothetical lead-shielding protection from types of radiation emitted by technologies that had not yet been invented.
The claim appears in a video (archived here) published on Instagram by @shaynevibes_truth on April 5, 2023. The post's caption finishes with a pitch for a nutritional supplement, which is not the subject of this fact check. It opened:
Is this why lead paint was banned?




It sure makes you wonder...




The TRUE reason for neurotoxins in the food and water supply⚠️⚠️⚠️





With so many instances of chemical spills lately, it's a wonder how anyone could imagine it's accident after accident. The truth is, the more neurotoxins in the environment / food & water, the more brain cells are diminished, removing critical thought and logic.




This is spiritual warfare. WIN THE BATTLE WITH CHOQ! Get an insane 35% off lifetime discount on ALL premium, organic and clinically studied supplements from Choq - REVITALIZE and restore your system with potent adaptogens (while you can)




Get the most powerful adaptogens on earth - Tongkat Ali, Purified Shilajit, Wildcrafted Irish Moss, Ashwagandha and more! These powerful superfoods revitalize and energize the body to its peak potential.




➡️ Use code '35Life' for a LIFETIME 35% discount on any subscription or bundle (EXTREMELY limited availability) get the Male or Female Vitality Staq and supercharge your hormones and energy




LINK IN BIO


@GetChoq


Choq.com

#ad
This is how the post appeared on Instagram at the time of writing: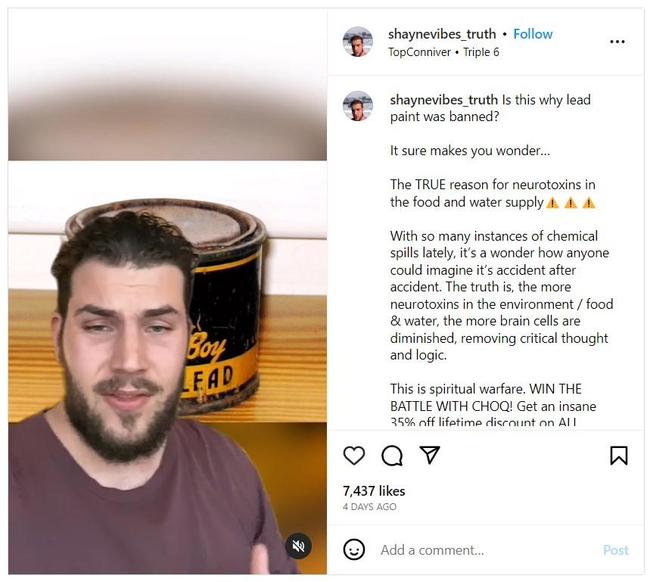 (Image source: Instagram screenshot taken on Mon Apr 10 19:32:52 2023 UTC)
The text caption of this post and the narrative of the video do not match. While the caption of the @shaynevibes_truth post warns, "The TRUE reason for neurotoxins in the food and water supply," the video proposes that the government banned lead (a neurotoxin) from residential paint to deprive people of the radiation protection that paint would have provided. Lead Stories identified another video on a different topic posted by @shaynevibes_truth with the identical caption, so this appears to be a recycled cut-and-paste.
The part of the video transcript relevant to this claim is copied below. The video also includes a pitch for a nutritional supplement, which Lead Stories is omitting. In the video @shaynevibes_truth points to images of a smart meter and a cellphone tower as examples of radiation sources around a home:
Here's an angle about lead paint you probably never thought of. So lead paint was used for decades throughout the 1950s all the way up into the '80s. Lead paint was used because it increased durability of the paint, it dried faster and it lasted way longer. Then of course when it was banned they used the story of children eating chips of lead paint as a justification for why they should ban it.

But here's the crazy part. What if there's another reason they banned it? You know when you get an X-ray, which I hope you don't get too many of, and you gotta wear a lead apron? It's because lead blocks radiation. And have you ever seen these things on the side of your house? Or maybe there's a room in your apartment with 45 of them? Or how about these that they're putting up everywhere next to homes and community centers, schools, etc.? So what would happen if you had a lot of frequencies around you ... radiation, but your house was coated in a layer of lead?

How much radiation would be penetrating our homes?
Perhaps not so much. I'm just saying, could that perhaps be a reason why they banned it? The truth is, due to the telecommunications industry and their contracts with entities, you could say we're bombarded with electromagnetic frequencies at all times.
Lead Stories reached out to Govind Rao, a professor of chemical, biochemical and environmental engineering and the director of the Center for Advanced Sensor Technology at the University of Maryland, Baltimore County, to ask about the potential radiation protection a home painted with lead-based paint might provide. He responded by email on April 11, 2023, referring to electromagnetic (EM) radiation:
There is minimal to no benefit offered by lead paint for EM shielding. Keep in mind that EM is not only outside the house, but your WiFi router, microwave oven when in use, your cell phone(s) are all emitting EM radiation. So to be totally shielded, you would have to live in a metal enclosed house (or go deep underground, but the natural radon radiation then becomes a risk) and NOT use any device capable of radio frequency emission. This includes not having any windows.
On January 13, 1971, Congress passed the "Lead-Based Paint Poisoning Prevention Act" (PDF of original here, amended code as of 2017 here). This applied to housing constructed or rehabilitated in federal programs. This act stipulated (Sec. 301) that the secretary of Housing and Urban Development (HUD) conduct research and report findings and legislation recommendations to Congress within a year.
A November 2, 1971, report (PDF of original report) by the National Bureau of Standards under the sponsorship of HUD described the "nature and extent of the lead paint poisoning problem in the United States." The symptoms of lead poisoning are described on page 8 of the PDF:
The initial symptoms of lead poisoning are very vague and might be due to many other agents. They include anorexia, nausea and vomiting, abdominal pain, constipation, anemia, irritability, and lethargy. If untreated the disease may lead to central nervous system involvement, termed lead encephalopathy, which may result in blindness, paralysis, and mental retardation. Cardiovascular and renal damage may result from the disease although the experts do not agree on this point. Most experts believe that as much as 25 percent of all children who develop lead poisoning will suffer permanent brain damage; although some experts would put this at a much higher figure. As many as five percent of the children who develop lead poisoning may die of the disease. This figure is decreasing as a result of the efforts of early detection and treatment.
Embedded below is a 1972 public service announcement from the National Bureau of Standards warning of the dangers of lead poisoning to young children living in dilapidated housing where they can be exposed to cracked and peeling paint. This video serves as a record of the concerns at the time that were behind the move to ban lead-based paint.
On September 2, 1977, the U.S. Consumer Product Safety Commission issued a final ban on the residential use of lead-based paint, to go into effect 180 days later. It defined the maximum allowable amount of lead in paint at 0.06 percent by weight.
Lead Stories has published fact checks that look into claims regarding the safety of certain devices, AirPods, microwave ovens and 5G technology (here and here), as well as unfounded conspiracies related to 5G, such as a flock of birds that fell out of the sky.