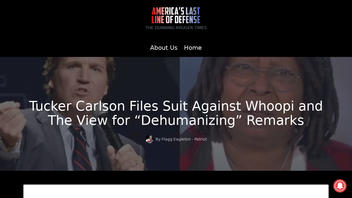 Did former Fox News host Tucker Carlson file suit against Whoopi Goldberg and "The View," the TV talk show she moderates, for dehumanizing remarks? No, that's not true: This article was published by the Dunning-Kruger Times, one of several satire sites run by Christopher Blair, who describes himself as a "liberal troll." These websites have disclaimers explaining that "Everything on this website is fiction."
The article (archived here) was published by The Dunning Kruger Times on April 27, 2023, titled "Tucker Carlson Files Suit Against Whoopi and The View for 'Dehumanizing' Remarks." It opened:
Whoopi Goldberg and her cohorts on 'The View' are in a legal bind once again after celebrating the end of Tucker Carlson's era at Fox News. According to sources close to Carlson, his lawyers immediately filed a cease and desist order as well as a suit for defamation,

'Their remarks were dehumanizing,' said attorney Thomas Bagger, 'they talked about Tucker Carlson as though he was some kind or white supremacist stooge for the Russians and a suck-up to anyone right-wing enough to earn the most dollars.'
Users on social media only saw this title, description and thumbnail:
On April 24, 2023, Fox News announced:
FOX News Media and Tucker Carlson have agreed to part ways. We thank him for his service to the network as a host and prior to that as a contributor.

Mr. Carlson's last program was Friday April 21st.

When this news was relayed on ABC's "The View" by Goldberg, the audience cheered and the hosts performed a "wave" (pictured below). Host Ana Navarro then asked everyone to join her in singing the pop hit by Steam, "Na Na Hey Hey Kiss Him Goodbye." (video clip here). There have been no legitimate reports (search archived here) of any legal actions on behalf of Carlson because of this.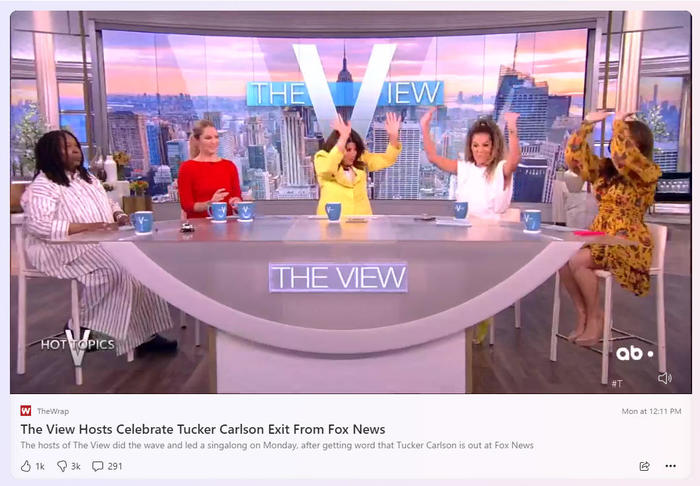 (Image source: Screenshot of msn.com taken on Fri Apr 28 17:23:57 2023 UTC)
The Dunning-Kruger Times
The Dunning-Kruger Times is a satirical website with an about page (archived here) that has following disclaimer:
About Us

Dunning-Kruger-Times.com is a subsidiary of the 'America's Last Line of Defense' network of parody, satire, and tomfoolery, or as Snopes called it before they lost their war on satire: Junk News

About Satire

Before you complain and decide satire is synonymous with 'comedy':

sat·ire ˈsaˌtī(ə)r noun: The use of humor, irony, exaggeration, OR ridicule to expose and criticize people's stupidity or vices, particularly in the context of contemporary politics and other topical issues.

Everything on this website is fiction. It is not a lie and it is not fake news because it is not real. If you believe that it is real, you should have your head examined. Any similarities between this site's pure fantasy and actual people, places, and events are purely coincidental and all images should be considered altered and satirical. See above if you're still having an issue with that satire thing.
The website is named after the Dunning-Kruger effect, a term from the field of psychology that describes the phenomenon of being ignorant of one's own ignorance.
It is part of a network of websites run by self-described liberal troll Christopher Blair. The headlines and articles published by the America's Last Line of Defense network are frequently plagiarized and reused by unscrupulous web publishers without the disclaimers.
Lead Stories has a Satire Policy that explains:
Sometimes jokes need to be fact checked. Not for you, because you are smart and you get the joke. But for the crazy uncle who thinks it is real. Or for the foreign journalist who doesn't know what The Onion is. Or for the people who missed the disclaimer and the hints. Or because the disclaimer and the hints were hidden on purpose.