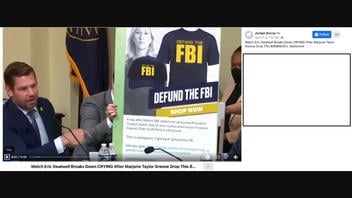 Does a clip shared on social media show Democratic congressman Eric Swalwell of California breaking into tears as a result of Georgia Rep. Marjorie Taylor Greene's comments? No, that's not true: The video's title is misleading, and the recording does not contain such an episode.
The claim appeared in a post on Facebook on April 21, 2023. It said:
Watch Eric Swalwell Breaks Down CRYING After Marjorie Taylor Greene Drop This B0MBSHELL Statement
This is what the post looked like on Facebook at the time of writing: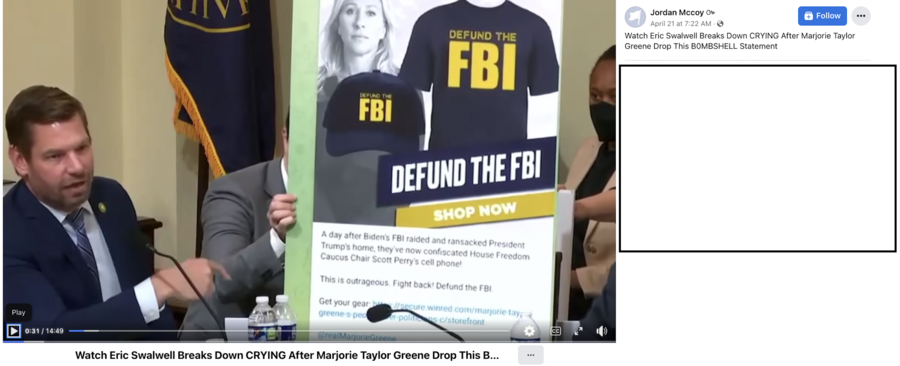 (Source: Facebook screenshot taken on Fri Apr 28 14:35:14 2023 UTC)
The video shows a fragment of the April 19, 2023, hearing on the White House administration's 2024 budget proposal for the Department of Homeland Security.
It did not catch Rep. Swalwell "crying" on camera.
A longer recording of the same hearing doesn't demonstrate anything similar either.
During the fragment of the hearing shared on Facebook, Swalwell discussed antisemitism and what he described as "anti-police rhetoric" promoted by some Republicans on social media. The entries he expressed concerns about were printed out on large posters appearing in the frame as well.
At the 2:59 mark in the Facebook video (the 2:00:58 mark in the official video, respectively,) Greene, a Republican, accused Swalwell of having a sexual relationship with an alleged "Chinese spy."
The next words heard in the video are: "Completely inappropriate!" In the recording, it's not entirely clear who said that, but even the Republican-leaning New York Post said it was not Swalwell.
Democratic Rep. Dan Goldman of New York requested removing Greene's words from the transcripts and barring her from speaking more during the hearing, but the words were not stricken from the record.
During this scene, Swalwell is seen quickly tucking in his shirt, standing in front of his seat and drinking water from a small plastic bottle. He doesn't appear to express any emotions overtly.
The claim is an example of a congressional clickbait video when headlines do not reflect the actual content.
Lead Stories debunked similar claims here, here, here and here.