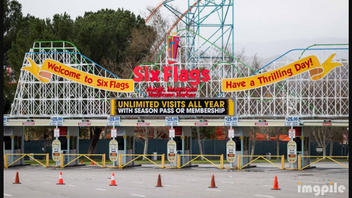 Is Six Flags amusement park corporation sponsoring a promotion on Facebook that offers up to eight complimentary Six Flags tickets? No, that's not true: In 2016 Six Flags posted a "Fraud Alert" on its website warning of social media posts promising tickets for taking a survey or forwarding a post. Six Flags warns that legitimate promotions are posted on the sixflags.com website or the website or social media page of a Six Flags partner and that other promotions on social media can be scams to collect personal information or trick people to install malware.
One example of a post on Facebook was published by "Six Flags Fans" on May 10, 2023. It was captioned:
Here at Six Flags we wanted to show you how much we care as we know times haven't been the easiest this year so we're giving everyone the opportunity to get up to 8 complimentary Six Flags tickets each. To claim just go here: https://get.redeemnowtoday.com/Ticket4FlagsClaim and follow the quick simple details.
This is what the post looked like on Facebook at the time of writing: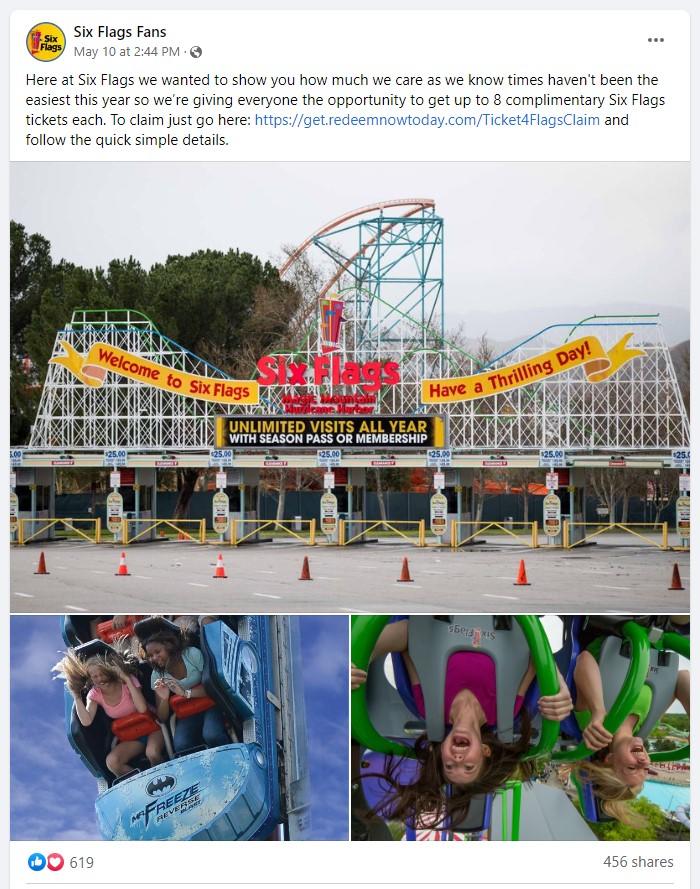 (Source: Facebook screenshot taken on Mon May 15 14:06:28 2023 UTC)
The Fraud Alert (pictured below) was posted in July 2016 to sixflags.com. The warning begins:
Consumers are being targeted with the opportunity to immediately receive three tickets in exchange for taking a brief survey about the park and forwarding a link to 15 friends.
This scam has "gone viral" due to participants forwarding the link to friends in an effort to receive the tickets. The post includes a picture of a fake Six Flags ticket in an effort to make it look legitimate.
Do not complete the survey and do not forward the link to friends. You will not receive free Six Flags tickets and you will be asked to give up personal information which will be used to spam you in the future.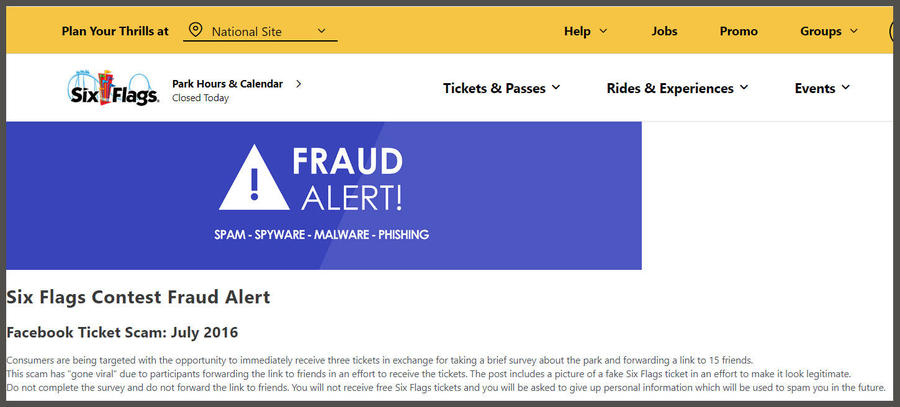 (Image source: Sixflags.com screenshot taken on Mon May 15 15:31:43 2023 UTC)
The page transparency information for the Facebook page where this questionable post originated, Six Flags Fans, shows the page was created on April 27, 2023. According to the Whois record, this was the same day the domain ReedeemNowToday.com was created. The wording of the post begins, "We here at Six Flags..." but this link is not connected to Six Flags Entertainment Corporation. The ReedeemNowToday.com link in the post caption redirects to another website, www.rewardsgiantusa.com. The name of the company listed at the bottom of that page is RewardZone USA, LLC. The Facebook post suggests that eight complimentary tickets can be claimed after following the "quick simple details" at the link. But the offer found at rewardsgiantusa.com is nothing like the Facebook post suggests. The landing page says:
You can typically complete all of the required sponsored Deals within 5-7 days (some may take up to 60 days to complete). Once you complete the required number of Deals, you must complete the Reward claims process, which requires ID verification. It typically takes our customer service team 5-7 days to verify and deliver your Reward.
Get a Quick Start
Want to track your progress? Sign up for SMS alerts to keep you up to date on your Reward status and Deal credits.
The terms and policies page (a 5,814-word document) that describes involvement that is not a merely a "simple detail":
How the Rewards Program Works. To qualify for a Reward, you must: (1) be a U.S. resident, 18 years of age or older; (2) provide accurate registration information (including your name and contact information, i.e., valid residential, phone number and/or email addresses), and (3) COMPLETE THE REQUIRED NUMBER AND LEVELS OF DEALS WHICH REFERS TO A GROUP OF DEALS ("LEVELS"), WHICH USUALLY REQUIRE PAID PARTICIPATION OR PAID SUBSCRIPTION, within a sixty-day period that commences on the date that you complete your first Deal. If one or more Deals that you select requires longer than 60 days to earn credit - for example, you must pay for a monthly subscription charge following a trial period - you will have the length of time required to earn credit for the Deal plus an additional 60 days thereafter to complete the requisite number and Levels of Deals. The requirements to get credit for a Deal are included in the text box that appears when you click on Deal. Once you have completed the required number and Levels of Deals to qualify for the Reward you have chosen, you must promptly complete the Rewards claim process, which requires ID verification, to claim and obtain your Reward. Once you start the Rewards claim process, you must complete it within thirty (30) days.
Reward Zone USA, LLC is not BBB accredited and the Better Business Bureau gives the company a B- rating. The BBB has received 707 complaints about this company in the past 3 years and these complaints written by consumers are posted on the BBB site. The current alert for this business describes the pattern of complaint:
BBB files indicate a Pattern of Complaints concerning the company's marketing practices and fulfillment of services. Consumers are telling BBB about their experiences after participating in a survey/contest offered by Reward Zone USA LLC. A number of consumers allege that they were promised a prize if they completed the surveys/incentives the company provides. Many of these consumers allegedly followed the instructions that Rewards Zone USA LLC gave but are still unable to claim the reward.

As of March 2023, consumers continue to report persistent problems with the incentive surveys they have allegedly taken for the company. Consumers cite issues with ID verifications, account lockouts/suspensions, and reward denials without explanation as the most common concerns. Some consumers claim they are told that their accounts were suspended due to an attempt to defraud the program, and most of these consumers say they cannot get an explanation from the company on how they violated the terms of service or why they have been banned from the platform. Nearly all consumers reportedly encounter inadequate customer support when trying to resolve concerns they have.
Another Facebook page called "Six Flags Club" posted a promotion on May 13, 2023, using the same images and text caption as the Six Flags Fans post above. The link included is https://tinyurl.com/3y95vx79 (archived here), which directs to a google site that does not display any information about their associations. The words "Six Flags" at the top of the page directs to consumerdigitalsurveys.com. The website malwaretips.com, has instructions for removing malware from consumerdigitalsurveys.com which causes browser pop-up ads and push notifications.
(Editors' Note: Facebook is a client of Lead Stories, which is a third-party fact checker for the social media platform. On our About page, you will find the following information:
Since February 2019 we are actively part of Facebook's partnership with third party fact checkers. Under the terms of this partnership we get access to listings of content that has been flagged as potentially false by Facebook's systems or its users and we can decide independently if we want to fact check it or not. In addition to this we can enter our fact checks into a tool provided by Facebook and Facebook then uses our data to help slow down the spread of false information on its platform. Facebook pays us to perform this service for them but they have no say or influence over what we fact check or what our conclusions are, nor do they want to.)