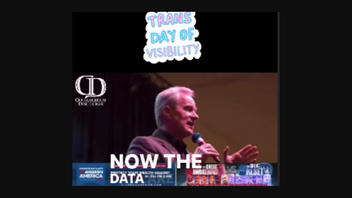 Is there data "pouring in" that "gender change" results in a higher risk of suicide? No, that's not true: The person making the claim offers no evidence that "gender change" increases the risk of suicide. Multiple studies have found the opposite -- gender-affirming surgeries and treatments are associated with lower rates of suicide. An expert in gender-affirming medical care told Lead Stories there was "no evidence" that treatments increase suicidal ideation or suicidal behaviors.
The claim appeared in a video on Instagram on May 14, 2023, with the title "TRANS DAY OF VISIBILITY." It was posted by cardiologist and COVID-19 vaccine skeptic Peter McCullough. The video opens with him saying:
Now the data are pouring in, pouring in that gender change, gender change results in higher rates of psychiatric disease and the burden of care. Higher cost. It doesn't treat gender dysphoria, it makes it worse. It results in higher risk of suicide, homicide and death from all causes.
This is what the post looked like on Instagram at the time of writing: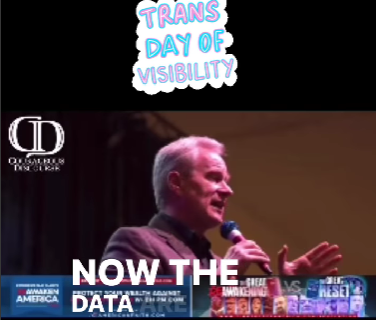 (Source: Instagram screenshot taken on Fri May 19 14:11:34 2023 UTC)
The caption on the post reads, "Transgender medicine is causing harm and increasing the risk of death." McCullough provides no scientific or medical studies that prove his claim. He is not a gender care specialist but a cardiologist who was fired from Baylor University during the pandemic for making multiple false claims regarding COVID and vaccines.
Dr. David Inwards-Breland, an adolescent and young adult medicine specialist who is also a pediatrics professor at the Morehouse School of Medicine, spoke to Lead Stories via Zoom on May 25, 2023, about the claim made in the social media post:
There is no evidence from what I can find that a gender change or gender-affirming medical care and surgical care increases suicidal ideation or suicidal behaviors.
He said studies have shown there has not been "any adverse react or effect on the gender care or surgical care around depression, anxiety and suicidal behaviors, suicidal thoughts" and that his research shows gender-affirming care "does not increase the risk of suicidal behavior." Inwards-Breland founded the gender program at Seattle Children's Hospital and was one of the senior authors of the study abstract titled, "Research Finds Significant Reduction in Depression, Suicidality in Youth Receiving Gender-Affirming Care or Puberty Blockers."
Ash Orr, spokesperson for the National Center for Transgender Equality, told Lead Stories via email on May 22, 2023, that "There is an extremely strong scientific and medical consensus that transition-related care is clinically appropriate and medically necessary." Orr continued:
A large body of research and experience shows that transgender people of all ages who are affirmed in who they are, as well as have access to the care they need, see a positive impact on their mental and physical health, including a decrease in anxiety, depression, suicidality, psychological distress, and increased quality of life.
Orr cited the Transgender Legal Defense & Education Fund list of leading medical organization statements that "recognize the medical necessity of treatments for gender dysphoria and endorse such treatments."
The "large body of research" Orr referred to is a review by Cornell University of 55 peer-reviewed articles published in English between 1991 and June 2017 that "assess the effect of gender transition on transgender well-being":
This search found a robust international consensus in the peer-reviewed literature that gender transition, including medical treatments such as hormone therapy and surgeries, improves the overall well-being of transgender individuals. The literature also indicates that greater availability of medical and social support for gender transition contributes to better quality of life for those who identify as transgender.
Orr also cited the 2022 study titled "Mental Health Outcomes in Transgender and Nonbinary Youths Receiving Gender-Affirming Care," published in JAMA Network Open, that found gender-affirming medical treatments were "associated with lower odds of depression and suicidality" for the 104 TNB (transgender and nonbinary) youths 13 to 20 years old who participated in the study:
After adjustment for temporal trends and potential confounders, we observed 60% lower odds of depression ... and 73% lower odds of suicidality ... among youths who had initiated PBs [puberty blockers] or GAHs [gender-affirming hormones] compared with youths who had not. There was no association between PBs or GAHs and anxiety.

Conclusions and relevance: This study found that gender-affirming medical interventions were associated with lower odds of depression and suicidality over 12 months. These data add to existing evidence suggesting that gender-affirming care may be associated with improved well-being among TNB [transgender and nonbinary] youths over a short period, which is important given mental health disparities experienced by this population, particularly the high levels of self-harm and suicide.
According to research published on April 28, 2021, in JAMA Surgery titled "Association Between Gender-Affirming Surgeries and Mental Health Outcomes," and also detailed in a Harvard University School of Public Health article, "gender-affirming surgery improves mental health and quality of life among TGD [transgender and gender diverse] people."
This was "a secondary analysis of data from the 2015 US Transgender Survey, the largest existing data set containing comprehensive information on the surgical and mental health experiences of TGD people." A total of 27,715 TGD adults took the survey, which was conducted across 50 states; Washington, District of Columbia; U.S. territories and U.S. military bases abroad:
Gender-affirming surgeries are associated with numerous positive health benefits, including lower rates of psychological distress and suicidal ideation, as well as lower rates of smoking, according to new research led by Harvard T.H. Chan School of Public Health.
The study cited a decrease in "suicidal ideation" among those who had gender-affirming surgeries, with the article saying:
Gender-affirming surgeries were associated with a 42% reduction in psychological distress and a 44% reduction in suicidal ideation when compared with transgender and gender-diverse people who had not had gender-affirming surgery but wanted it, according to the findings.
A 2021 study published in the Journal of Adolescent Health, titled "Association of Gender-Affirming Hormone Therapy With Depression, Thoughts of Suicide, and Attempted Suicide Among Transgender and Nonbinary Youth," collected data as part of a "2020 survey of 34,759 lesbian, gay, bisexual, transgender, queer, and questioning youth aged 13-24, including 11,914 transgender or nonbinary youth." The study concluded that access to GAHT (gender-affirming hormone therapy) was associated with "lower rates of depression and suicidality among transgender and nonbinary youth." The study noted:
Use of GAHT was associated with lower odds of recent depression ... and seriously considering suicide ... compared to those who wanted GAHT but did not receive it. For youth under age 18, GAHT was associated with lower odds of recent depression ... and of a past-year suicide attempt.
The American Academy of Pediatrics shared their policy statement with Lead Stories titled "Ensuring Comprehensive Care and Support for Transgender and Gender-Diverse Children and Adolescents." The statement says it reinforces their commitment to "provide suggestions for pediatric providers that are focused on promoting the health and positive development of youth that identify as TGD while eliminating discrimination and stigma."

The American Academy of Family Physicians declined to comment when asked about the claim that "gender-change increases the risk of suicide," but their website has a section titled "Care for the Transgender and Gender Nonbinary Patient" that states:
The American Academy of Family Physicians (AAFP) recognizes that diversity in gender identity and expression is a normal part of the human existence and does not represent pathology. The AAFP supports access to gender-affirming care for gender-diverse patients, including children and adolescents. Gender-affirming health care is part of comprehensive primary care for many gender-diverse patients, and may include supportive behavioral health care, gender-affirming hormones, puberty blockade, medical procedures, and surgical interventions.