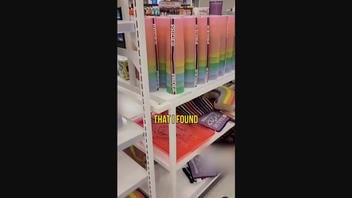 Did Target sell "tuck-friendly" Pride swimsuits as children's items? No, that's not true: Those swimsuits were labeled for adults and were not available in children's sizes.
The claim appeared in a post on Instagram on May 17, 2023. Its caption said:
We successfully boycotted Bud Light. Now it's Target's turn.
The post included a video containing shots of a label supposedly attached to some swimsuits at Target.
Here is what it looked like on Instagram at the time of writing: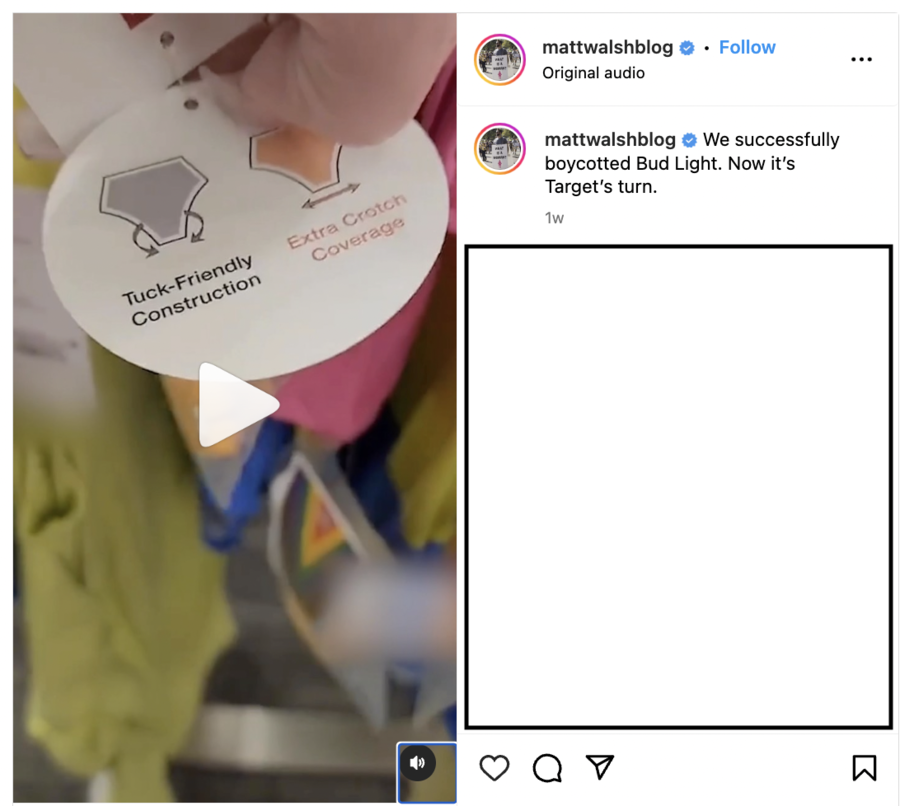 (Source: Instagram screenshot taken on Thu May 25 13:11:52 2023 UTC)
The video reused an episode of the Matt Walsh show uploaded to Facebook on May 17, 2023, where the claim was originally made. (Lead Stories staff was able to view the video before it was deleted; the same clip was also mentioned in a Politifact fact check.)
As of this writing, the Target website said the item's name was:
Pride Adult One Piece Colorblock Swimsuit.
It was available in many sizes ranging from XS to 4L. Those were adult sizes: Target charts describing sizes for kids' swimwear (for example, here and here) included different measurements.
The swimsuit in question did not appear at all in the Pride-themed clothing section for children.
Answering a Lead Stories email on May 25, 2023, a Target spokesperson shared a link to an AP fact check containing the company's statement that "tuck-friendly" swimsuits were never available in kids' sizes.
The AP story also included reporting from a Target store in Brooklyn:
... the same adult swimsuits shown on social media featured the 'tuck-friendly' tag, while a kids' black swimskirt for sale instead had a tag reading: 'Thoughtfully Fit on Multiple Body Types and Gender Expressions.'
The calls for boycotting Target followed a campaign against Bud Light that started when the beer brand partnered with transgender influencer Dylan Mulvaney. That campaign also involved multiple false claims debunked by Lead Stories.
On May 24, 2023, Target issued a statement that said, in part:
Since introducing this year's collection, we've experienced threats impacting our team members' sense of safety and well-being while at work. Given these volatile circumstances, we are making adjustments to our plans, including removing items that have been at the center of the most significant confrontational behavior.
As of May 25, 2023, the swimsuit in question was not removed from the website.
Other Lead Stories fact checks about gender-related issues can be found here.