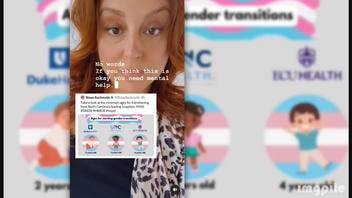 Do three North Carolina hospitals offer gender transitions to children as young as 2, 3 and 4 years old? No, that's not true: Social media posts have misrepresented what treatments are available to patients of various ages, insinuating that these North Carolina hospitals start gender transitions on children as young as 2. However, hormone therapies and gender-affirming surgery are not treatments offered to children of those ages by these hospitals.
The claim originated with an article published on the blog of the North Carolina chapter of the Education First Alliance PAC on May 1, 2023. The blog post was further amplified (here and here) on the same day from the Twitter account of the author, Sloan Rachmuth. A reel on Instagram was published by @that.bougie.mayhem.mama on May 2, 2023. The post was captioned:
No 'buts' on this one. Zero. If you comment here trying to defend this, you will out yourself as a child predator. Full stop.
The text captioning added to the video reads:
No words. If you think this is okay you need mental help.
Included in the Instagram reel is a screenshot of Sloan Rachmuth's tweet, which is captioned:
Take a look at the minimum ages for transitioning from North Carolina's leading hospitals. PASS #SB639 #HB808 #ncpol
This is how the post appeared on Instagram at the time of the writing of this fact check: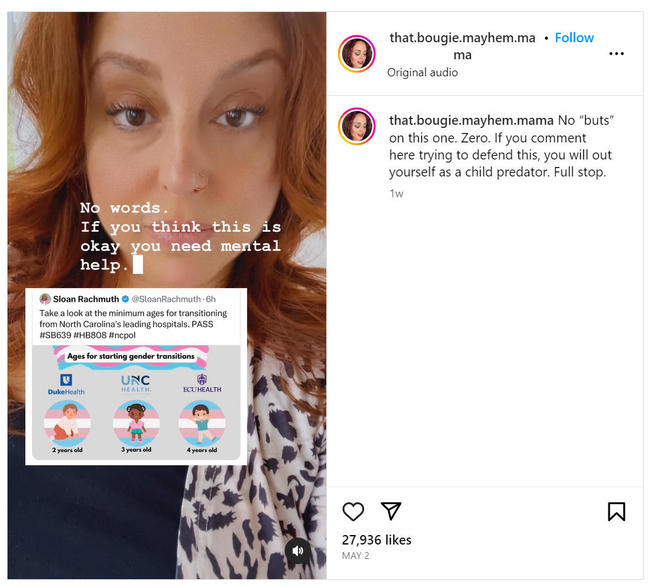 (Source: Instagram screenshot taken on Fri May 12 20:24:30 2023 UTC)
The graphic of the Sloan Rachmuth tweet features the pink, blue and white stripes of the transgender flag and the logos of the three hospitals, Duke Health, UNC Health and ECU Health, paired with three cartoon-style images of toddlers with ages labels of 2, 3 and 4 years old. This graphic heading says, "Ages for starting gender transitions."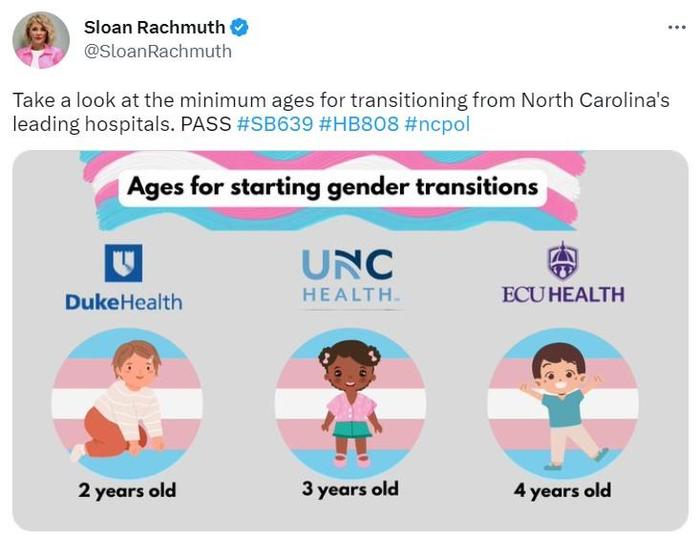 (Source: Twitter screenshot taken on Fri May 12 21:40:18 2023 UTC)
The tweet included the hashtags #SB639 #HB808, which refer to two North Carolina bills, and #ncpol. Bills S 639 and H 808 would make it unlawful to "alter the appearance or affirm the minor's perception of his or her gender or sex, if that is inconsistent with the minor's sex." This originally prohibited physicians from performing surgeries and hormone therapies on individuals under 18, but has been amended to only prohibit surgeries with some exemptions. On May 3, 2023, the House bill passed 74-44 and is now with the North Carolina Senate.
On May 4, 2023, all three of the hospitals featured in the posts about supposed gender transitions for toddlers posted public statements (pictured below) responding to the claims on social media: Duke Health (on Twitter and Facebook), UNC Health (on Twitter and Facebook), and ECU Health (on Twitter and Facebook).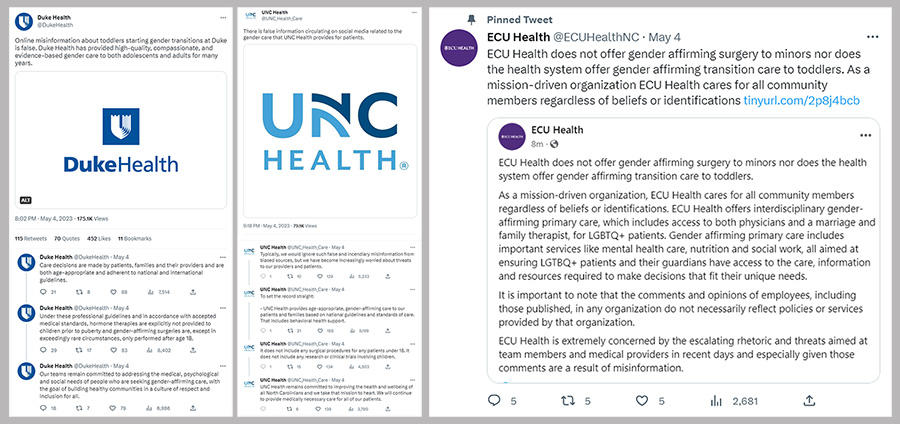 (Source: Lead Stories composite image made with Twitter screenshots taken on Fri May 12 21:40:18 2023 UTC)
Lead Stories contacted each of the three hospitals named in these posts by email and received replies from all on May 12, 2023.
Duke Health officials replied with this statement:
Online misinformation about toddlers starting gender transitions at Duke is false. Duke Health has provided high-quality, compassionate, and evidence-based gender care to both adolescents and adults for many years. Care decisions are made by patients, families and their providers and are both age-appropriate and adherent to national and international guidelines. Under these professional guidelines and in accordance with accepted medical standards, hormone therapies are explicitly not provided to children prior to puberty and gender-affirming surgeries are, except in exceedingly rare circumstances, only performed after age 18. Our teams remain committed to addressing the medical, psychological and social needs of people who are seeking gender-affirming care, with the goal of building healthy communities in a culture of respect and inclusion for all.
UNC Health responded with this statement:
UNC Health Statement on Gender Care

The information circulating on social media claiming UNC Health provides gender care to toddlers is absolutely false. It's dangerous and reckless to post such incendiary claims online, and we are increasingly concerned about threats to our providers and patients.

To be clear: UNC Health does not offer any gender-transitioning care for toddlers. We do not perform any gender care surgical procedures or medical interventions on toddlers. Also, we are not conducting any gender care research or clinical trials involving children.

If a toddler's parent(s) has concerns or questions about their child's gender, a primary care provider would certainly listen to them, but would never recommend gender treatment for a toddler. Gender surgery can be performed on anyone 18 years old or older.
In an email reply to Lead Stories, ECU Health clarified that they do not offer puberty blockers. Hormone therapy is only offered after puberty and in limited cases under national guidelines that include extensive mental health evaluations and done in consultation with, and with consent from, the parent or guardian. The official statement from ECU Health, dated May 5, 2023, states:
We are deeply concerned by the intentional spreading of dangerous misinformation resulting in violent threats against our health system, team members and providers. Our primary concern is the safety of our team members and those we are honored to serve.

To be clear: ECU Health does not offer gender affirming surgery to minors nor does the health system offer gender affirming transition care to toddlers.

As a mission-driven organization, ECU Health cares for all community members regardless of beliefs or identifications. ECU Health offers interdisciplinary gender-affirming primary care, which includes access to both physicians and a marriage and family therapist, for LGBTQ+ patients. Gender affirming primary care includes important services like mental health care, nutrition and social work, all aimed at ensuring LGTBQ+ patients and their guardians have access to the care, information and resources required to make decisions that fit their unique needs.

We are deeply appreciative of our community of patients, team members, providers and community members for supporting us in living our mission to improve the health and well-being of eastern North Carolina.
Lead Stories has previously written that a Washington state bill does not allow "government to take minor children away from parents if they refuse to agree to gender transition surgery." Additional Lead Stories fact checks of claims related to gender transitions can be found here.