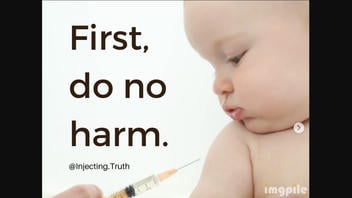 Does the pneumococcal vaccine cause autism spectrum disorder (ASD) in children? No, that's not true: There is no scientific evidence to support the assertion that the pneumococcal vaccine or any other vaccine causes autism. The shots are recommended by both the U.S. Centers for Disease Control and Prevention (CDC) and the World Health Organization.
The claim appeared in a slide show on Instagram (archived here) on May 10, 2023, under the title "First, do no harm." The description for the post says:
Under reporting is a huge problem.





The is risk, reactions are not rare, it's just that is isn't mainstream and physicians aren't trained to know what they look like outside of the obvious ones.





This is why having all the facts BEFORE making a decision is crucial.





You can ways do it later, but you can't take it back.





The third slide clearly demonstrates as well that it can be just one 💉
This is what the post looked like on Instagram at the time of writing: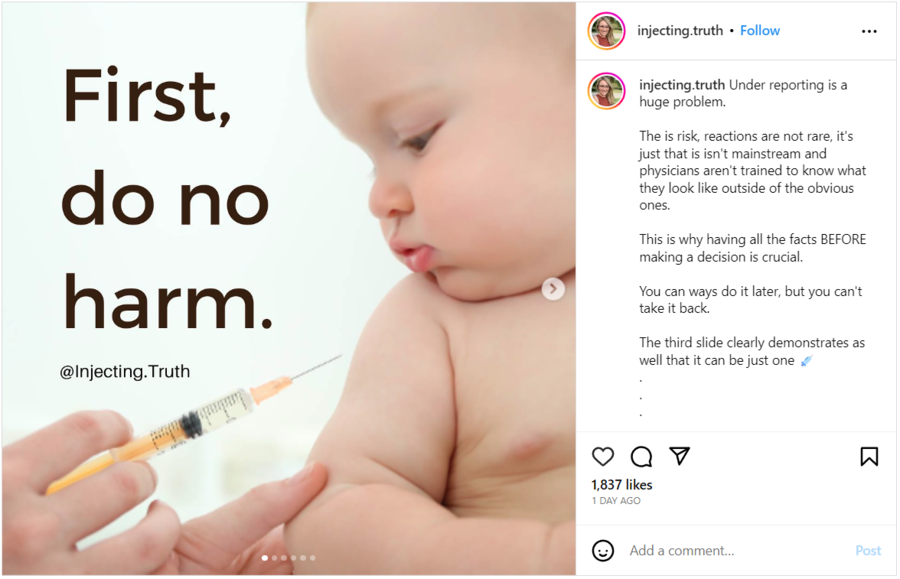 (Source: Instagram screenshot taken on Fri May 12 15:41:04 2023 UTC)
Triplets
The fourth slide in the Instagram post lays out its case against the pneumococcal vaccine by suggesting a connection between the shot and the purported autism in these three children: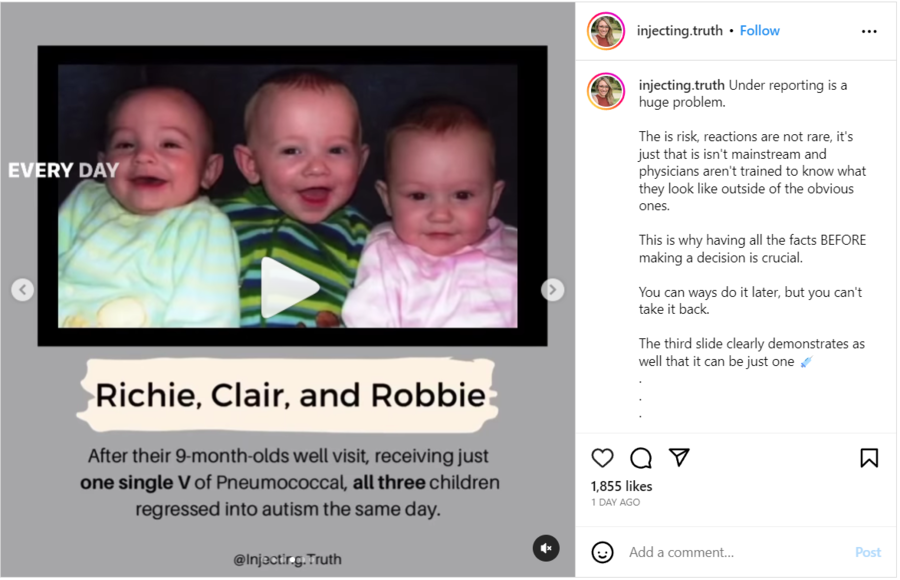 (Source: Instagram screenshot taken on Fri May 12 18:34:33 2023 UTC)
The slide provides no proof of its claim that the triplets "regressed into autism the same day" and that the cause was a single dose of the pneumococcal vaccine. A Google News search by Lead Stories found no stories about the children under the names given in the post.

However, a wider Google search found some stories circulating on anti-vaccine websites about the family named in the post, the McDowells, but primarily in videos on social media.
At least one video on YouTube that was associated with a GoFundMe campaign for the McDowell family was pulled from the platform for unclear reasons. The image from the GoFundMe site can be found below: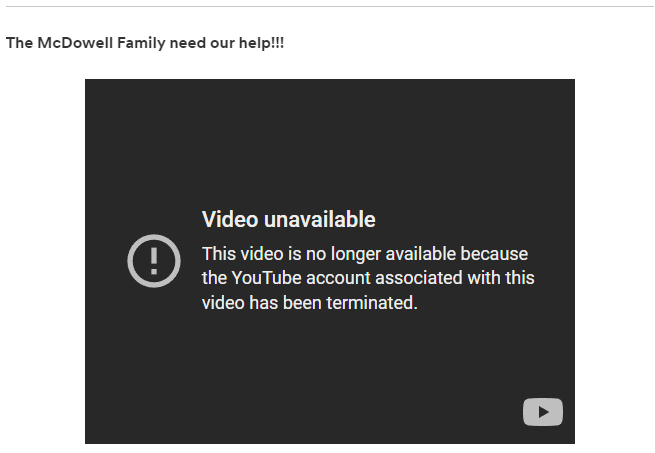 (Source: GoFundMe screenshot taken on Fri May 12 18:41:54 2023 UTC)
Autism Spectrum Disorder
ASD is a developmental disability that can cause significant social, communication and behavioral challenges. There is "no single known cause," according to the Mayo Clinic. It does not list vaccines among the possible causes of ASD:
Given the complexity of the disorder, and the fact that symptoms and severity vary, there are probably many causes. Both genetics and environment may play a role.

Genetics. Several different genes appear to be involved in autism spectrum disorder. For some children, autism spectrum disorder can be associated with a genetic disorder, such as Rett syndrome or fragile X syndrome. For other children, genetic changes (mutations) may increase the risk of autism spectrum disorder. Still other genes may affect brain development or the way that brain cells communicate, or they may determine the severity of symptoms. Some genetic mutations seem to be inherited, while others occur spontaneously.
Environmental factors. Researchers are currently exploring whether factors such as viral infections, medications or complications during pregnancy, or air pollutants play a role in triggering autism spectrum disorder.
In a May 12, 2023, email to Lead Stories, CDC Senior Public Affairs Specialist Belsie González provided a response to the pneumococcal vaccine claim from the agency's Immunization Safety Office. It said:
Vaccines, including pneumococcal vaccines do not cause autism.

All vaccines, including pneumococcal vaccines are closely monitored for safety before licensure and safety monitoring is on-going after licensure. There is no data to indicate a causal association between pneumococcal vaccines and autism.

Vaccines are recommended by CDC's Advisory Committee on Immunization Practices and endorsed by professional organizations because vaccines save lives and prevent morbidity, and the benefits of vaccination outweigh the risks of adverse events.
The response said more information is available here.
In addition, the CDC website adds that the most common side effects are mild and last one or two days. The list does not make any reference to symptoms of ASD:
Common Side Effects of Pneumococcal Vaccine

Feeling drowsy
Loss of appetite
Sore or swollen arm from the shot
Fever
Headache
The CDC recommends pneumococcal shots for infants as part of their normal childhood vaccines.
The World Health Organization also endorses pneumococcal vaccines to prevent diseases, such as meningitis and pneumonia, that are "a common cause of morbidity and mortality worldwide, more severely affecting young children and the elderly."
Lead Stories previously has fact checked additional claims related to autism and vaccines.