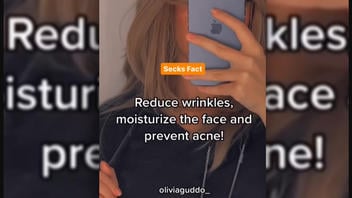 Should sperm be used to reduce wrinkles, moisturize the face and prevent acne? No, that's not true: There is no medical evidence that sperm (or ejaculate containing sperm, called semen), when applied to the face, will have the purported beneficial effects for skin care. In addition, semen can contain viruses, and an estimated 8 percent of women can have an allergic reaction from contact with semen, called seminal plasma hypersensitivity (SPH).
The claim was made in a video posted on Instagram by @nurseolivla on March 23, 2023. The post was captioned:
reduce reuse recycle ♻️
Text captioning added to the video reads:

Secks Fact
Sperm can be used to..
Reduce wrinkles, moisturize the face and prevent acne!
oliviaguddo_
This is how the post appeared on Instagram at the time of writing: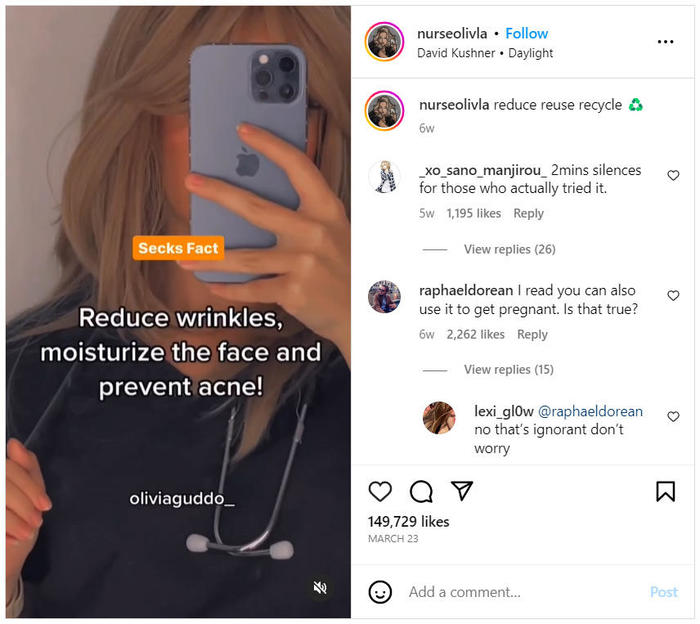 (Image source: Instagram screenshot taken on Wed May 10 21:50:07 2023 UTC)
Known risks, lack of benefits
Semen is composed of many different compounds that may individually be beneficial for healthy skin. In an April 8, 2021, article, Medical News Today looked at this question and listed protein, zinc, magnesium and urea as nutrients beneficial to skin that are present in semen -- emphasizing that does not mean these nutrients have any effect when applied to the skin. A PubMed search returned no results for medical studies that enumerated or quantified skin care benefits from topical semen application.
A research letter published by the Centers for Disease Control and Prevention's Emerging Infectious Diseases journal in November 2017 was titled, "The Breadth of Viruses in Human Semen." The research letter's authors reviewed 3,818 articles on PubMed found with a search for "virus* AND semen OR sperm* OR seminal." They found reports recording 27 different viruses found in human semen (listed here), but noted, "For many of these, data on sexual transmission are lacking."
An October 2019 article titled, "Semen contact allergy" was published on DermNet, a free dermatological resource "supported by and contributed to by New Zealand Dermatologists on behalf of the New Zealand Dermatological Society Incorporated." The article says an estimated 8 percent of women may be allergic to proteins in seminal fluid. The allergy can cause localized reactions that include itching, swelling and blistering, or systemic reactions such as hives, throat swelling, wheezing, nausea and even anaphylaxis. Thirty-nine percent of women with SPH experience both localized and systemic reactions. One method of testing for this allergy is a skin prick test conducted with centrifuged seminal fluid that has the spermatozoa removed.
An ingredient called spermine
Antonie van Leeuwenhoek was a Dutch microscopist who discovered crystalline structures in human semen in 1687, having first seen living spermatozoa a year earlier. This crystalline substance, a polyamine, was named spermine many years later. Spermine is not only found in human semen, it exists in all eukaryotic cells, which are cells that have a nucleus -- this includes the cells of plants, animals, protozoa and fungi.
In 2008 and 2009 beauty blogs and pop culture websites published articles about a skin product containing spermine. These articles frequently had misleading titles and plenty of puns suggesting that the high-end skin treatment costing hundreds of dollars at luxury spas was derived from a human contribution. An article in The Telegraph (archived here) says, "the key element of Bioforskning's Skinscience Spermine cream is a crystal extracted from seminal fluid." In a cosmopolitan.com article, the $250 treatment at New York City's Townhouse Spa was misrepresented as a "sperm facial" although later in the article it was disclosed that "some lab figured out how to synthesize the stuff."
Articles such as these may be the source of the urban myth that a semen facial was a real thing offered in spas. The "Spermine For Professionals" product line by Skinscience does not appear to be available anymore. The skinscience.no website (archived here) has been offline since at least 2013. On April 9, 2009, Geir H. Kvalheim, the founder of Skinscience, left a comment on a March 7, 2009, article on truthinaging.com:
... However, many ask us the same question you also address; why don't we change the name of Spermine?

The answer is simply that we don't want to hide or disrespect a brilliant and innovative discovery because it may cause some bad assosiactions. We believe in true stories and true scientific documentation. We are not a part of the traditional skin care industry where it seems to be more important to create an innovative marketing made buzz word with no meaning and no real documentation. We know our strategy may cause some aversion among some consumers but we have also seen that our strategy also give us thousands of consumers with great results.

For the record, we produce the molecule Spermine in a laboratory identical to the Spermine you already are producing in you skin.
Spermine is found naturally in many foods and has also been formulated as a dietary supplement. The potential antioxidant and anti-inflammatory properties of the polyamines spermine and spermidine have been investigated in recent decades but clear conclusions and guidelines have not been developed. A review article, "Polyamines in Food," was published in the July 11, 2019, journal Frontiers in Nutrition, which concluded:
Polyamines have been associated with a high antioxidant activity in foods matrices, especially spermine. Therefore, foods rich in polyamines such as wheat germ, soybean, mushroom, or citrus fruits, in the form of extracts or concentrated powders, could be used as natural antioxidant ingredients. Such application will require previous studies to determine safety and effective dosage.