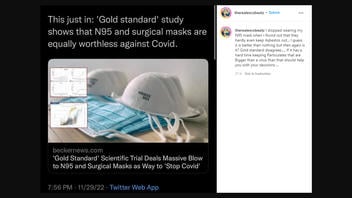 Does a "gold standard" scientific trial prove that N95 respirators and surgical masks are ineffective at preventing the spread of COVID-19? No, that's not true: This claim misrepresents the intent and findings of the trial, the study author told Lead Stories.
Canadian researchers conducted a randomized controlled trial (RCT) to determine "if medical masks offer similar protection against COVID-19 compared with N95 respirators" for health care workers providing "direct care to patients with suspected or confirmed COVID-19." The study, published in November 2022, did not evaluate whether wearing a surgical mask or N95 respirator was more effective than not wearing any face covering, nor did it assess mask or respirator effectiveness in non-health care workers.
The claim originated in a tweet (archived here) on November 29, 2022, that included a link to an article by Becker News (archived here) with the headline "'Gold Standard' Scientific Trial Deals Massive Blow to N95 and Surgical Masks as Way to 'Stop Covid.'"
A screenshot of that tweet was shared on Instagram on December 2, 2022. A caption with the screenshot read:
I stopped wearing my N95 mask when I found out that they hardly even keep Asbestos out... I guess it is better than nothing but then again is it? Gold standard disagrees..... If it has a hard time keeping Particulates that are Bigger than a virus than that should help you with your decisions ...
Here is how the post appeared at the time of this fact check's writing: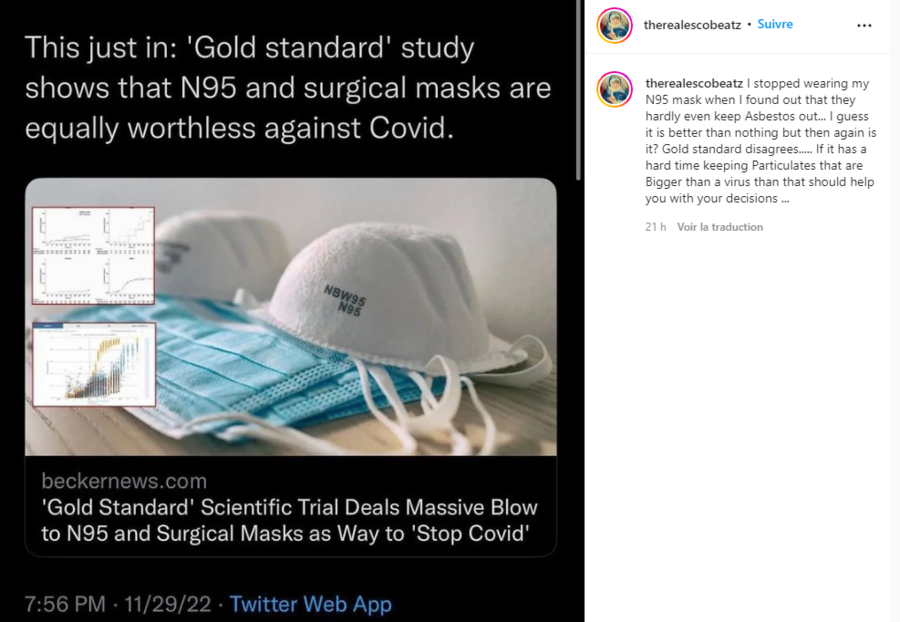 (Source: Instagram screenshot taken Tue Dec 6 at 18:17:36 2022 UTC)
The Becker News article, published on November 30, 2022, claimed that the study, published in the peer-reviewed medical journal Annals of Internal Medicine on November 29, 2022, dealt a "massive blow to N95 and surgical masks as [a] way to 'stop Covid.'" The article's writer, Kyle Becker, argued that "the researchers' conclusion about the study is that the reduction in Covid exposure risk by wearing medical masks or N95 masks is equivocal."
In an email to Lead Stories on December 5, 2022, the author of the study in question, Dr. Mark Loeb, a professor of infectious diseases at McMaster University in Hamilton, Canada, said that, while it is true that N95 respirators did not outperform medical masks, the study's findings cannot be used to draw conclusions regarding the effectiveness of wearing a N95 respirator or surgical mask compared with none at all.
"The statement about N95 respirators not significantly outperforming medical masks is correct. Although the term 'non-inferior' is more accurate," Loeb told Lead Stories. "However, there was no comparator group with no mask/N95 respirator, so comments about the absolute effect of the mask or N95 respirator to protect against COVID-19 cannot be made on the basis of our trial."
The researchers' randomized, controlled trial compared the effectiveness between N95 respirators and surgical masks; not the effectiveness of wearing a mask or not. No inference about the "absolute effectiveness of masks" was made as an outcome of the trial, Loeb added.
RCTs have been referred to as the "gold standard for effectiveness research," used to measure the effectiveness of an intervention or treatment. In this RCT, 1,009 health care workers in four countries were randomly given either surgical masks or N95 respirators to use for all their activities over nine weeks, whether that activity involved patient care or not. Participants were then asked to report their compliance.
Though the figures and charts featured in the article represented authentic data collected over the course of the study, Loeb told Lead Stories that the Becker News article misrepresented the study's findings, which focus primarily on overall estimates of masks' effectiveness, he said. Loeb noted that:
There was a 1.19% increase in the risk of COVID-19 infection in participants that were assigned to medical masks compared to N95 respirators. This is known as the point estimate and is the result that is closest to the true effect.

The confidence intervals around this, that is, what the possible results could be the trial was repeated many times, range from -2.5% to 4.9%.

This means that the risk of a COVID-19 infection in those using the medical masks could have ranged from anywhere from 2.5% reduction in risk to a 4.9% increase in risk.
Additional Lead Stories fact checks of claims about COVID-19 can be found here.