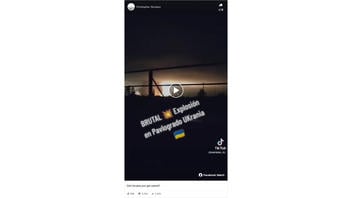 Does a video posted on social media in early May 2023 show Ukraine being struck by a nuclear weapon? No, that's not true: Although the video does show the aftermath of a reported Russian missile attack in Ukraine, there is no evidence that the attack was nuclear and there has been no reporting of what would be a news event of global importance.
The claim originated in a post published on Facebook on May 1, 2023. It included a video that allegedly shows an explosion in Pavlohrad (translated to "Pavlograd" in Russian), Ukraine, that was posted on TikTok (archived here). The caption of the Facebook post read:
Did Ukraine just get nuked?
This is what the post looked like on Facebook at the time of writing: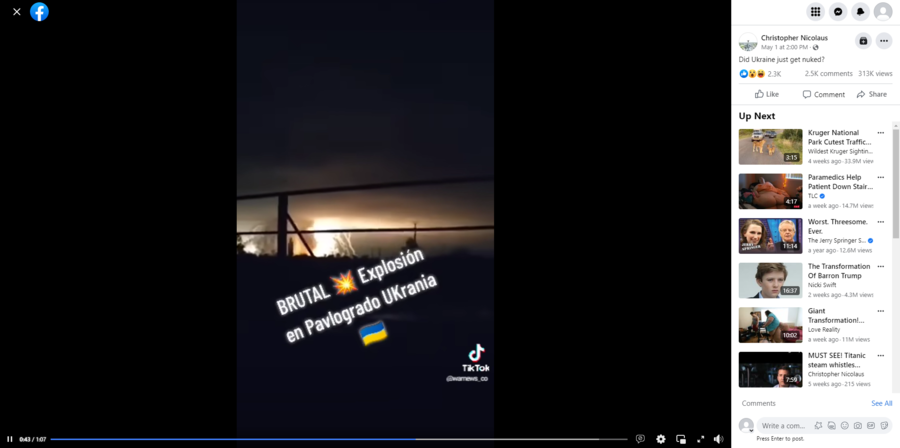 (Source: Facebook screenshot taken by Mon May 8 15:24:25 2023 UTC)
Unlike the Facebook post, the caption of the TikTok video does not claim that the attack was nuclear. Instead, a Google-translated version (translated from Spanish) of the TikTok video caption reads:
Impressive Explosion in #pavlograd Pavlograd #ukraine after a #Russian #bombing of a train carrying tons of ammunition and #military #weapons for the #Ukrainian #ukraine #warzone #w army arnews #russia🇷🇺 #ukraine #news #explosions #amazing #putin #zelensky #war #army #army #lead
According to Serhii Lysak, head of the regional state administration in the Dnipropetrovsk region where Pavlohrad is located, the damage from the missile strike was extensive. Lysak posted a series of Telegram messages in Ukrainian on May 1, 2023, about the Russian missile attacks. A Google translation of one of the messages providing more detail about the attack is included below:
An industrial enterprise was damaged in Pavlohrad. A fire broke out there, which the rescuers have already put out.
In the residential area, 19 high-rise buildings, 25 private houses, 6 schools and pre-school education institutions, and 5 shops were mutilated.
None of Lysak's messages indicate that nuclear weapons were involved in the attack.
News reports from BBC News, PBS NewsHour and The Guardian stated that a Russian missile attack between April 30 and May 1, 2023, was responsible for the massive fire and resulting damage in Pavlohrad. The articles state that according to a Ukrainian official, Ukrainian forces shot down 15 of the 18 missiles that Russian forces launched in the country.
The fact-checking outlet PolitiFact notes that The Guardian article includes a similar video used in the Facebook post making the claim. Still, none of these sources mentioned the attack involving nuclear weapons.
Other Lead Stories fact checks of claims about the war in Ukraine can be found here.