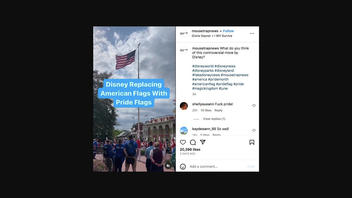 Did Walt Disney World remove "all American flags" and replace them with "the Pride flag" to honor lesbian, gay, bisexual, transgender and queer (LGBTQ) rights? No, that's not true: As of May 25, 2023, the Walt Disney Company had not announced such a change ahead of LGBTQ Pride Month, the annual June commemoration of the LGBTQ+ rights struggle. The claim came from a satirical Instagram account whose website's disclaimer states that "We write 100% made-up stories for your enjoyment."
The claim appeared in a video post on Instagram on May 22, 2023. The caption read:
What do you think of this controversial move by Disney?

#disneyworld #disneynews #disneyparks #disneyland #fakedisneynews #mousetrapnews #america #pridemonth #americanflag #prideflag #pride #magickingdom #june
The video opened with an image of people looking up at a U.S. flag in what appears to be the Magic Kingdom Park at Walt Disney World near Orlando, Florida. Text on the video read:
Disney Replacing American Flags With Pride Flags
This is what the post looked like on Instagram at the time of the writing: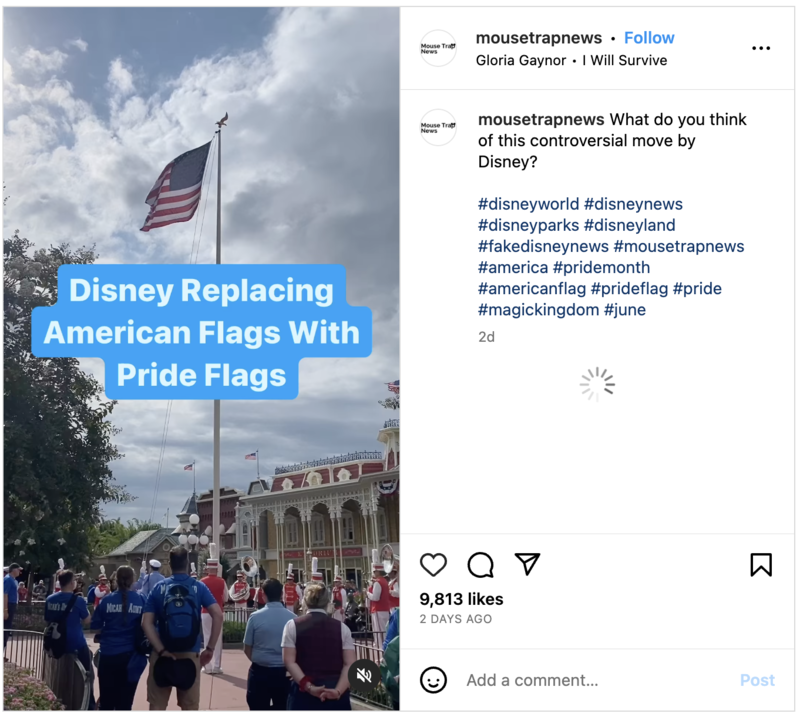 (Source: Instagram screenshot taken on Thu May 25 18:48:54 2023 UTC)
The video's narrator claimed that Disney is replacing "all American flags with the pride flag" as "part of the battle" against Florida Gov. Ron DeSantis. Disney and DeSantis are locked in a legal battle over the company's tax status and loss of control over a board that runs the tax district that houses the Disney World resort. Disney earlier had criticized a DeSantis-approved law that restricts public school discussions of sexual orientation and gender identity.
The post did not mention that the account that posted the video on Instagram, Mouse Trap News, is satirical. The account bio contains the following disclaimer:
💯Real Disney News That is 100% Fake

🧅The Onion of Disney News
The account bio also links to Mouse Trap News' website. The site's About page has a fuller disclaimer that reads:
Mouse Trap News is the world's best satire site. We write fake stories about Disney Parks stuff. From Disney Park announcements to Disney Hotel and resort news to made-up Disney partnerships, you can be assured that anything you read here is not true, real, or accurate, but it is fun.
Disney World does lower the American flag daily as part of its "Salute the Spirit of America" tradition, a tribute to U.S. military veterans, according to the Walt Disney World website. The site does not say that when the American flag is lowered each day, an LGBTQ+ Pride flag is raised in its place.
A search of the Walt Disney Company website showed no news releases or statements announcing such a change before or during June 2023 to mark LGBTQ Pride Month.
Additional Lead Stories fact checks of claims related to the Walt Disney Company can be read here.