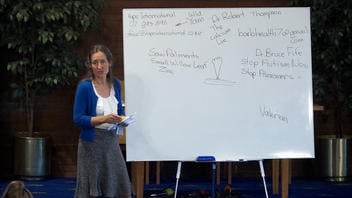 Can a problem with one tooth cause health issues in another, otherwise unrelated organ as a result of "a link" or "meridian" connecting the two? No, that's not true: This claim derives from an unproven theory that is not backed up by any scientific evidence.
The claim comes from a video (archived here), posted on YouTube on April 6, 2016, that shows a February 2016 public talk by former naturopathic practitioner Barbara O'Neill. On May 20, 2023, a fragment of that recording resurfaced on Facebook.
At the 1:04:20 mark in the original video, O'Neill says:
... every tooth has a link for different parts of the body. So a person can have, you know ... kidneys not working well because the tooth that has the connection to the kidney path has a root canal in it.
Here is what the video looked like on YouTube at the time of the writing of this fact check: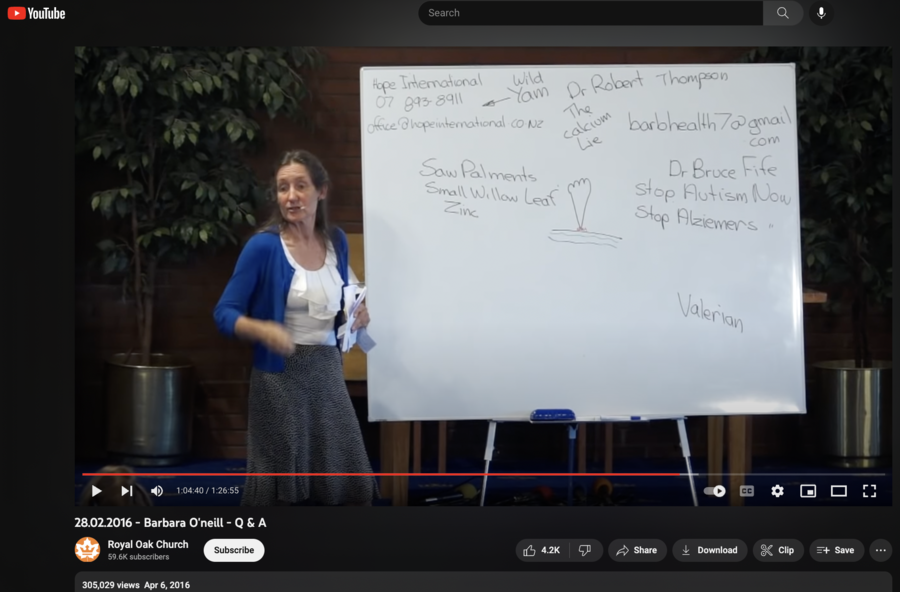 (Source: YouTube screenshot taken on Fri May 25 17:30:47 2023 UTC)
O'Neill, featured in the recording, is an Australian banned for life from providing any health services by Australia's New South Wales Health Care Complaints Commission, an independent body that reviews complaints against doctors and other medical professionals.
The 2019 decision described her as "a risk to the health and safety of members of the public." It highlighted that O'Neill operated as "an unregistered practitioner" with "limited qualifications." It stated that she acted as "a naturopath, nutritionist and health educator," but misled people by repeatedly promoting false -- and dangerous -- medical misinformation.
The claim made in the video on YouTube paraphrased a belief that each tooth corresponds to a particular organ and that they are connected through some "meridian" -- in traditional Chinese medicine, a specific route through which energy flows in the body.


The existence of meridians cannot be proven. Unlike bones, blood vessels and other tissues, they don't show up on X-rays, MRIs or sonographic images. Meridians cannot be seen or repaired during surgery.
In 2014, Dr. Stephen Barrett, who co-founded the non-profit
National Council Against Health Fraud
, pointed out that the Internet
offers too many variations of the charts
that describe these alleged "pathways." Many of the charts differ on the key issue -- what is connected to what. He wrote:
Meridians are imaginary pathways through which 'life energy' or 'qi' is claimed to flow. They are part of the traditional Chinese medicine belief system and have no basis in reality. Meridian tooth charts are not related to the knowledge of anatomy, physiology, health, and disease that its widely accepted by the scientific community.
A search of the
National Library of Medicine
, which describes itself as the "world's largest biomedical library," did not show any scientific research about the "tooth meridian chart":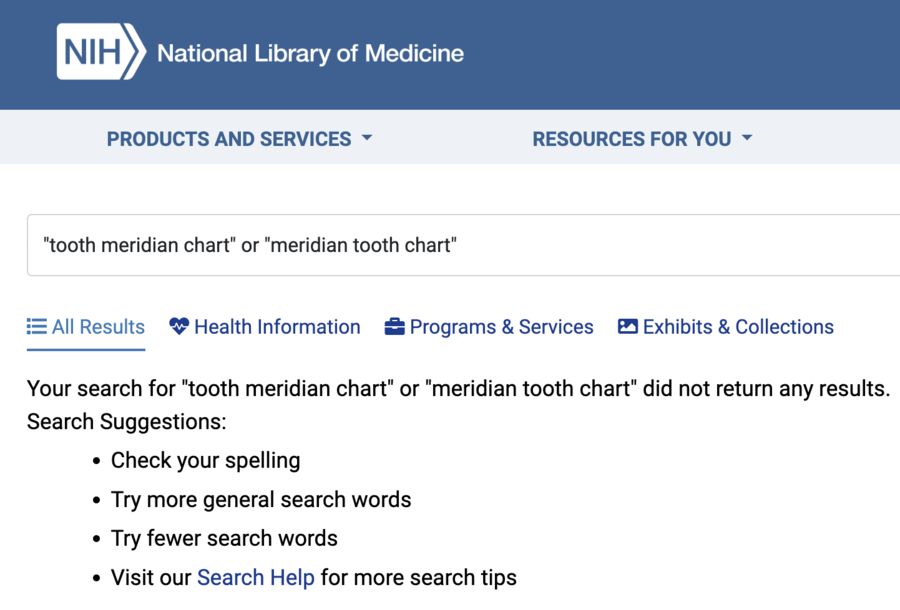 (Source: Nlm.nih.gov screenshot taken on Fri May 26 19:06:03 2023 UTC)
The rise of unsupported dental medical claims in the offline world has been described more than once. For example, in 2020, the Office of Science at McGill University published an
article
specifically addressing the phenomenon of "holistic dentistry," when practitioners offer treatments that are "not taught in dental school."
Other Lead Stories fact checks of claims about oral health can be found here.