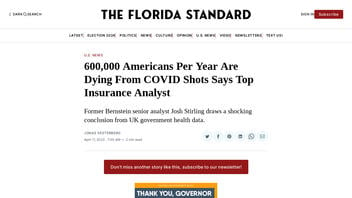 Are "600,000 Americans Per Year Are Dying From COVID Shots"? No, that's not true: COVID-19 vaccines have undergone rigorous testing and monitoring for safety and efficacy before being approved for use. While vaccines can have side effects, the vast majority of them are mild and temporary. Serious adverse events are rare, and the benefits of vaccination in preventing severe illness, hospitalization and death from COVID outweigh the risks, subject-matter experts say.
The claim appeared in an article (archived here) published by The Florida Standard on April 11, 2023, under the title "600,000 Americans Per Year Are Dying From COVID Shots Says Top Insurance Analyst." The story opens:
Those vaccinated against COVID-19 have a 26 percent higher mortality rate on average compared to those who declined the jab - and the death toll is even more staggering for vaccinated people under 50 years old, where mortality is 49 percent higher than for those unvaccinated.
This is what the post looked like on The Florida Standard website at the time of writing: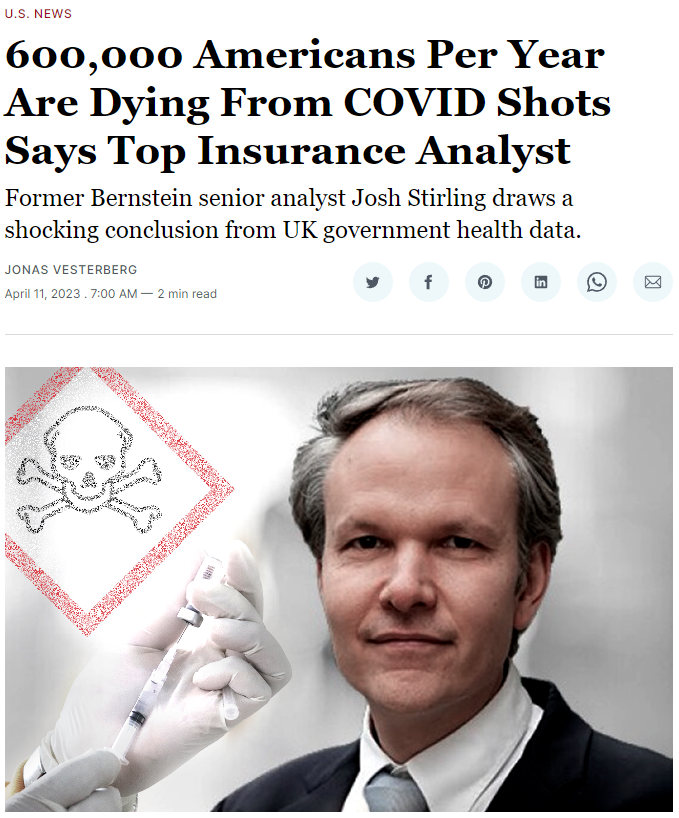 (Source: The Florida Standard screenshot taken on Wed Jun 28 16:17:02 2023 UTC)
A post on Twitter (archived here) by Dr. Pierre Kory from June 20, 2023, amplified the claim by sharing The Florida Standard article more than two months after it was originally published. It said:
A number of different data sources & methods estimate 500,000 plus vaccine deaths just in the U.S alone. The only thing more disturbing is that gov't & mass media avoids addressing this tragedy. How can journalists sleep at night?
This is what the post from June 20, 2023, looked like on Twitter: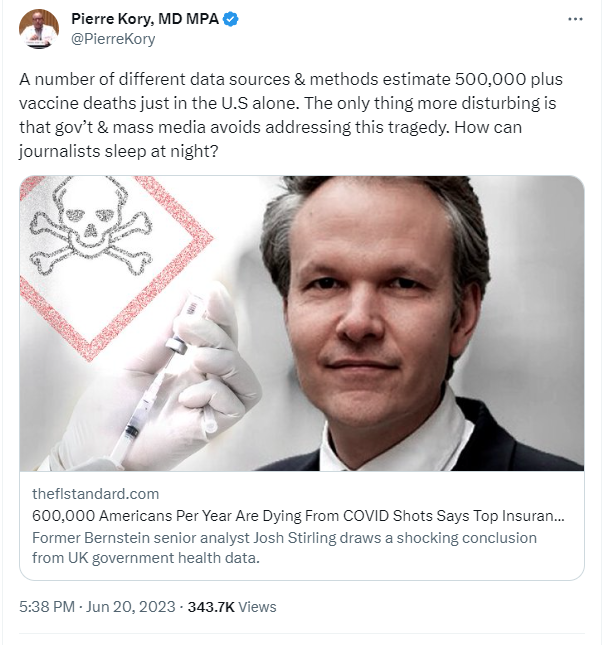 (Source: Twitter screenshot taken on Wed Jun 28 17:11:11 2023 UTC)
About Dr. Pierre Kory
Kory is a physician affiliated with the Front Line COVID-19 Critical Care Alliance (FLCCC), an anti-vaccine group that has been cited for perpetuating unsubstantiated claims regarding the COVID virus in a scholarly article in Frontiers in Pharmacology. Kory is a founding member of FLCCC.
Josh Stirling testimony
The Florida Standard article hangs on the testimony of Josh Stirling, the founder of the Insurance Collaboration to Save Lives. Stirling is not in the medical profession; he has described himself as an "insurance guy," who has spent his career "looking at numbers."
Stirling spoke during a roundtable on COVID vaccine efficacy and safety hosted by Sen. Ron Johnson on December 7, 2022. At 27:10 into the event, Stirling presented his case based on U.K. health data, which is included in the claim mentioned in the story. He then went on to extrapolate to COVID deaths in the United States:
The people in the U.K. who took the vaccine have a 26 percent higher mortality rate. The people who are under the age of 50, who took the vaccine, now have a 49 percent higher mortality rate.

And worst of all, the people who only took one dose of the vaccine have an approximately 145 percent worse mortality rate. ...

If you were to take these numbers and just apply them to the United States, that ends up being something like 600,000 excess deaths per year in the United States from this higher vaccine-induced mortality.
Dr. James Lawler with the Division of Infectious Diseases at the University of Nebraska Medical Center told Lead Stories in a June 28, 2023, email that Stirling is misinterpreting the U.K. mortality data, which, he said, is a "long-standing strategy of the anti-vax movement." Lawler also wrote (emphasis his):
If one is so inclined, it is possible to view source data that the UK Office of National Statistics [ONS] publishes. ONS has posted their data on all-cause mortality by COVID vaccination status (updated as of Feb 23 [2023]). If you look at the data for all-cause mortality for ever vaccinated vs never vaccinated, people who received COVID vaccine have consistently died less frequently (in age-adjusted mortality) month after month compared to those who never received a COVID vaccine.
Centers for Disease Control and Prevention
Kristen Nordlund with the Centers for Disease Control and Prevention (CDC) said in a June 28, 2023, email that data show COVID vaccines are safe. She continued:
Despite continued misinformation on the safety of COVID-19 vaccines, the findings from one of the largest studies ever conducted on the safety of a vaccine have been released and show once again that COVID-19 vaccines are safe and effective. The results of the CDC study clearly illustrate that COVID-19 vaccines are not contributing to non-COVID deaths - there is no increased risk of death from non-COVID causes after COVID vaccination. In fact, rates of death among those who received the vaccines were lower than those who did not receive them.
Additionally, Nordlund said:
The findings also counter unsubstantiated claims that COVID-19 vaccines have caused widespread deaths. Rigorous vaccine safety monitoring has been a priority and practice at CDC for decades and vaccine safety surveillance for COVID-19 vaccine has been the most comprehensive in recent history.
Food and Drug Administration
Carly Pflaum, a press officer at the U.S. Food and Drug Administration (FDA), told Lead Stories in a June 28, 2023, email that "The claim that COVID-19 vaccines cause 600,000 deaths per year in the U.S. is completely false." She added:
COVID-19 vaccines have undergone--and continue to undergo--the most intense vaccine safety monitoring in U.S. history. The FDA and CDC stand firmly behind the safety and effectiveness of the mRNA COVID-19 vaccines, which are fully supported by the available scientific data ...

The FDA requires healthcare providers to report any death after COVID-19 vaccination to the Vaccine Adverse Event Reporting System (VAERS), even if it's unclear whether the vaccine was the cause. Reports of adverse events to VAERS following vaccination, including deaths, do not necessarily mean that a vaccine caused a health problem.

More than 672 million doses of COVID-19 vaccines were administered in the United States from December 14, 2020, through March 1, 2023. During this time, VAERS received 19,476 preliminary reports of death (0.0029%) among people who received a COVID-19 vaccine.

CDC and FDA clinicians review reports of death to VAERS, including death certificates, autopsy, and medical records. Continued monitoring has identified nine deaths causally associated with J&J/Janssen COVID-19 vaccination.
FDA staff also published an overview of death reports to VAERS, as well as a response letter addressing misinformation and misinterpretation of VAERS data.
Lawler said claims like the one found in The Florida Standard and shared by others spread confusion. He said, "People should get their health data from legitimate and reliable sources." He continued:
This technique of using bogus analyses from seemingly credentialed persons to undermine confidence in vaccines is a long-standing strategy of the anti-vax movement. It is easy to see how people can be misled with what appears to be legitimate data. Measuring impact of something like a vaccine is difficult - particularly when we have to look backwards to try to compare groups. That makes it easy to deliberately mislead people.

It's important to look at rates within comparable demographics - remember that most people in the UK and US have been vaccinated at least once (greater than 90% of people over 12 years old in the US). So, any event you measure will likely occur more frequently (in absolute numbers) in vaccinated vs unvaccinated, even if the rate in vaccinated persons is much lower. Also, it is important to account for the fact that older people and people with serious health problems are much more likely to be vaccinated (and boosted) than young and healthy people. There are many factors like this - that we call statistical biases - that can lead to false conclusions if not accounted for.
Lawler suggested two studies (here and here) on mortality and vaccination status as support for the conclusion that COVID vaccination does not increase the odds of dying but actually provides protection against it.
Additional Lead Stories fact checks of claims related to vaccines can be found here.
Additional Lead Stories fact checks of claims related to Dr. Pierre Kory can be found here.
Additional Lead Stories fact checks of claims related to Josh Stirling can be found here.