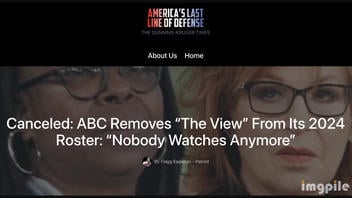 Did the American TV network ABC remove "The View" from its 2024 TV show lineup? No, that's not true: This story is from the satirical website The Dunning-Kruger Times, part of the satirical news network America's Last Line of Defense.
The claim appeared in an article published by The Dunning-Kruger Times on May 28, 2023, titled "Canceled: ABC Removes 'The View' From Its 2024 Roster: 'Nobody Watches Anymore'" (archived here). It opened:
It was bound to happen. Over the past few years, The View has been shrinking in the ratings, all the while becoming more controversial and difficult to swallow. The show's lead, Whoopi Goldberg, was voted the most disliked person in the entertainment industry.
This is what the article looked like at the time of writing: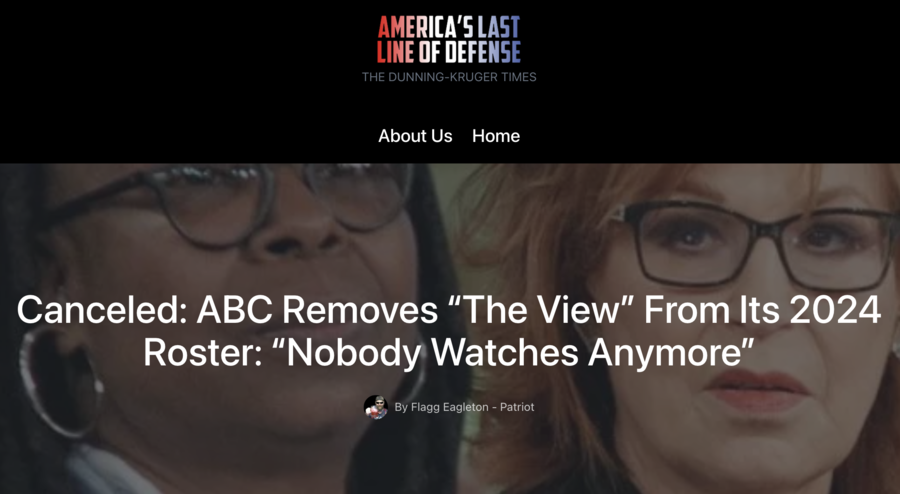 (Source: The Dunning-Kruger Times screenshot taken on Wed Jun 7 17:19:16 2023 UTC)
The article quote an "executive content director" named Joe Barron and a made-up poll on why another show needs to replace "The View."
The name Joe Barron is one that is commonly used in America's Last Line of Defense stories as an homage to a deceased friend of the creator of these stories. ABC doesn't have an "executive content director." The next closest thing would be executive director, as they oversee "creative content on scripted series." That person is Ricardo Martinez at ABC Entertainment.
The fictional poll, which concluded that 78 percent of respondents said they'd rather watch paint dry than watch "The View," was conducted by the "Citizens United National Trust Society," which has an obscene acronym and does not exist (example of search here).
A search of "ABC canceling The View 2024" in Google News' index of thousands of credible news sites did not yield any credible and relevant articles backing up the claim.

The Dunning-Kruger Times
The Dunning-Kruger Times is a satirical website with an about page (archived here) with following disclaimer:
About Us

Dunning-Kruger-Times.com is a subsidiary of the 'America's Last Line of Defense' network of parody, satire, and tomfoolery, or as Snopes called it before they lost their war on satire: Junk News

About Satire

Before you complain and decide satire is synonymous with 'comedy':

sat·ire ˈsaˌtī(ə)r noun: The use of humor, irony, exaggeration, OR ridicule to expose and criticize people's stupidity or vices, particularly in the context of contemporary politics and other topical issues.

Everything on this website is fiction. It is not a lie and it is not fake news because it is not real. If you believe that it is real, you should have your head examined. Any similarities between this site's pure fantasy and actual people, places, and events are purely coincidental and all images should be considered altered and satirical. See above if you're still having an issue with that satire thing.
The website is named after the Dunning-Kruger effect, a term from a psychology experiment that describes the phenomenon of being ignorant of one's own ignorance. (That experiment has been disputed by a math professor.)
It is run by self-described liberal troll Christopher Blair.
More Lead Stories fact checks on The Dunning-Kruger Times are here.