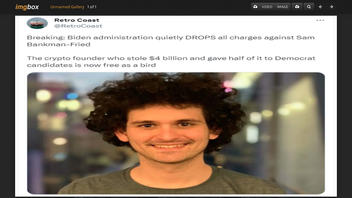 Did federal prosecutors "quietly" drop all 13 criminal charges against Sam Bankman-Fried, the founder of the collapsed crypto-exchange FTX? No, that's not true: On June 14, 2023, prosecutors announced that, for the time being, they would withdraw five of the charges against him. However, Bankman-Fried still faces eight charges related to his alleged orchestration of a scheme involving billions of dollars in securities fraud, as well as campaign finance violations and money laundering. If convicted on those eight charges alone, he could potentially face a sentence of more than 100 years in prison.
The claim appeared in a post on Twitter (archived here) published on June 18, 2023. The post said:
Breaking: Biden administration quietly DROPS all charges against Sam Bankman-Fried

The crypto founder who stole $4 billion and gave half of it to Democrat candidates is now free as a bird
This is what the post looked like on Twitter at the time of writing: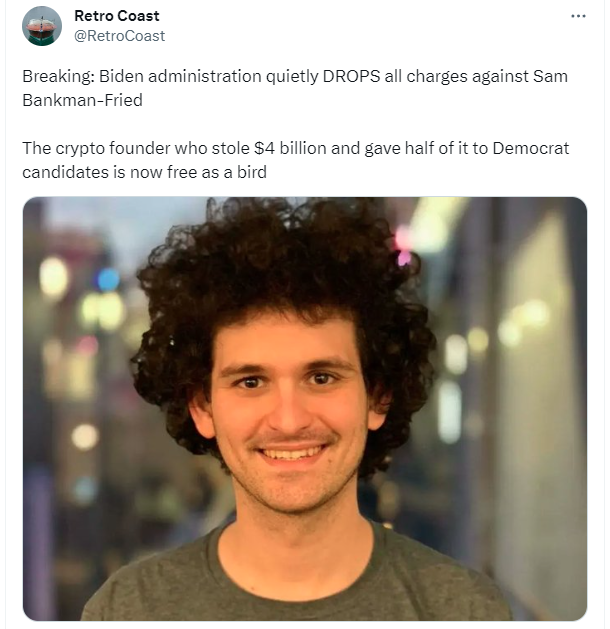 (Source: Twitter screenshot taken on Tue Jun 20 14:27:34 2023 UTC)
Prosecutors are scheduled to go to trial in October 2023 on the eight original criminal charges against Bankman-Fried. Those charges led to his extradition from the Bahamas in December. 2022. The five additional charges had been added in the months since his extradition and arrest. They included bank fraud and an allegation he paid a $40 million bribe to the Chinese government to unfreeze a trading account.
The newer counts against Bankman-Fried had been a source of contention between the United States and the Bahamas because they were not part of the original extradition agreement between the two nations. To simplify matters, the five charges were separated from the original eight and a second trial date for them was requested by prosecutors for early 2024. This is what The New York Times reported about the developments in a story on June 15, 2023:
The prosecutors said the delay was a procedural necessity. This week, Mr. Bankman-Fried won a ruling in the Bahamas, where FTX was based, granting him the ability to argue in court there that the Bahamian government should not consent to the additional charges. That legal dispute could take months to unfold.

In the court filing on Wednesday, the prosecutors said it was uncertain when the Bahamas would decide whether to authorize the new charges. They wrote that their move was intended to 'simplify the proof at trial and decrease the burden of trial preparation' on Mr. Bankman-Fried.
Separately, no evidence has been presented to support the tweet's claim that Bankman-Fried gave $2 billion to Democratic candidates and is "now free as a bird," suggesting the money bought him freedom.
ABC News reported on June 15, 2023, that one of the counts accuses Bankman-Fried of improperly donating "tens of millions of dollars to mainly Democratic and some Republican candidates," not billions. However, it is true that Bankman-Fried was granted bail when he arrived in the United States on the original charges and was allowed to remain under house arrest at his home in Palo Alto, California.
Additional Lead Stories fact checks of claims related to Bankman-Fried can be found here.