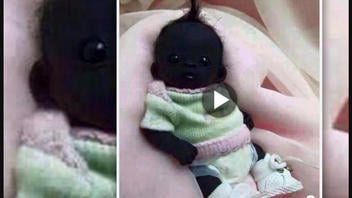 Does this photo show a human baby dubbed "The blackest South African baby in the world" or "the World's Tiniest, Darkest, and Most Resilient Baby"? No, that's not true: This photo doesn't show a human baby but a handcrafted doll by sculptor Lilah Pearson. It's a one-of-a-kind "Baby Gorilla Monkey" made of polymer clay. Photos of Pearson's creation have circulated with misleading clickbait headlines since 2015.
One of the earliest instances of this clickbait trope was published on Social Trends PH in June 2015 (archived here), as reported in a December 17, 2015, fact check by Snopes. The reverse image search engine TinEye also shows the photo was published on many sites in June 2015, some with a headline that promises, "The shocking truth about the 'blackest South African Baby in the world."
Eight years later this misleading post is still going strong. On June 18, 2023, a post published by the Facebook page BaBy Heaven linked to an article on malise.us (archived here). The post caption and the article title are the same:
Unveiling the Extraordinary Journey: The Incredible Story of the World's Tiniest, Darkest, and Most Resilient Baby (Video)
This is what the post looked like on Facebook at the time of writing: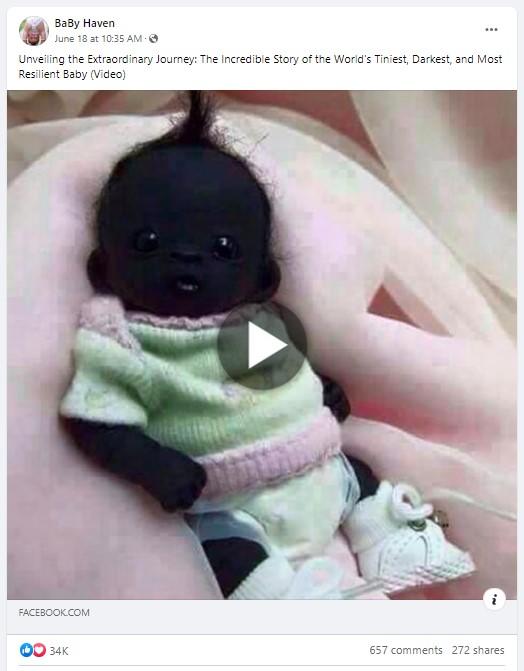 (Source: Facebook screenshot taken on Tue Jun 20 14:57:29 2023 UTC)
Although the post promises a video, the video does not deliver. The embedded YouTube video from July 14, 2015, has captioning in Vietnamese. Translated by Google, it says:
Strange story is true - The whole world is buzzing because of the 'black as coal' baby

Not only possessing dark skin, this special baby also attracts attention with large round black eyes that look extremely cute. Many people after seeing the photo are curious about the baby's condition, because even though he is black, the baby's skin color is clearly much darker than the people around him. Some netizens even expressed doubts about the authenticity of the photo because the baby looks very similar to a doll or a character from a Disney cartoon. (...)
The video is 1 minute 35 seconds long and does not feature any moving images, just one still image (pictured below). This is the same image as the Facebook post, but rotated about 45 degrees.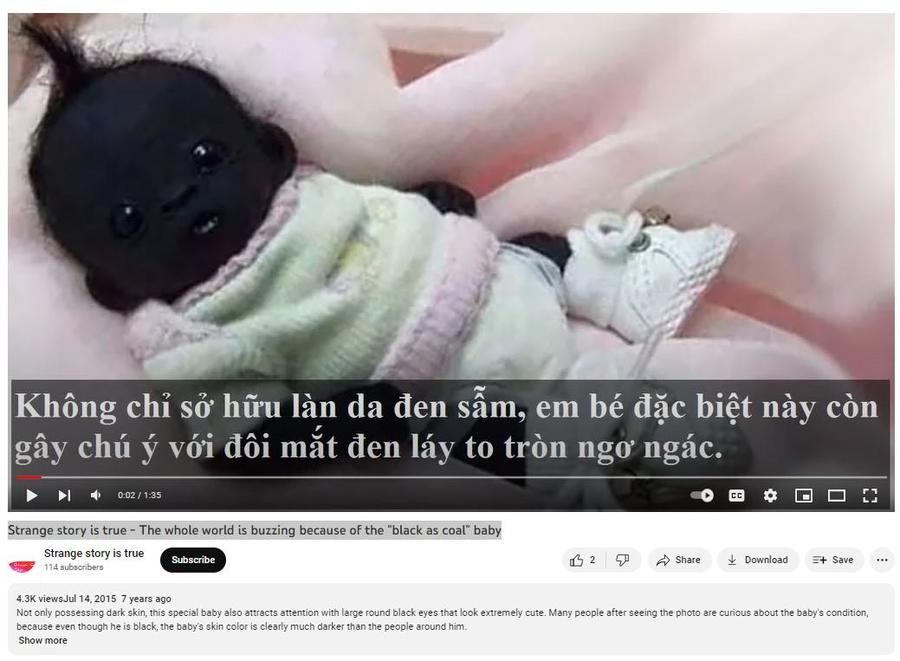 (Image source: YouTube screenshot taken on Tue Jun 20 16:25:44 2023 UTC)
The inventory of one of a kind (OOAK) polymer clay dolls offered by Lilah Pearson has changed since 2015. In June 2023, at the time of writing, her Etsy shop "Breath of Heaven" is marked as "taking a short break." The doll featured (below) in a May 3, 2019, post on Instagram shows a "Baby Gorilla Monkey" doll with similar hands and hair as the doll in the article, but since it is a one of a kind doll there are differences -- in this case, the outfit and expression of the mouth are not the same.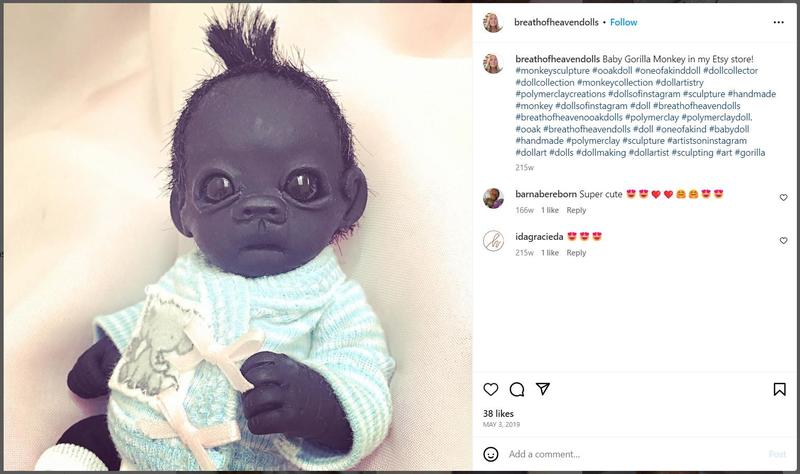 (Image source: Instagram screenshot taken on Tue Jun 20 16:25:44 2023 UTC)
Pearson has a page on Pinterest showcasing her creations named "Polymer clay sculpture - my art." It shows a variety of her designs, mostly baby monkeys, orangutans and gorillas, but also a few fantasy baby dolls with elfin features.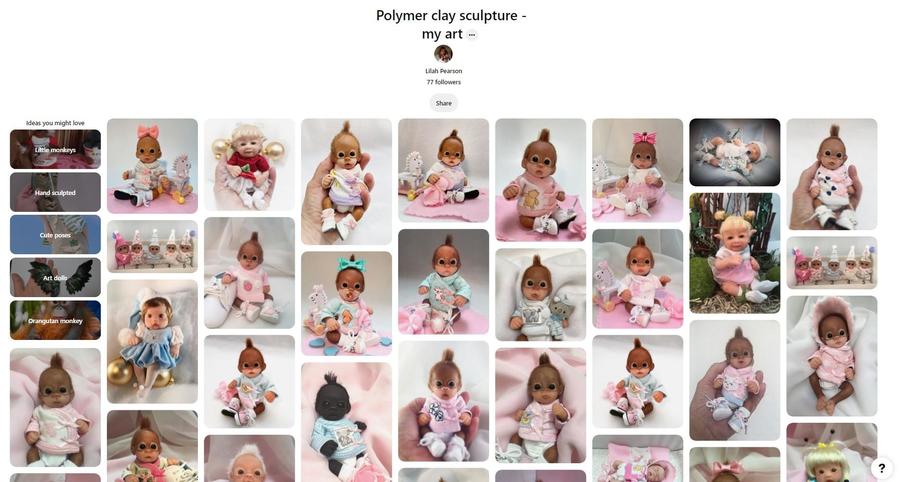 (Image source: Pinterest screenshot taken on Tue Jun 20 16:25:44 2023 UTC)