STORY UPDATED: check for updates below.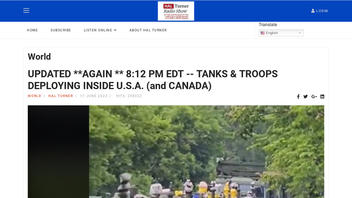 Do images of military equipment in U.S. and Canadian cities show some sort of military action or deployment is taking place in June 2023? No, that's not true: Military equipment in U.S. and Canadian cities does not necessarily indicate that military action is imminent. Military equipment may be deployed to urban areas for various reasons, such as training exercises, security measures, disaster response preparations or ceremonial events.
The claim appeared in an article (archived here) published by the Hal Turner Radio Show on June 17, 2023, titled "TANKS & TROOPS DEPLOYING INSIDE U.S.A. (and CANADA)." The article opens:
Citizens in **MANY** areas of the U.S.A. are startled that tanks, troops, assault aircraft are BEING DEPLOYED on the streets throughout the U.S.A. today, Saturday, June 17. Video below shows tanks on the highways of Idaho, Osprey Helicopters dropping Marines in California residential neighborhoods, and trainloads of military armor moving in Montreal, Quebec, CANADA.
This is what the article looked like on the Hal Turner Radio Show website at the time of writing: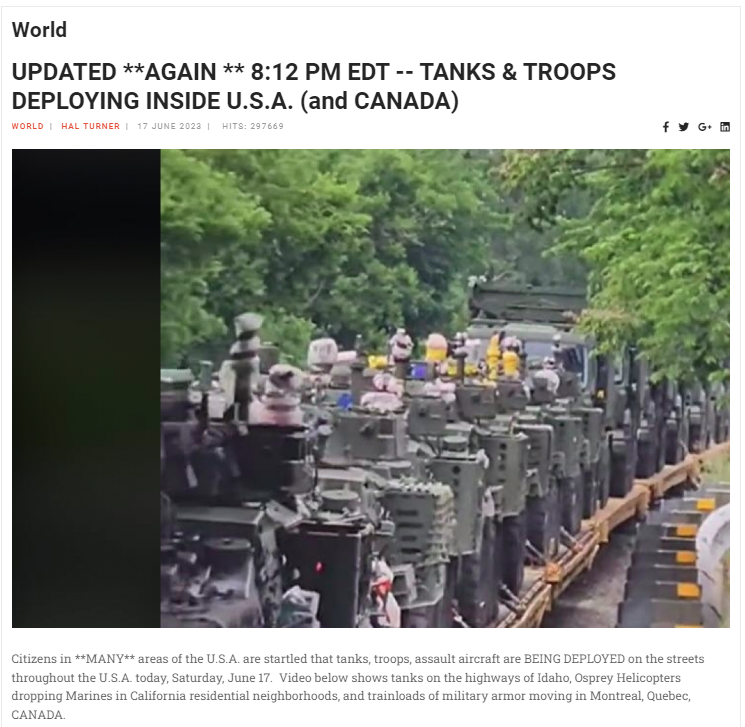 (Source: Hal Turner Radio Show screenshot taken on Mon Jun 19 16:34:24 2023 UTC)
The article attempts to link more than a dozen unrelated events into the vague notion of a military conspiracy across large sections of North America. The headline, "TANKS & TROOPS DEPLOYING INSIDE U.S.A. (and CANADA)," is the closest the story comes to any sort of coherent theory or statement as to what the string of social media posts is supposed to mean, other than the general suggestion that something isn't normal.
The movement and training of forces in both the United States and Canada are common, especially around military bases. In addition, members of the Army National Guard and Reserve, as well as the Air National Guard, are required to train each month and also attend a two-week annual training period each year. Nahaku McFadden with the National Guard Bureau explained the process to Lead Stories in a June 20, 2023, email:
We drill at least one weekend a month for both the Air and Army National Guards. Summer is when many units may be doing specialized training, but this ... activity is routine.

The National Guard drills to prepare for missions both domestic and overseas. The National Guard is 'Always Ready, Always There.'
U.S. military
In a June 19, 2023, email to Lead Stories, U.S. Department of Defense spokesperson Maj. Charlie Dietz provided this response to the claims of a major military deployment taking place in the United States:
We are unaware of anything significant happening.
Canada
As seen in the image of the post above, the article opens with an image of a train near Montreal filled with light armored vehicles (LAVs) and military trucks. Later in the story, a video showing the same scene comes with this caption, "Why is Canada putting military hardware into one of its largest cities on a Saturday?"
Media relations for Canada's Department of National Defence provided this response to the claim in a June 19, 2023, email to Lead Stories. It said:
These are Canadian Armed Forces vehicles, returning from a large Canadian military exercise called MAPLE RESOLVE, in Wainwright, Alberta. This is a standard, annual military exercise.

The vehicles are travelling by train, returning to Canadian Forces Base in Valcartier, QC [Quebec].
Details about the military exercise are on the Canadian army's website. A picture of the vehicles being loaded onto the train on their way to the exercise, which ran from May 8, 2023, until May 22, 2023, can be seen below: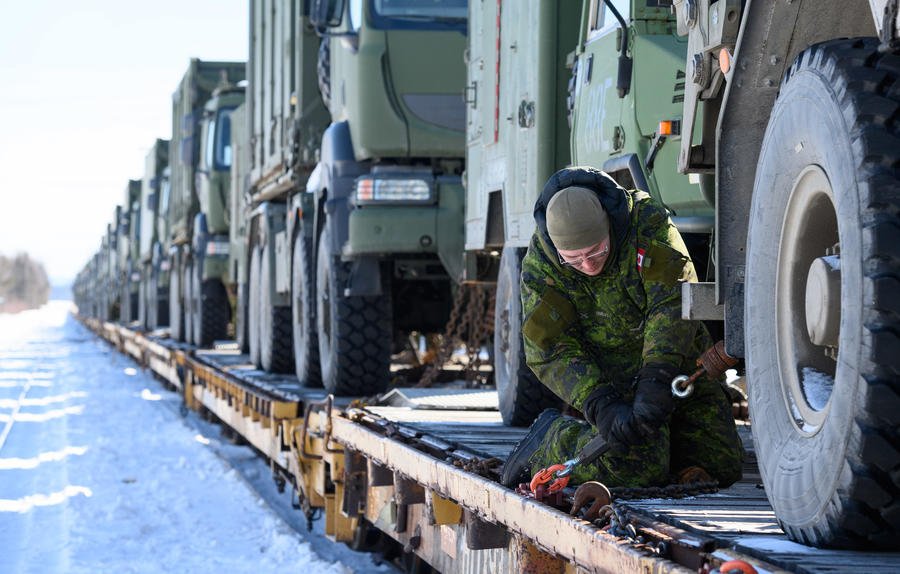 (Source: Provided by Canada Department of National Defence on Mon Jun 19 2023 UTC)
In addition to the Canadian military vehicles, the article also highlighted other purported deployments, including tanks on a highway in Idaho and Osprey helicopters dropping Marines in a California neighborhood.
Idaho
In building its case for a military deployment across North America, the halturnerradioshow.com article showed a line of military equipment traveling in front of a car dealership. One of the social media posts showing the scene looked like this:
BREAKING NEWS! Tank group on the highway in Idaho falls today! pic.twitter.com/CV3aXDKgbS

-- Derek Broes (@WillingWitness) June 17, 2023
The Hal Turner Radio Show reported it this way:
Next, we received video from people living in Idaho, showing a group of M1A1 Abrams M109 self-propelled artillery, operating on the roads of Idaho Falls, ID. NOT on flatbed trailers being moved, but instead actually operating ON THE PUBLIC ROADS:
In a June 13, 2023, story, KIFI-TV in Idaho Falls, Idaho, reported that the military alerted the community ahead of time. The story said:
The Idaho Army National Guard's 1st of the 148th Field Artillery Regiment will move tracked vehicles along state roads from the Idaho Falls Training Area to its Idaho Falls Armory during the day on Wednesday, June 14.

The military convoy will consist of tracked and wheeled vehicles traveling at approximately 25 mph in return from an annual training event.
California
Another section of the story on the Hal Turner website reported that "United States Marine Corps OSPREY aircraft [MV-22] are dropping troops into residential neighborhoods" in the city of Larkspur. The article, which misspelled the name of the city, went on to say:
Larskper, CA ... gives the military direct control over the 101 Highway into/out-of San Francisco via Golden Gate Bridge, as well as the I-580 Highway.
A social media post, which also misspells the town's name, shows the aircraft at work:
BREAKING NEWS! Military landing in suburban neighbors in Larksper California. Massive military movements being reported in multiple states. Anyone have more info on this, please post below. My contact that sent this video is local military and says it is NOT a drill. pic.twitter.com/oIJVeuFJ8a

-- Derek Broes (@WillingWitness) June 17, 2023
Tyler Rogoway, the editor-in-chief of The War Zone and a military aircraft expert, said in a tweet that the sighting of the Osprey ahead of a presidential visit to the area wasn't unusual:
HMX-1 MV-22s that ferry around WH staff and press pool. Absolutely nothing abnormal here.
The Federal Aviation Administration issued a temporary flight restriction notice for the area on June 17, 2023, ahead of President Joe Biden's visit to the region on June 19, 2023, to meet with business leaders in the tech community, The Mercury News reported.
Philadelphia
Another high-profile post showed military equipment working its way through downtown Philadelphia and played up the purported deployment, saying "I am Told that they are strategically placing equipment all over the country and even in Canada." This is what the tweet looked like:
This was Philadelphia yesterday. I am
Told that they are strategically placing equipment all over the country and even in Canada. pic.twitter.com/dnm6fm8Gma

-- Derek Broes (@WillingWitness) June 17, 2023
What the video shows is the 56th Stryker Brigade Combat Team of the Pennsylvania National Guard moving equipment to prepare for annual drills. In a response to the tweet, a member of the team, Luis Rivera, said their unit always attracts a lot of attention:
I love being in the National Guard because anytime we move our Vehicles everyone sh*ts themselves and think that martial law is incoming 💀
The tweets (see collage at bottom)
Todd Helmus, a RAND Corporation behavioral scientist and a nationally recognized expert on disinformation and violent extremism, told Lead Stories in a June 19, 2023, email that the social media posts spreading the information about the purported military deployment appear suspicious to him. He continued:
The accounts are a little strange in that they have high following to follower counts which is unusual and though could be genuine, this can be indicative that the account is manufactured to promote high levels of influence.

The accounts all tend to disseminate conspiratorial content with some accounts pushing content that is anti-Nato/US. Consequently, these accounts do not seem very trustworthy. I am also not seeing content ... that the accounts share personal information, which is another questionable indicator. Finally, the DoD [Department of Defense] will consistently share information on exercises of this nature and esp in urban environments like the city of Philadelphia.
In the collage below, Lead Stories has collected a sample of mid-June, 2023 Tweets all interpreting routine military activity as a major build-up.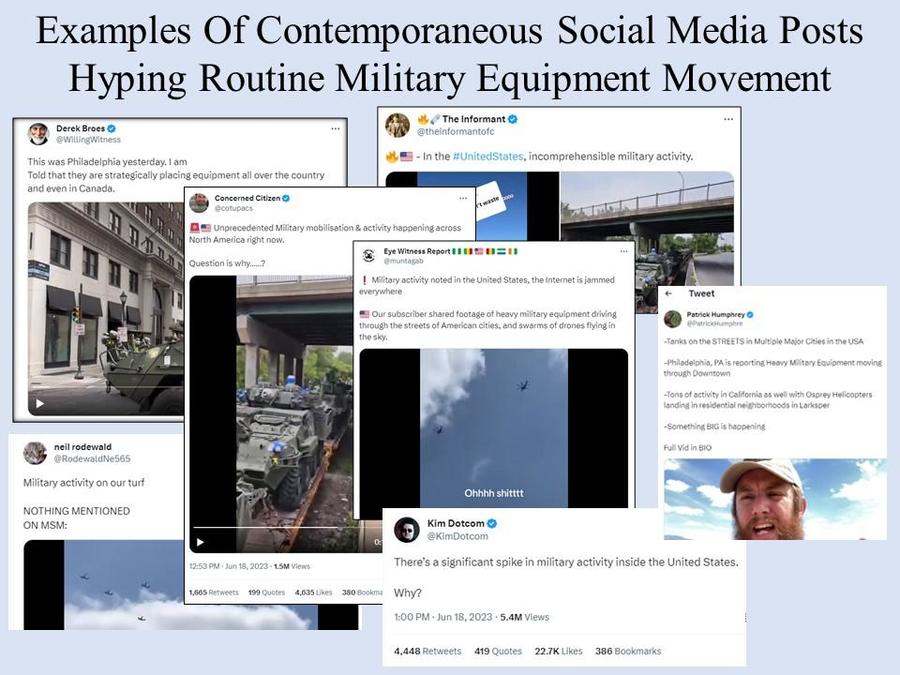 (Source: Twitter screenshots collected by Lead Stories on June 19, 2023)
2023-06-20T16:51:41Z

2023-06-20T16:51:41Z

Adds context from Nahaku McFadden with the National Guard Bureau.