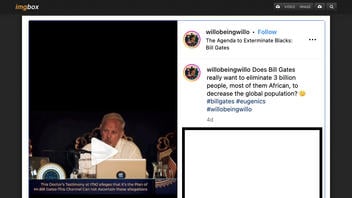 Did Microsoft co-founder and philanthropist Bill Gates suggest that "3 billion people need to die"? No, that's not true: The claim on social media recycles unsupported speculations from 2019 based on a distorted quote taken out of context.
The story reappeared in a post on Instagram on June 9, 2023. The caption said:
Does Bill Gates really want to eliminate 3 billion people, most of them African, to decrease the global population? 🤔

#billgates

#eugenics

#willobeingwillo
The video shows a man wearing a white shirt. A banner appearing in the middle of the screen introduced him as a "doctor" testifying at "ITNJ." The man began:
For the purpose of sterilization and population control, there's too many people on the planet we need to get rid of, in the words of Bill Gates, at least 3 billion people need to die.
This is how it appeared on Instagram at the time of writing: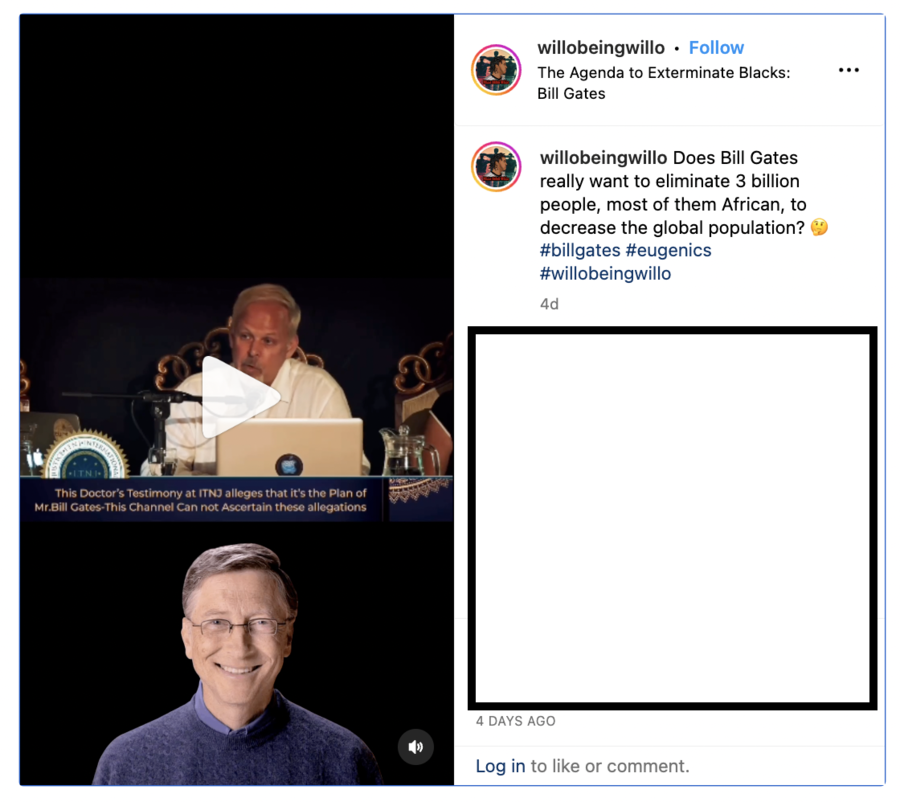 (Source: Instagram screenshot taken on Wed Jun 14 14:45:17 2023 UTC)
The video, however, did not show Gates pronouncing any of the words falsely attributed to him.
The ITNJ stands for the International Tribunal for Natural Justice. As Lead Stories previously wrote, it is not a real court of law, and the man featured in the clip on Instagram, who goes by Robert O. Young, was convicted in California in 2016 of practicing medicine without a license.
The 90-minute video of his "testimony" was initially published on the ITNJ website in November 2019. Since then, it has resurfaced on social media numerous times. The fragment reused in the 2023 post on Instagram begins at the 1:33:03 mark.
A Google search for the keywords "Bill Gates 3 billion people" returns only fact checks of the claim.
Gates is a proponent of slowing down population growth, focusing on improving the quality of life of those who already exist, and that -- contrary to the claim -- is not the same as inhumane experiments on the poor or nonwhite people from not-so-wealthy countries.
A 2011 Forbes article explains his take:
Bill's dad had set up a dinner at Seattle's posh Columbia Tower Club with the Program for Appropriate Technology in Health (PATH). While the meeting started with birth control--among other efforts, PATH taught Chinese condom makers to test their products before shipping them--Gates began consuming data that startled him. In society after society, he saw, when the mortality rate falls--specifically, below 10 deaths per 1,000 people--the birth rate follows, and population growth stabilizes. 'It goes against common sense,' Gates says. Most parents don't choose to have eight children because they want to have big families, it turns out, but because they know many of their children will die.

'If a mother and father know their child is going to live to adulthood, they start to naturally reduce their population size,' says Melinda.

In terms of giving, Gates did a 180-degree turn. Rather than prevent births, he would aim his billions at saving the kids already born. 'We moved pretty heavily into vaccines once we understood that,' says Gates.
While the article does not say when exactly that meeting took place, it does have a reference to the time period of the described events: the late 1990s.
In 2010, when Gates gave a TED talk on achieving zero carbon emissions by 2050, he addressed the role of population size in the equation, suggesting again to focus on improving the quality of life and healthcare.
At the 4:17 mark, he said:
The world today has 6.8 billion people. That's headed up to about nine billion. Now, if we do a really great job on new vaccines, health care, reproductive health services, we could lower that by, perhaps, 10 or 15 percent. But there, we see an increase of about 1.3.
The claim ignored the context, distorting the meaning of Gate's words.
Other Lead Stories fact checks about Bill Gates can be found here.