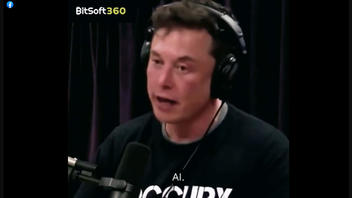 Did Elon Musk launch an AI cryptocurrency trading platform called Bitsoft 360 AI? No, that's not true: This video of Musk was taken from a guest appearance on the Joe Rogan podcast on September 7, 2018, and its transcript shows Musk never said, "I launched an AI cryptocurrency trading platform called Bitsoft 360." The fabricated audio has been added to a video from YouTube that is almost five years old.
Episode 1169 of the Joe Rogan Experience was streamed live on September 7, 2018. The 2:37:02-long video is posted on YouTube. The verified account of singer Rex Evans posted on Facebook a video on June 13, 2023, captioned:
🏃Elon urges everyone 🏃in the GB to take advantage of this great opportunity before the big banks close completely.

See less

Tesla's new secret project announced

and economy is about to be disrupted
This is what the post looked like on Facebook at the time of the writing of this fact check: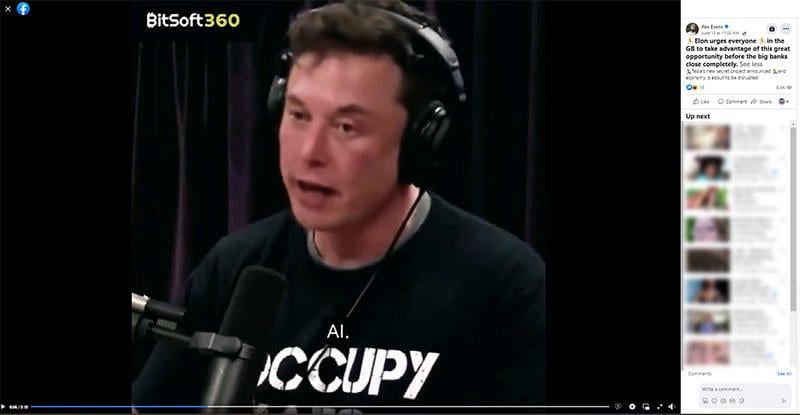 (Source: Facebook screenshot taken on Fri Jun 16 14:38:38 2023 UTC)
The transcript of the fabricated audio on this video reads:
Lately, I launched an AI cryptocurrency trading platform called Bitsoft 360 AI. With a software, you invest only $300 and you will earn up to $5,000 every single day. So I encourage everyone to join me. Click on this video to learn more about this unique opportunity.
Using Google's reverse-image search, Lead Stories was able to match the video of Musk wearing a black T-shirt with "OCCUPY" lettering to Rogan's podcast on YouTube. Lead Stories searched the transcript of the podcast for the phrase "cryptocurrency trading platform" and the terms "crypto" and "cryptocurrency," but these words did not appear once.

A search on Google for information about Elon Musk and Bitsoft360 returned nothing that would verify this company was launched by Musk.
Articles that were returned, such as one on business2community.com, say the company is run anonymously, and that scam ads on Facebook and Reddit have falsely associated with the company not only Musk, but also entrepreneurs Jeff Bezos (here on Reddit), Richard Branson and journalist Martin Lewis. The About section of the Bitsoft360.com website does not name a founder or identify any company officers by name.
An article on nasdaq.com says:
Does Elon Musk Use Bitsoft 360?
The CEO of Tesla and Twitter, Elon Musk, is one of the richest people alive. He has previously shown his support for meme tokens such as Dogecoin and Bitcoin. There are rumors that Twitter may roll out its own cryptocurrency since Musk took over.

After researching multiple Reddit threads and online websites, we could not discover any information linking Elon Musk or Tesla with Bitsoft 360.
Lead Stories wrote Bitsoft360 via the contact form on the bitsoft360.com website to ask for comment about these false ads. We will update this fact check if we receive a reply.
When viewed from a desktop computer, the video posted by Rex Evans does not appear to have a link, even though the video asks listeners to click on the video to learn more. On a mobile device, however, the video displays differently and there is a "Learn more" link, seen below.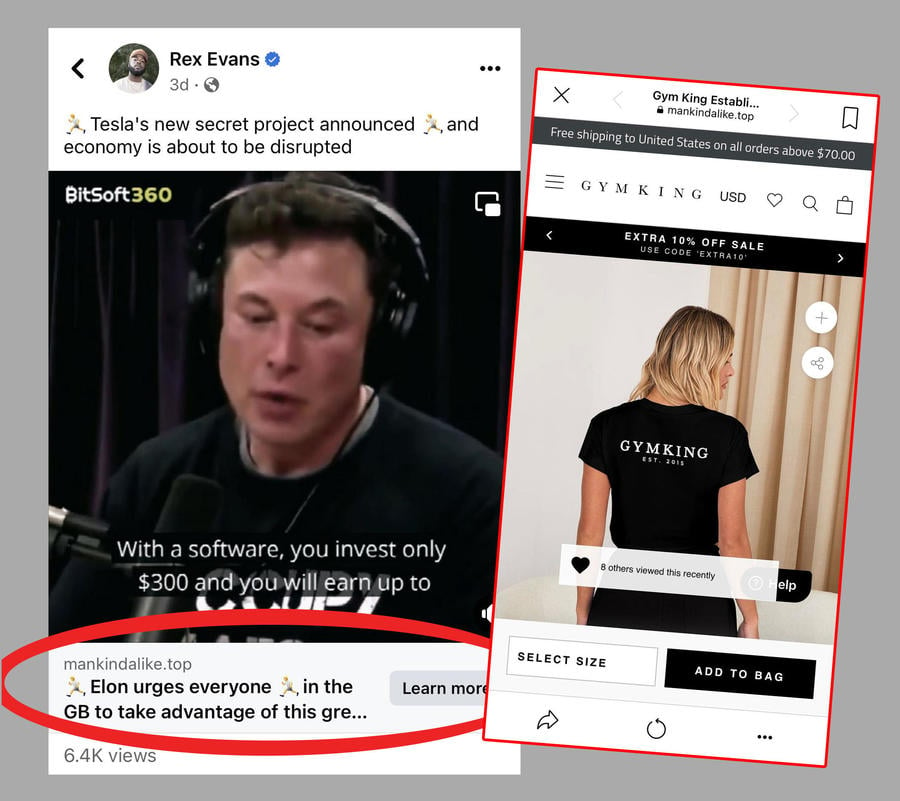 (Source: Lead Stories composite image showing mobile screenshots from Facebook and mandalike.top taken on Fri Jun 16 16:53:31 2023 UTC)

This link is not to bitsoft360.com, but to what appears to be an athletic clothing store on the website mankindalike.top. (The store is not actually called "mankindalike.") This website has been mirrored from a real brand called Gym King from the website https://thegymking.com/.

This appears to be a case of "cloaking." In an article about a similar but different crypto scam using Musk's name, the security company Avast describes how cloaking is used:
Playing hide-and-seek
The sites used in this campaign can detect if a VPN is being used to access the site, and if so, they display content from an eshop. The eshop doesn't work, site visitors can browse products, but they can't add them to their cart or make purchases. This is done to hide the scam page from unwanted access and as an attempt to evade phishing hunters and security software.
Lead Stories previously has published several fact checks (here) regarding false cryptocurrency promotions using the name of Musk or his company Tesla.