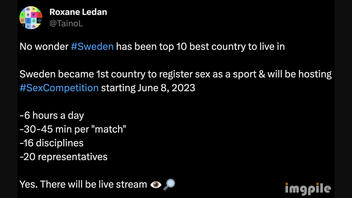 Has Sweden registered sex as a sport? No, that's not true: The Swedish Sports Confederation denied this claim, saying it had rejected the application from an organization called the "Swedish Sex Federation" to join the nation's sports confederation. A Google News search for Sweden registering sex as a sport has not generated any reports from reputable media outlets.
The claim appeared on Twitter (archived here) on June 4, 2023. It opened:
No wonder #Sweden has been top 10 best country to live in

Sweden became 1st country to register sex as a sport & will be hosting #SexCompetition starting June 8, 2023
This is what the post looked like on Twitter at the time of writing: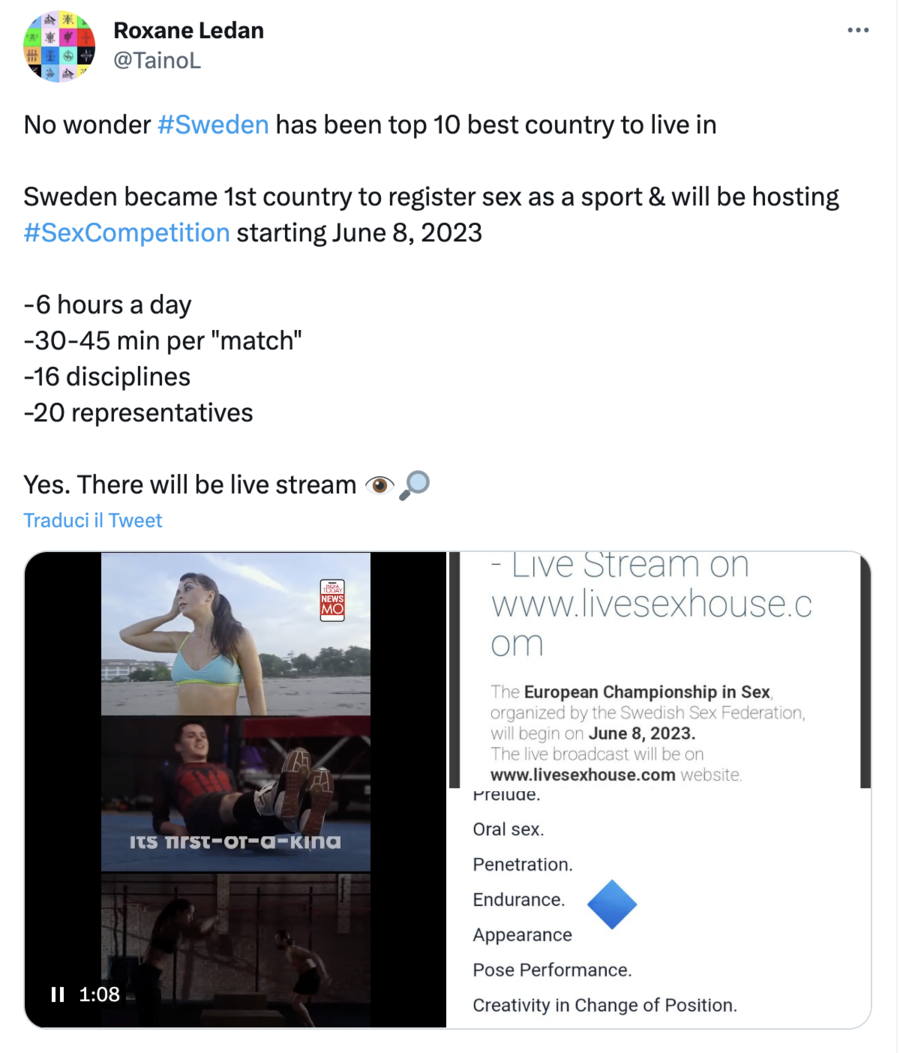 (Source: Twitter screenshot taken on Thu Jun 8 14:42:52 2023 UTC)
The tweet includes a vertical video with text detailing when and where the purported first competition would be, a screenshot of the livestream URL and the "List of disciplines for the Sex Championship." The URL leads to an adult website advertising the competition. The website claims to be a "pornography project" that has the support of the Swedish Sex Federation.
An article in the Swedish daily newspaper Göteborgs-Posten wrote that an entity calling itself the Swedish Sex Federation was founded by an owner of multiple strip clubs. The founder submitted an application for the federation to become a member of the Swedish Sports Confederation, but the application was denied because it was not complete and thus rejected without examination, the article said. A press statement from the Swedish Sports Confederation denying the Swedish Sex Federation's application can be found here.
Deutsche Welle, a German international broadcaster, spoke to a spokesperson for the Swedish Sports Confederation about this claim for its own fact check. A confederation spokesperson responded to Deutsche Welle in a statement saying:
The Swedish Sports Confederation has drawn attention to the fact that in some parts of the international media news is currently being spread that a sex federation has become member of the Swedish Sports Confederation ... It is false information with the aim of smearing Swedish sports and Sweden.
A search in Google News' index of thousands of credible news sites for "Sweden sex as a sport competition" yielded no results.
Other Lead Stories fact checks about sexuality are here.