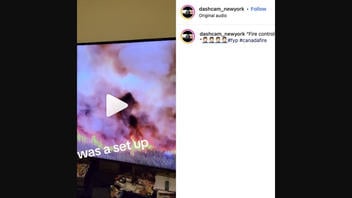 Does a video shared to social media authentically show a Canadian government helicopter setting fire to a forested area in order to ignite a dangerous wildfire? No, that's not true: While the video is authentic, it depicts a controlled burn conducted by the British Columbia Wildfire Services (BCWS) in June 2023. An agency spokesperson confirmed to Lead Stories that such planned ignitions ensure the safety of firefighting crews and "remove the majority of available fuel ahead of the wildfire" so there is less combustible material to burn.
A version of the claim originated in a clip posted on Instagram on June 6, 2023. It showed a Canadian helicopter intentionally setting fire to a forested area, with the post implying that the government initiated the hazardous wildfires that burned across Northeastern Canada in June 2023. Text across the screen read, "it was a set up." A caption that accompanied the video read:
"Fire control "🤦🏻‍♂️🤦🏻‍♂️🤦🏻‍♂️🤦🏻‍♂️#fyp #canadafire
Below is how the post appeared at the time of writing: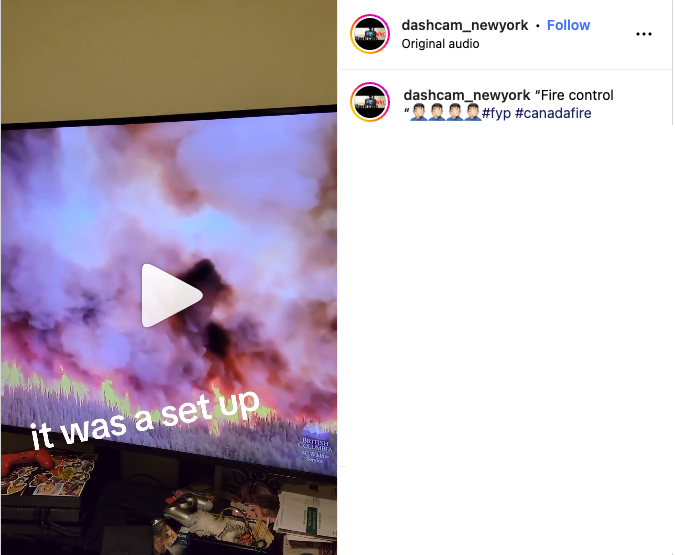 (Source: Instagram screenshot taken Thurs June 8 17:02:58 UTC 2023)
A logo displayed on the bottom right corner of the TV screen in the screenshot above clearly reads, "British Columbia, BCWildfire Service," the government wildfire suppression service of British Columbia.
In an email to Lead Stories received on June 8, 2023, BCWS provincial wildfire information officer Sarah Budd confirmed that the clip included footage from an agency-planned ignition that took place June 1-2, 2023, on the Donnie Creek wildfire in the northeastern region of the province:
Planned ignitions are an essential and effective tool we use to help contain very large wildfires. When the decision is made to conduct such a burn operation, the wildfire is usually beyond the initial attack stage. The goal is to remove the majority of available fuel ahead of the wildfire so there's less fuel available for the wildfire to burn. This strategy slows down and helps limit the spread of the wildfire.

Planned ignitions are about making firefighting environments safer for crews, and the first priority with these operations is always safety. Planned ignitions must provide for the safety of personnel, the public, equipment and nearby values (e.g., homes, infrastructure, natural resources). The ignition plan must also identify, assess and mitigate potential hazards. Large-scale burn operations are supported with appropriate resources, such as aircraft, heavy equipment and firefighters. This way, if a burn escapes, it can be dealt with right away.
The original footage of the planned ignitions at Donnie Creek can be viewed here and here. BCWS also announced the burn in a video shared to Twitter on June 2, 2023, writing in a thread that:
The BC Wildfire Service, taking advantage of current conditions, conducted a planned ignition on the Donnie Creek wildfire (G80280) extending over 30km and burrning around 10,000ha, solidifying containment lines and limiting further growth to the south...

A majority of this area would have filled in on its own and progressed over machine guards. In this video, ignition specialist Mike Morrow, and trainee Morgan Boghean explain this ignition and discuss the importance of using fire to manage fuels on this large incident...

Planned ignitions are an essential wildfire management tactic, used to contain a wildfire by bringing its edge to established control lines and reducing the ability for further spread. For full incident details on the Donnie Creek wildfire visit: http://ow.ly/7iES50OEIkK
Prescribed burns are described by the Government of Canada as "an intentional fire planned and managed by fire specialists." Fire is an essential part of some natural ecosystems; systemic fire suppression can create imbalances through the buildup of dead debris and a lack of nutrient disbursement. To remedy this, fire officials will often implement planned and controlled burns that the U.S. Forest Service notes equate to fewer extreme wildfires. Such measures are used in many countries, including the U.S., Canada, Australia, Portugal, Spain, France and South Africa, according to the International Association of Wildland Fire.
Similar videos depicting controlled burns have been posted to social media in the past to suggest that bad actors were intentionally setting fire to forested areas. This was previously debunked by Lead Stories, AFP and Radio-Canada.