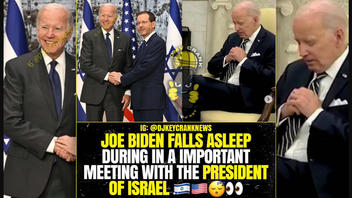 Did President Joe Biden fall asleep during an important meeting with the president of Israel? No, that's not true: Biden met with Israeli President Isaac Herzog at the White House on July 18, 2023. A video clip posted on Instagram shows a moment during the meeting with the sound removed. Biden had some note cards on his lap and he was looking down as he read aloud. He spoke softly and at one point appeared to stumble on his words as he reviewed for Herzog the commitment he and Israeli Prime Minister Benjamin Netanyahu had discussed in a phone call the day before, "to ensure that Iran never acquires a nuclear weapon." Biden was not asleep.
The meeting between the two presidents took place at the White House on July 18, 2023. On the same day, a video of that meeting was used in a post on Instagram by @djkeycranknews with this caption:
#JoeBiden falls asleep during in a important meeting with the President of Israel 🇮🇱🇺🇸😴👀
(Follow @djkeycranknews for more daily content!)
This is how the post appeared at the time of writing: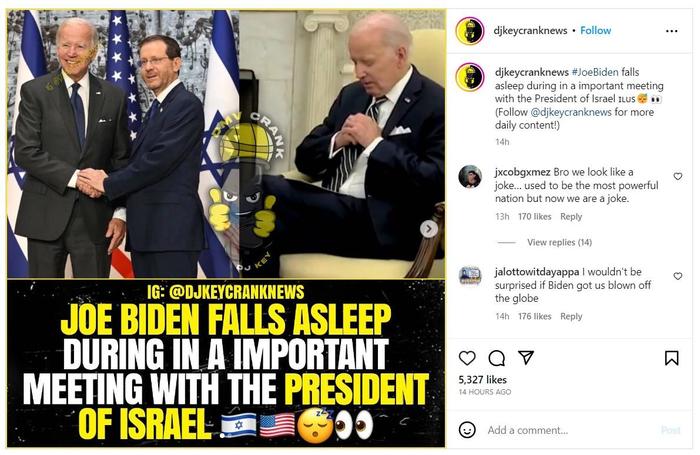 (Image source: Instagram screenshot taken on Wed Jul 19 15:11:12 2023 UTC)
The post is composed of two slides. The first is a meme with @djkeycranknews watermark and Instagram handle. The text caption reads:
IG: @DJKEYCRANKNEWS
JOE BIDEN FALLS ASLEEP
DURING AN IMPORTANT
MEETING WITH THE PRESIDENT
OF ISRAEL
The second slide is a 15-second video clip with no sound. The @djkeycranknews watermark was added to the clip, which has a Fox News chyron. It reads:
THE WHITE HOUSE MOMENTS AGO
BREAKING NEWS
BIDEN MEETS WITH ISRAELI PRESIDENT HERZOG AT WH
FOX NEWS ALERT
The 15-second clip of this Fox News video, with the sound, was circulated on Twitter. The bulk of the selected clip features Biden stumbling on his words. One example was posted by conservative activist Ryan Fournier, captioned:
Dude WTF is this...

The President of the United States... When do the people in the media start to question his ability to lead?
A five-minute 13-second video of the meeting was published on YouTube by CBS News (embedded below). The moment in the meeting featured in the Fox News clip shared by Fournier occurs between the 1:17 and 1:32 mark. The moment of Biden looking down that was featured in the meme claiming he fell asleep was taken from at the 1:21 mark.