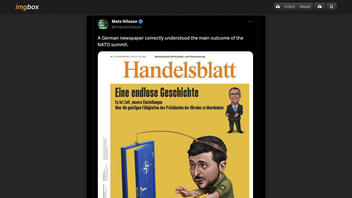 Did the German newspaper Handelsblatt publish a cartoon of Ukraine's President Volodymyr Zelenskyy on its front page in the aftermath of the 2023 NATO summit, calling to "reconsider attitudes" toward support of Zelenskyy and Ukraine? No, that's not true: No such cover could be found on the Handelsblatt official website.
The story appeared in a tweet (archived here) published on July 12, 2023. It said:
A German newspaper correctly understood the main outcome of the NATO summit.
The entry contained an image of the supposed cover with a cartoon of Zelenskyy paired with the following words, as translated by Google:
An endless story

It's time to reconsider our attitudes towards the mental abilities of the President of Ukraine
This is what the tweet looked like at the time of writing: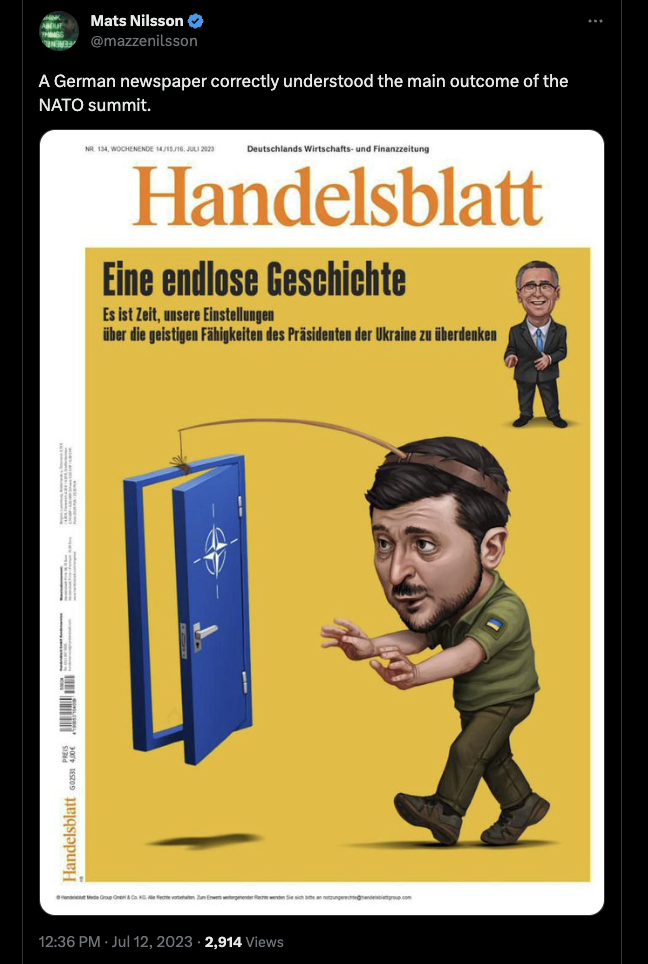 (Source: Twitter screenshot taken on Wed Jul 19 13:40:25 2023 UTC)
Handelsblatt is a daily business newspaper published in the German city of Düsseldorf in the German language; its English version ceased to exist in 2019.
The 2023 NATO summit mentioned in the tweet took place in Vilnius, Lithuania, between July 11 and July 12, 2023.
It was not without controversy. On July 11, 2023, still on the way to Vilnius, Zelenskyy tweeted (archived here) that it was "unprecedented and absurd" that NATO did not provide him with a concrete timeline for joining the alliance as Kyiv demanded. Zelenskyy was also critical about NATO not waiving conditions for the invitation to join.
As The Washington Post reported, "Members of the U.S. delegation were furious with Zelenskyy's tweet." According to the article, NATO diplomats had been working on a way "to signal support for Ukraine without actually offering Kyiv membership."
The Vilnius summit communique issued later that day, however, said that "Ukraine's future is in NATO" and pointed out that the country has made progress, becoming "increasingly interoperable and politically integrated with the Alliance."
On July 12, 2023, shortly before meeting with the U.S. President Joe Biden -- Zelenskyy would soon describe it as "very good, powerful" -- he tweeted in English, "We understand that Ukraine cannot become a member of NATO while the war is ongoing."
Yet, the incident did not lead to Handelsblatt calling to withdraw support from Ukraine. The cover shared on social media was not authentic.
Unlike some other newspapers, Handelsblatt does utilize magazine-style covers in its Friday issues, and on July 13, 2023, it shared a new one on social media. It featured reporting on a very different topic, as translated by Google: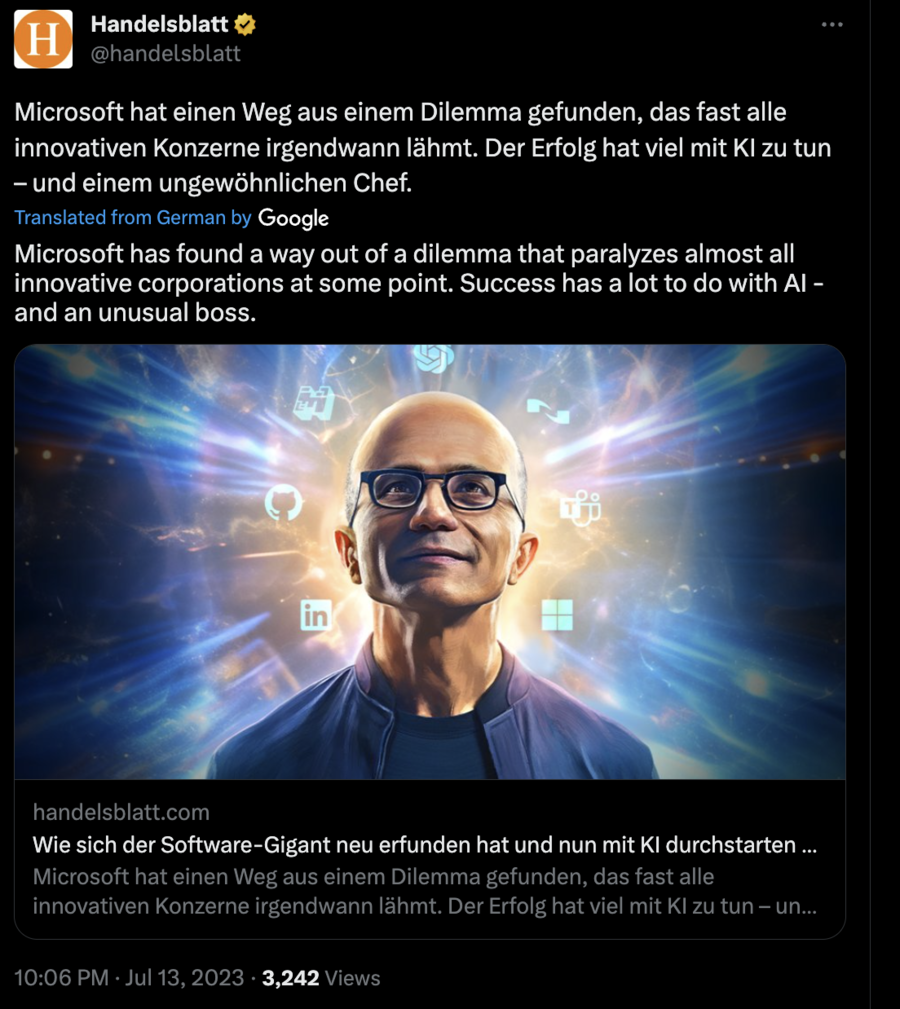 (Source: Twitter screenshot taken on Wed Jul 19 15:16:55 2023 UTC)
On the same day, the newspaper warned its audiences about false covers in a pinned tweet (archived here):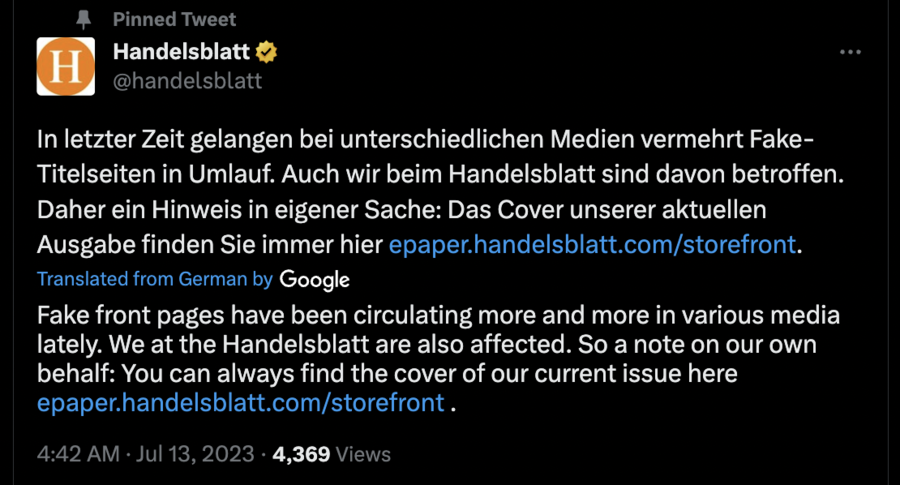 (Source: Twitter screenshot taken on Wed Jul 19 15:38:00 2023 UTC)
The newspaper's archive, found on its official website, confirmed that it did not publish any cartoons mocking Zelenskyy on its front pages between July 10 and July 19, 2023: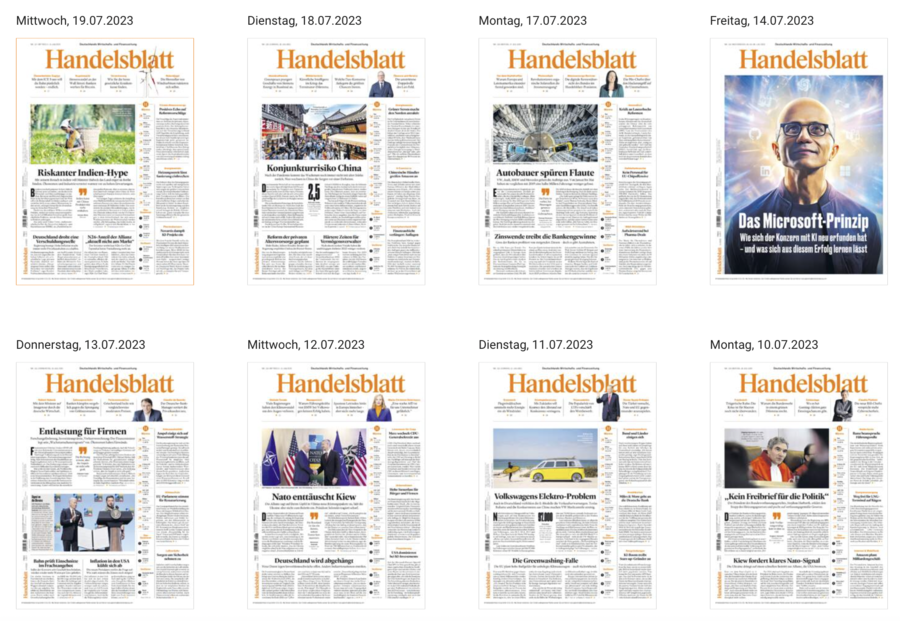 (Source: Handelsblatt screenshot taken on Jul 19 15:24:40 2023 UTC)
The claim circulated in French, Spanish, Italian, Slovak and Russian across platforms, including Telegram and Facebook, demonstrating signs of a coordinated campaign.
According to TinEye, the image was also uploaded to the Russian-language and Samoa-registered website cont.ws, among other resources: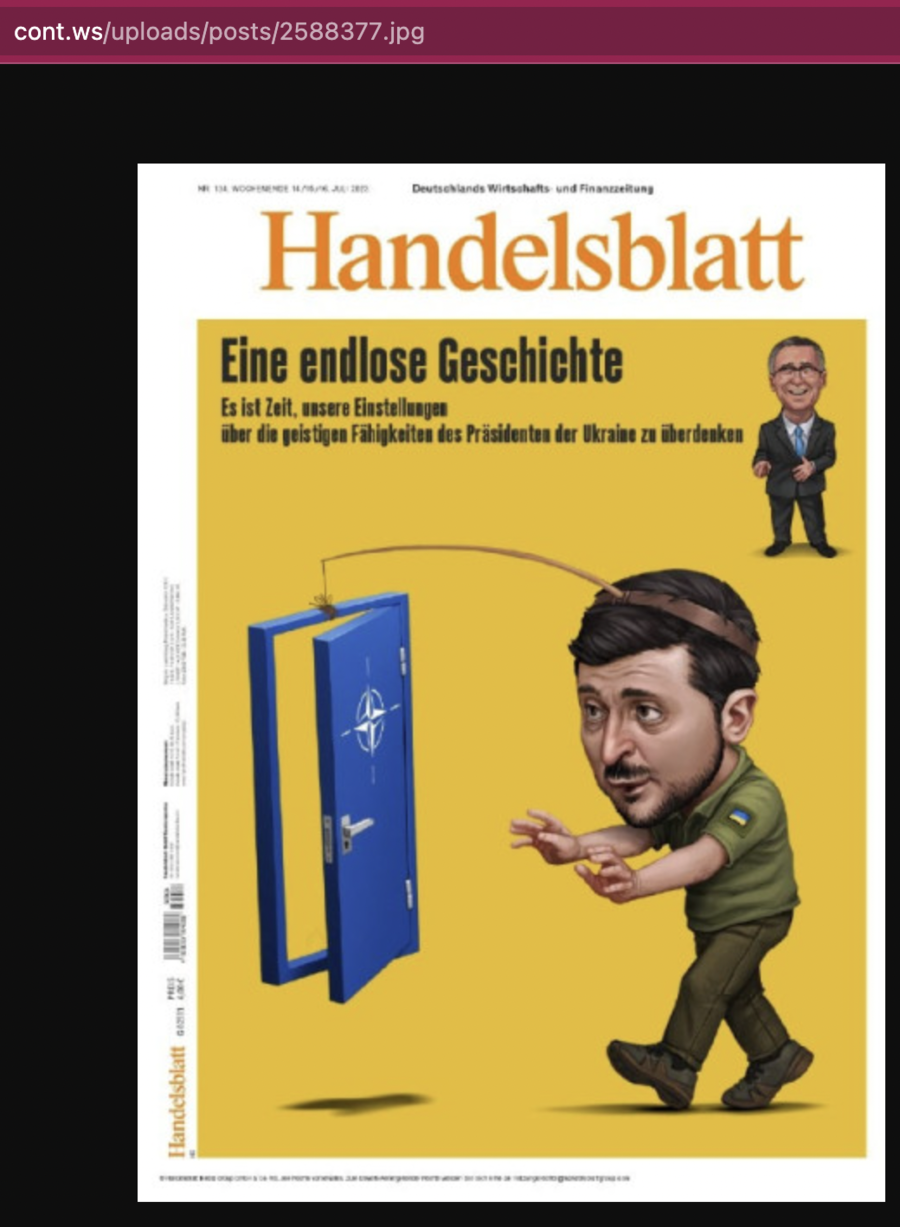 (Source: Cont screenshot taken on Wed Jul 19 16:33:10 2023 UTC)
Сont.ws describes itself as a platform for "social journalism," but publishes bloggers with explicitly stated pro-Kremlin views.
It is not the first time a fake cover has been used to portray Zelenskyy in a negative light since the 2022 Russian full-scale invasion of Ukraine. In the past, Lead Stories debunked the authenticity of such "covers" purportedly published by the French Charlie Hebdo, the German satirical magazine Titanic, the British weekly New European and the Turkish LeMan.
Other Lead Stories fact checks about the war in Ukraine can be found here.