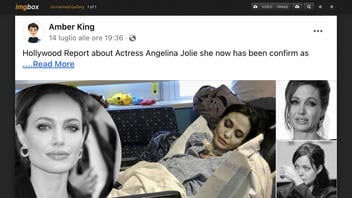 Does a "Hollywood report" about Angelina Jolie accompanied by a photo of what appears to be the actress in a hospital bed "confirm" anything about the star? No, that's not true: The post and link to a website gives no information about Jolie and only states, "she has now been confirm as" without any other details. The image appears to be a doctored one of Jolie's head on a body in a hospital bed with the implication being that she was gravely ill but there is no evidence to support that insinuation. News outlets published photos of her in public as recently as July 16, 2023, with her appearance normal.
The claim appeared in a post (archived here) on Facebook on July 14, 2023. It opened:
Hollywood Report about Actress Angelina Jolie she now has been confirm as....Read More
This is what the post looked like on Facebook at the time of writing: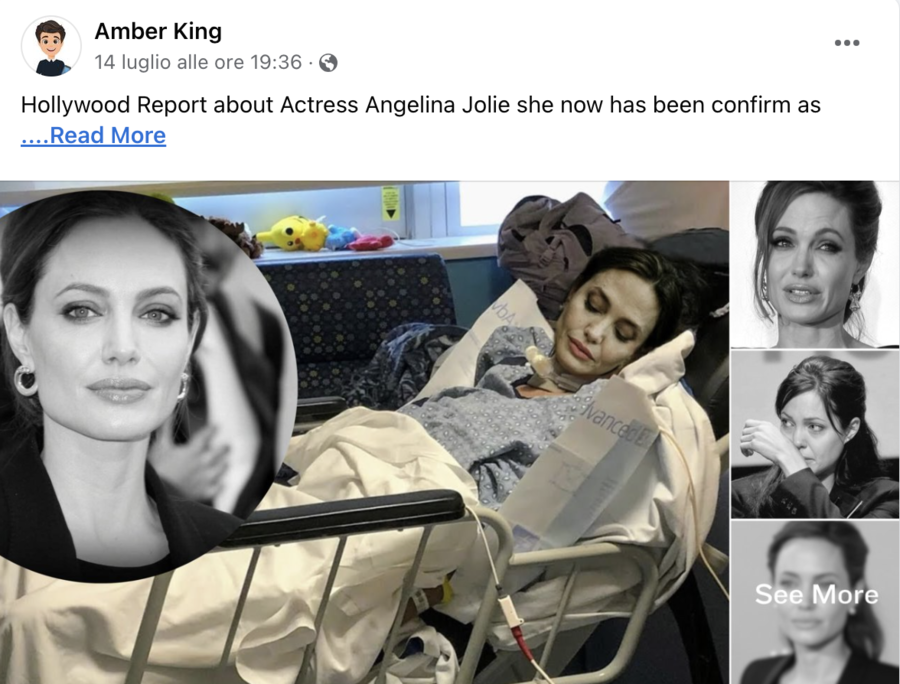 (Source: Facebook screenshot taken on Wed Jul 19 18:32:34 2023 UTC)
The post does not "confirm" any news about Jolie and only implies that something bad is happening with her because she is pictured in a hospital bed. The link in the post connects to what looks like a new site that has details about Jolie's movie history but contains a pop-up that reads "remove viruses from Mac use this tool for Mac protection." The image appears to be a doctored image of Jolie in a hospital bed and not a real photo of her. A link to a video on YouTube that shows what the "article" looks like can be found here:
Jolie was photographed in New York City on July 16, 2023, with images posted on People magazine's website, and on July 14, 2023. She was seen walking around the city with several of her children, as images posted on Harpers Bazaar show.