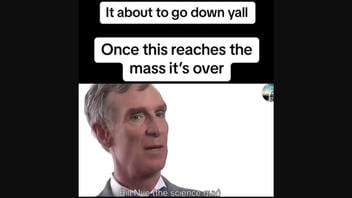 Did "Science Guy" Bill Nye state that there was "no place to go" in reference to space exploration, seeming to support claims that NASA, the International Space Station (ISS) and related space exploration programs were a hoax? No, that's not true: In a 2015 interview, Nye responded to a question involving the concept of whether trash should be sent to space -- a statement that was taken out of context to suggest there was "no place to go" in space.
The claim originated in a video on TikTok on July 23, 2023, (archived here) with a text overlay that reads, "It about to go down yall" and "Once this reaches the mass it's over." At the beginning of the four-minute 31-second clip is a video of Nye stating:
One thing I really want your generation to embrace is that the Earth is a closed system. We cannot leave the Earth. There's no place to go.
Below is how the video appeared at the time of publication: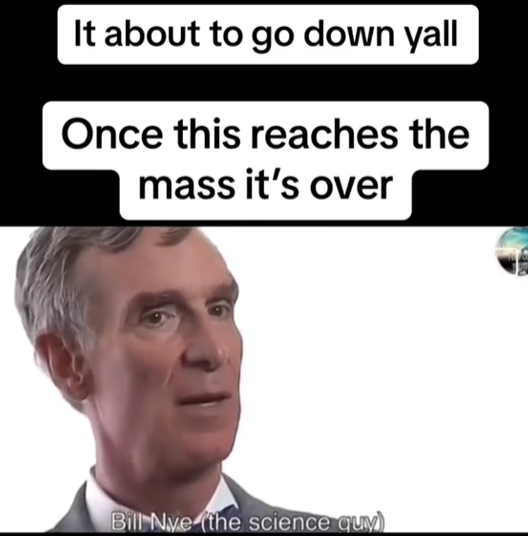 (Source: TikTok screenshot taken Mon July 24 20:07:00 UTC 2023)
The above snippet including Nye's response was taken out of context. In an interview for multimedia web portal Big Think that was posted to YouTube on June 23, 2015, (archived here), Nye was responding to a question about the concept of space trash, not the access to and exploration of space as a whole.
Titled "'Hey Bill Nye, Should We Throw Our Trash Into Space?' | Big Think," the YouTube video was accompanied by a description that read:
On this week's episode of Tuesdays With Bill, Rachel from Columbia University asks two questions for the price of one: What would happen if a human being went the speed of light, and why don't we just eject our trash into outer space?
Nye was interviewed by a then-Columbia University student identified as Rachel. The quote in question occurred at the 3:24 mark in the video. A transcript of the exchange that was published by Big Think is included below:
Rachel: My second question is from are there any reasons besides ethical dilemmas that we haven't if we shot some of our trash into space. I know it might contribute to space junk, but if we shot it far enough away, besides maybe then contributing to other creatures' environments if they do exist. What are the downsides to doing that and why haven't we if it might then clear up space on Earth and clear some of the pollution that we have. Or not contribute then to landfills. We might be able to shoot it elsewhere.

Bill Nye: Why we don't throw trash into space. Because it's too expensive. Lifting a ton of material into space takes an extraordinary amount of rocket fuel. And, by the way, when people want to send this much plutonium 238, which is not even the weapons plutonium, a baseball size, a grapefruit size, people freak out because the rockets sometimes blow up. Now one thing I really want your generation to embrace is that the Earth is a closed system. We cannot leave the Earth. There's no place to go. There's no place to throw your trash. And I wouldn't be surprised if maybe not you, but your kids develop ways to mine our landfills ...
The snippet of Nye's comment was used in the TikTok video to lead into a longer segment that included outtakes from a Brevard County Commission meeting held in Florida on April 4, 2023. That meeting included a public comment from a person identified as Justin Harvey. At the 39-minute mark recording of the meeting, Harvey made statements that presented conspiracy theories as legitimate scientific testimony that he said proved NASA, the International Space Station and space exploration were hoaxes. Harvey's claims were repackaged in the TikTok video. Those specific claims are not the focus of this fact check.
Lead Stories has also reported that NASA documents did not state that we live on a "flat, nonrotating earth," that there is no evidence that an NBC News report proves that NASA admitted to never going to space, and that a NASA study did not find that snake plants, a type of houseplant, improve in-home air quality.