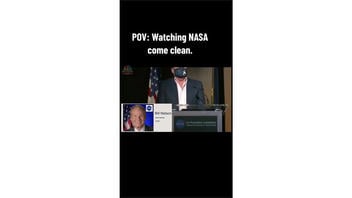 Did NBC News report that NASA admitted to never going to space? No, that's not true: There is no evidence that NBC reported on this. And there is no evidence that NASA ever made such a statement. The audio heard in this TikTok originates with an account that regularly posts about conspiracy theories.
The claim appeared on TikTok (archived here) where it was published on July 1, 2023, with the caption reading, "#nasa #spirtualtiktok #spaceforcewalk #capcut #conspiracytiktok #povs #relatable #spirtualtiktok." The video opened with what appeared to be an NBC News Special Report introduction. A man's voice then says:
Ladies and gentlemen, dear citizens of America, we, here at NASA, have been lying to you all.
This is what the post looked like on TikTok at the time of writing:
(Source: TikTok screenshot taken on Mon Jul 10 15:28:55 2023 UTC)
The video continues with a male voice claiming that NASA has never been higher than low earth orbit, that they've been using computer-generated imagery and an underwater buoyancy facility, and that they will be repaying taxpayers monies they have "stolen." By using an inset photo, the TikTok implies that Bill Nelson, the administrator of NASA, is the man speaking in this video, although the head of the person actually on camera is cut off and that person is wearing a face mask.
The TikTok does not indicate to viewers when or where this press conference supposedly happened. An image of the headquarters building at the Kennedy Space Center in Florida is shown between the NBC News Special Report music and the alleged clip of Nelson speaking, implying that this is where the press conference took place. However, once the purported Nelson shows up, the podium reads, "Jet Propulsion Laboratory California Institute of Technology." NASA's Jet Propulsion Laboratory, which is managed by the California Institute of Technology, is located in southern California.
Here is a screenshot of the podium scene: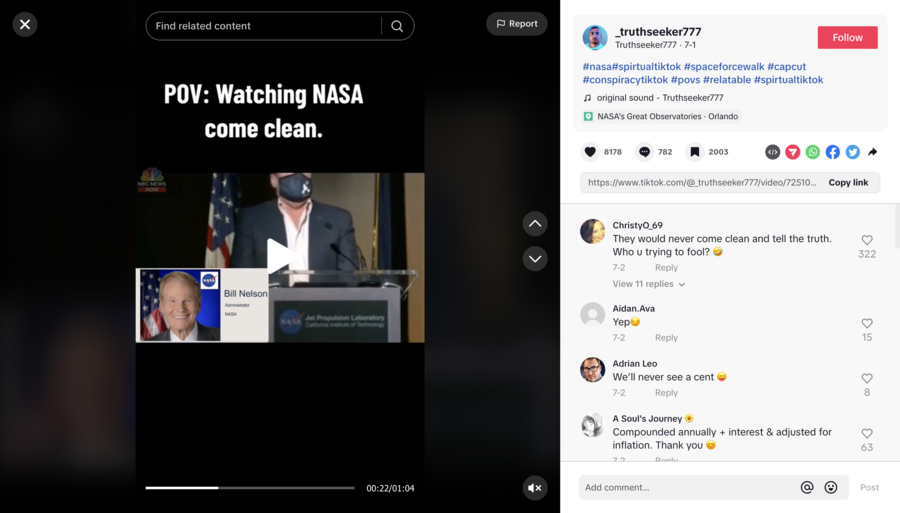 (Source: TikTok screenshot taken on Mon Jul 10 18:43:18 2023 UTC)
We could not find the original clip seen in this video.
Lead Stories could not find any evidence that NBC News has reported on NASA making such statements as are claimed in the post. There is also no evidence that NASA made such statements.
Since Lead Stories could not verify the NBC report, there was also no way to verify the audio heard in this video. The audio is linked to Truthseeker777, the TikTok account that posted the claim, as the originator. Truthseeker777 has multiple videos on their account claiming that the moon landing was faked and about world leaders being reptiles and lizards. Lead Stories has debunked the claim that the moon landing was faked here. Vice has created a video on the lizard people conspiracy theory and the harm that has resulted from it here.
We have contacted NBC News and NASA about this claim. We will update this article when a relevant response is received.
Other Lead Stories articles on NASA are here.