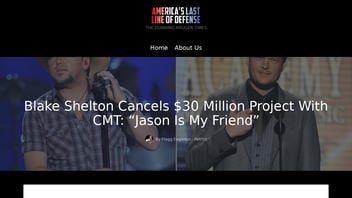 Did Blake Shelton cancel a $30 million project with CMT, saying that "Jason is my friend," in the aftermath of the network pulling Jason Aldean's music video? No, that's not true: This claim originated from a self-described satirical website aimed at trolling conservatives. The website that posted the information, The Dunning-Kruger Times, has a disclaimer that describes itself as part of a network of "parody, satire, and tomfoolery." Christopher Blair, the originator of this website, has a history of trolling using satirical news stories. As of this publication, Blake Shelton has not canceled a $30 million project with Country Music Television and the article appears to be entirely made up.
The story appeared as an article published by The Dunning Kruger Tiimes on July 22, 2023 titled "Blake Shelton Cancels $30 Million Project With CMT: "Jason Is My Friend"" (archived here) which opened:
Country Music Television (CMT) is still paying the price for canceling Jason Aldean's video "Try That In a Small Town." In what may be the most crushing blow yet, country megastar Blake Shelton has announced that he's backing out of a $30 million project with the network.
Users on social media only saw this title, description and thumbnail:
In a small town, friendship matters.
The article wrote that Shelton was supporting Aldean:
"Jason is my friend," said Shelton, "He deserves better than the disrespect shown to him by CMT."
This is a reference to country-music star Jason Aldean, whose music video "Try That In A Small Town" was pulled from CMT rotation after a public outcry over the video's lyrics and backdrop location.
As of July 24, 2023, there was no credible evidence that Shelton ever had a $30 million deal with CMT nor that he ended such a project.
The article claims a CMT employee gave a quote about the situation:
CMT Spokesman Joe Barron said the network didn't mean to upset anyone with the move. "We wanted to make everyone comfortable, so we removed it," he said.

A Google search for "cmt spokesperson joe barron" did not yield any results of a person with that name employed for the network. "Joe Barron" is the name of a deceased friend of Blair's. His name is frequently used in Blair's satirical stories as an homage.
The article also quoted "Art Tubolls" as a "program director for the network, which is a made-up persona:
We sent ALLOD Correspondent Cynthia Luhu to Nashville to check in with the network and see if they'll survive the hit. "We do like $60 million a year in total revenue," said Program Director Art Tubolls, "so losing a $30 million fictional production will either lose us a bunch or save us a bunch. We can't really figure it out. We went woke, so we're probably gonna go ahead and go broke."
Lead Stories published a story that noted despite Aldean's claim that "there isn't a single video clip that isn't real news footage," some of the clips in his "Try That In A Small Town" video were not all news reports.
Other Lead Stories debunks about The Dunning-Kruger Times can be found here.
The Dunning-Kruger Times
The Dunning-Kruger Times is a satirical website with an about page (archived here) that has following disclaimer:
About Us

Dunning-Kruger-Times.com is a subsidiary of the 'America's Last Line of Defense' network of parody, satire, and tomfoolery, or as Snopes called it before they lost their war on satire: Junk News

About Satire

Before you complain and decide satire is synonymous with 'comedy':

sat·ire ˈsaˌtī(ə)r noun: The use of humor, irony, exaggeration, OR ridicule to expose and criticize people's stupidity or vices, particularly in the context of contemporary politics and other topical issues.

Everything on this website is fiction. It is not a lie and it is not fake news because it is not real. If you believe that it is real, you should have your head examined. Any similarities between this site's pure fantasy and actual people, places, and events are purely coincidental and all images should be considered altered and satirical. See above if you're still having an issue with that satire thing.
The website is named after the Dunning-Kruger effect, a term from a psychology experiment that describes the phenomenon of being ignorant of one's own ignorance. (That experiment has been disputed by a math professor.)
It is run by self-described liberal troll Christopher Blair.
His websites usually have multiple satire disclaimers and the stories very often contain obvious hints they are not real, like category names indicating they are fiction, links to "sources" that instead go to funny or offensive images or an "S for Satire" logo added to the images used as illustration. Another telltale sign is the name "Art Tubolls" (anagram for "Busta Troll") for characters in the stories. Blair also frequently pays homage to two of his friends who passed away by using their names ("Joe Barron" and "Sandy Batt") in stories.