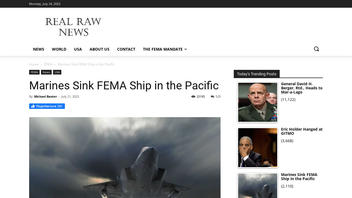 Did U.S. Marine Corps jets sink a Federal Emergency Management Agency (FEMA) barge off the coast of California around July 19, 2023? No, that's not true: The Department of Defense press office told Lead Stories that the purported attack never happened. FEMA also said there was no truth to the report.
The claim appeared in an article (archived here) published by Real Raw News on July 21, 2023, titled "Marines Sink FEMA Ship in the Pacific." The story opened:
United States Marine Corps F-35 Lightning II 5th Generation Fighter/Bombers on Wednesday destroyed a FEMA barge off the California coast, a source in General Eric M. Smith's office told Real Raw News.
This is what the post looked like on Real Raw News at the time of the writing of this fact check: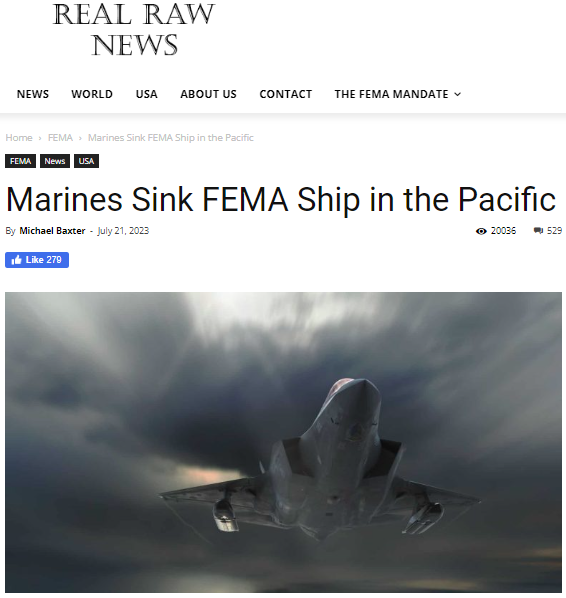 (Source: Real Raw News screenshot taken on Mon Jul 24 15:25:43 2023 UTC)
The U.S. Department of Defense provided a response to the claim on July 24, 2023. The email from a duty officer for Defense Press Operations said:
There is absolutely no truth to this.
Additionally, FEMA said there was no truth to the report in Real Raw News. Its reply came in a separate July 24, 2023, email from the agency's Region 9 news desk. The response continued:
FEMA isn't a maritime agency and doesn't have any ships, boats or barges in its inventory.
Lead Stories also conducted a Google News search for "Marines Sink FEMA Ship in the Pacific" and found no results matching the claims in the Real Raw News article. A general Google search using the same term produced several duplicates of the original story, as well as other content, but no independent reporting on the purported incident.
About Real Raw News
Real Raw News is a website that consistently publishes made-up stories about U.S. politics. The well-written English and news-style layout of the website makes it look like a legitimate news source, so it often fools people into believing the stories are real. Screenshots and copies of the stories regularly turn up on other websites or on social media where they are presented as real.
It bills itself as "humor, parody and satire" on the "about" page (archived here):
Disclaimer:

Information on this website is for informational and educational and entertainment purposes. This website contains humor, parody, and satire. We have included this disclaimer for our protection, on the advice on legal counsel.
The same "about" page claims the main author is a man named Michael Baxter. In 2021 a PolitiFact article (archived here) identified the writer as a "Michael Tuffin" in Texas, based on records found in a GoFundMe campaign set up to support the site.
NewsGuard, a tool that provides credibility ratings for websites, published a five-page PDF report (archived here) in 2021 describing realrawnews.com as, "An anonymously run website that has published baseless and debunked conspiracies about COVID-19 and U.S. politics." It cautioned that the website severely violates basic journalistic standards."
Lead Stories has covered claims published by Real Raw News in the past. Those stories are collected here.