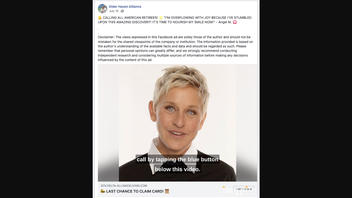 Is Ellen DeGeneres appearing in an online video to endorse a free "Dental Relief card" for older Americans? No, that's not true: The video appears to be a deepfake creation. A spokesperson for the actress and comedian confirmed to Lead Stories that DeGeneres never endorsed such a product.
The story originated in a post on Facebook on July 16, 2023. It opened:
🔔 CALLING ALL AMERICAN RETIREES! 🌟 'I'M OVERFLOWING WITH JOY BECAUSE I'VE STUMBLED UPON THIS AMAZING DISCOVERY! IT'S TIME TO NOURISH MY SMILE NOW!' - Angel M. 💟
The post contained a video featuring a person who appeared to be Ellen DeGeneres. In a 27-second clip, the actress seemed to endorse a "dental relief card":
Congratulations, you qualify to join the Seniors Alliance program. You can get your free Dental Alliance card in the mail for free and use it at any provider of your choice. The free plans are limited on a first come first serve basis until we run out of cards. To confirm your eligibility, make a quick two-minute call by tapping the blue button below this video. You'll want to stay on the phone for at least two minutes to receive full benefits. I endorse this Dental Relief card. Call now to secure your card before it's too late.
This is what the post looked like on Facebook at the time of writing: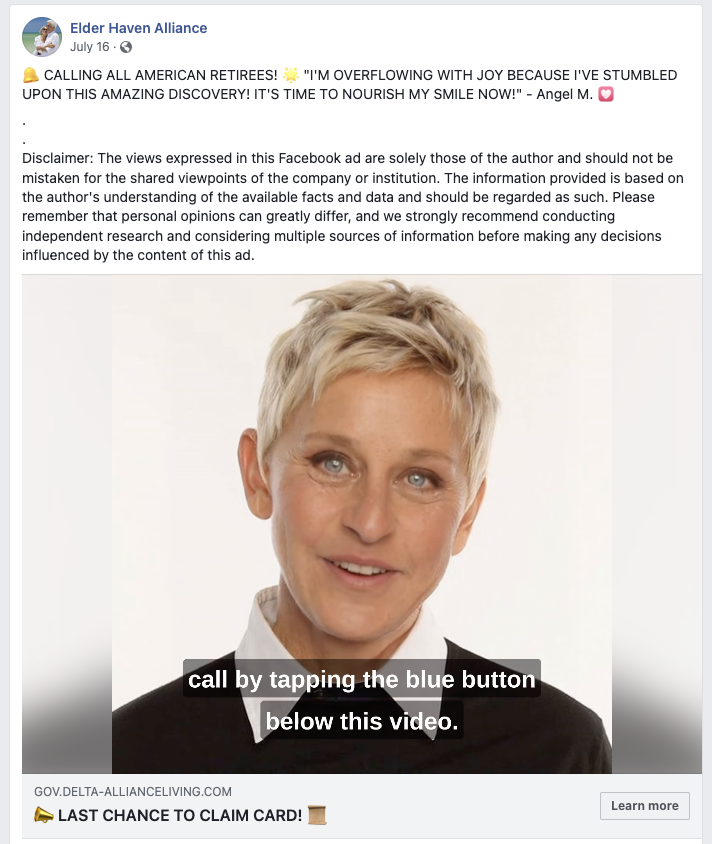 (Source: Facebook screenshot taken on Tue Jul 25 13:42:19 2023 UTC)
One thing that raised questions about the video's authenticity is the note attached to the post. It transfers the responsibility for the content to an unnamed ad creator:
Disclaimer: The views expressed in this Facebook ad are solely those of the author and should not be mistaken for the shared viewpoints of the company or institution. The information provided is based on the author's understanding of the available facts and data and should be regarded as such. Please remember that personal opinions can greatly differ, and we strongly recommend conducting independent research and considering multiple sources of information before making any decisions influenced by the content of this ad.
In the video, "Ellen" does not appear to act naturally. The comedian barely blinks, and her voice sounds robotic.
A reverse image search shows that a still image portraying her with the same hairstyle, wearing the same clothes and looking into the lens from the same angle was available via online stock databases back in 2016 and was used in a BBC article. Lead Stories did not find a similar video from that period or before it that would show the actress endorsing any dental relief cards. That indicates that the video in question was likely made with the help of a deepfake technology that creates a virtual copy of a person (for example, based on publicly available authentic photos) saying things they never said in real life.
A spokesperson on behalf of DeGeneres told Lead Stories via email on July 25, 2023:
This is false and NOT true - she has never endorsed this.
The representative also added that the matter will be passed to the actress' legal team.
Official accounts of DeGeneres on Facebook or Instagram do not mention the purported endorsement.
The comedian does have an online merchandise store, but it doesn't contain any information about the purported giveaway related to a dental relief card program.
Google News' index of thousands of credible news sites did not reveal any factual reports about such a "partnership":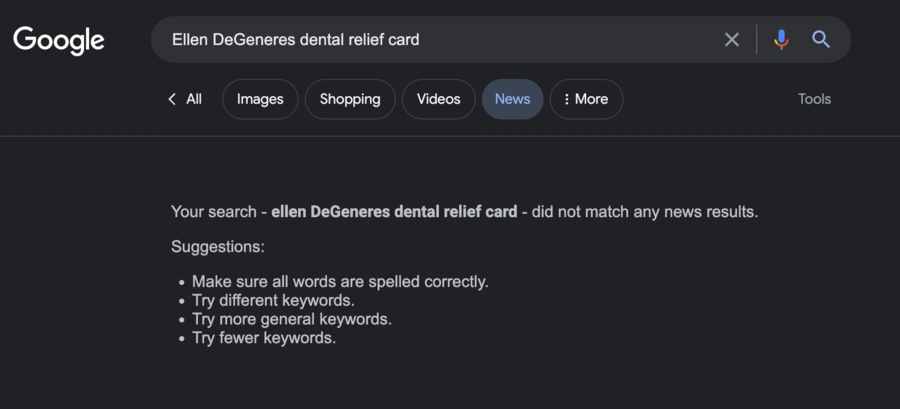 (Source: Google News screenshot taken on Tue Jul 25 15:15:33 2023 UTC)
The website promoted by the ad contained a confusing GOV. prefix in its name, but that did not mean it was an official government resource -- those have .gov at the end, indicating that it is a domain restricted to government use.
If one clicked on the link, the first page would show a disclaimer that said in part:
... By interacting with this advertisement, you agree to the use of your personal data in accordance with the advertiser's privacy policy and terms of use. Please note that information collected may be shared with Facebook for the purpose of improving targeted advertising. By speaking to a live representative, you agree to our privacy policy, agree to receive calls, voicemails, text messages, or emails.
It is not the first scam attempting to capitalize on DeGeneres' name.
In 2019, Lead Stories wrote that DeGeneres was not giving away gift cards, cash, cars or homes to people liking or sharing a Facebook post.
In January 2022, Snopes reported that a similar scam involving the actress's name ran on Facebook for several weeks.
Other Lead Stories fact checks about deepfakes can be found here.