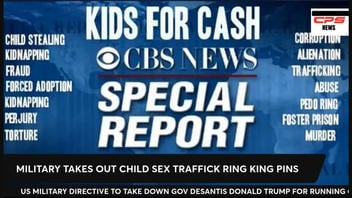 Did U.S. Navy SEALs take down a Florida child trafficking ring and arrest Florida Gov. Ron DeSantis, as was livestreamed on Facebook by Child Parent Safety (Cps) News Network on July 25, 2023? No, that's not true: Presidential candidate DeSantis was not arrested, and the footage of a military operation was not live, but recycled footage taken from staged tactical demonstrations in Tampa, Florida.
This two-hour-long video is clickbait. It was livestreamed on Facebook on July 25, 2023, 12:04 a.m. EDT -- at slightly past midnight in Tampa. The post was published by Cps News Network under the title "MILITARY TAKE DOWN FLORIDA CHILD TRAFFICK RING." It opened:
US NAVY SEALS ARE ARRESTING RON DESANTIS FOR RUNNING CHILD SEX TRAFFICK RING WITH CPS AND JUDGES.

FOSTER WAR 2023 OPERATION SHUT DOWN.
This is what the post looked like on Facebook at the time of writing at 38 seconds into the video: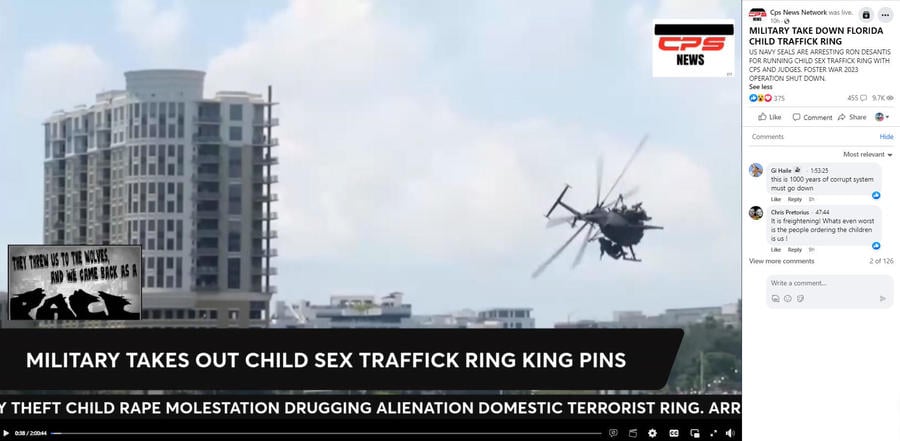 (Source: Facebook screenshot taken on Tue Jul 25 14:36:30 2023 UTC)
The Cps News Network does not represent any official branch of Child Protective Services (CPS). The page has repurposed the CPS acronym to stand for "Child Parent Safety" and is dedicated to shutting down CPS, which they deem unconstitutional. The mission of the Facebook page is outside the scope of this fact check, but it bears clarification that the Facebook page Cps News Network is not part of a state CPS agency.
The opening shot on the screen advertises a CBS News Special Report. "Kids For Cash" was the name of a specific scandal involving two Pennsylvania judges who took kickbacks for sending juveniles to for-profit detention centers between 2003 and 2008. Lead Stories was unable to locate a CBS News Special report by that name but did find the base graphic for CBS News Special Report on the website episodate.com (pictured below).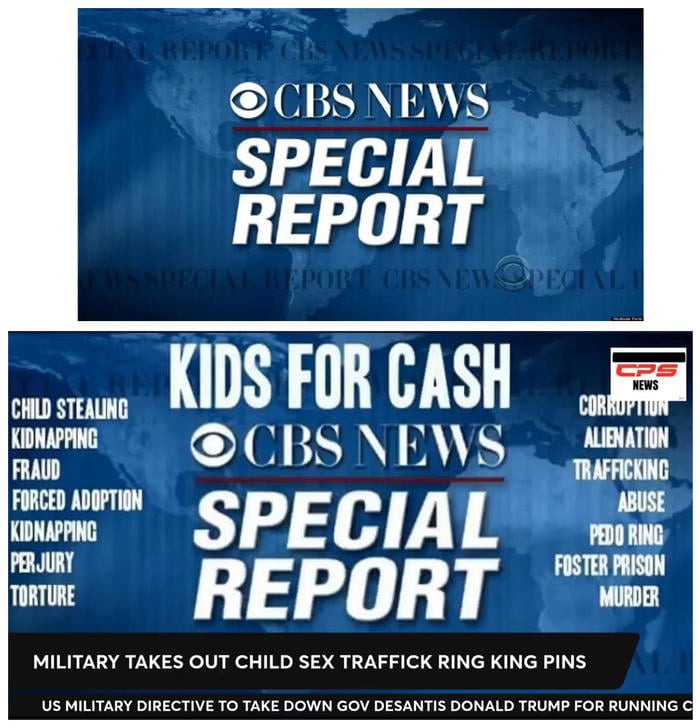 (Source: Lead Stories composite image comparing episodate.com and Facebook.com screenshots taken on Tue Jul 25 19:14:00 2023 UTC)
It appears that this opening image (above) is designed to look like a CBS News Special Report. The words "Kids For Cash" is off center and in a different font without a drop shadow, unlike the original words. The lists of 14 additional abuses are in that second font. The black chyron that says, "MILITARY TAKES OUT CHILD SEX TRAFFICK RING KING PINS" and the news ticker are part of the Cps video graphics, as they remain visible in the later clips that show the helicopter.
The footage showing special forces doing maneuvers over a harbor does not show a livestream of a military operation to arrest DeSantis or to rescue anyone in danger. Instead it shows staged exhibition exercises that were conducted at the Special Operations Forces Industry Conference (SOFIC), which took place regularly in Tampa for 12 years (2022 simulation video here). An announcement on the SOFIC website says there will not be a conference in 2023. The Cps News Network has livestreamed similar videos using footage from SOFIC in the past. One example was posted July 11, 2021, with a similar caption:
US MILITARY MOVES IN ON CPS COPS JUDGE FOSTER CHILD SEX TRAFFICKING FLORIDA DRILL

MILITARY ARRESTS CPS JUDGES FOR CHILD TRAFFICKING FOSTERWAR 2021

US MILTARY MUST UPHOLD THE CONSTITUTION SEIZE AND SHUT DOWN CPS CHILD TRAFFICKING COURTS ARREST JUDGES FOR TREASON
The news video embedded below from
10 Tampa Bay
(WTSP) explains the unusual activity from the SOFIC demonstrations visitors to Tampa might see.
On July 25, 2023, the same day that this prerecorded video was livestreamed, claiming that the military was arresting DeSantis, he was traveling in a motorcade in the Chattanooga, Tennessee, area on his way to a campaign fundraising event when the four cars in the motorcade were involved in a chain reaction crash. Chattanooga police and campaign spokesperson Bryan Griffin both
confirmed to The Associated Press
that DeSantis was unharmed.