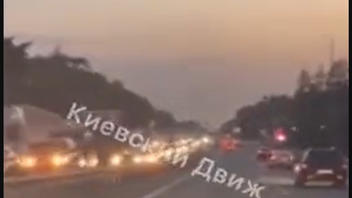 Is there a huge traffic jam leaving Kyiv to get to western Ukraine "right now," on July 17, 2023? No, that's not true: The video shown in this tweet goes back at least to August 22, 2022. It does not show a traffic jam made up of people fleeing Kyiv for western Ukraine due to purported concerns over Russian retaliation because of the July 17, 2023, Ukrainian attack on the Kerch Strait Bridge.
One instance of the original video (archived here) was posted by the Facebook page Наше місто Бровари (Our city is Brovary) on August 22, 2022. The caption suggests it was filmed on the evening of August 21, 2022. The original caption in Ukrainian and the translation by Google is below:
ОСЬ ТАК ВЧОРА ВВЕЧЕРІ ВИГЛЯДАВ В'ЇЗД ДО КИЄВА НА ЖИТОМИРСЬКІЙ ТРАСІ
THAT'S HOW I WAS LOOKING AT THE ENTRANCE TO KYIV ON THE ZHYTOMYR ROAD YESTERDAY EVENING
The video was posted again almost 11 months later. This time it was posted on Twitter (archived here) on July 17, 2023, by @blackdiammon with a false caption:
Right now there is a huge traffic jam for the exit from Kyiv towards western Ukraine.
Residents of the capital are leaving the city, because they are afraid of massive retaliation attacks by the Russian Aerospace Forces on the city because of the terrorist attack on the Crimean bridge.
This is what the post looked like on Twitter at the time of writing: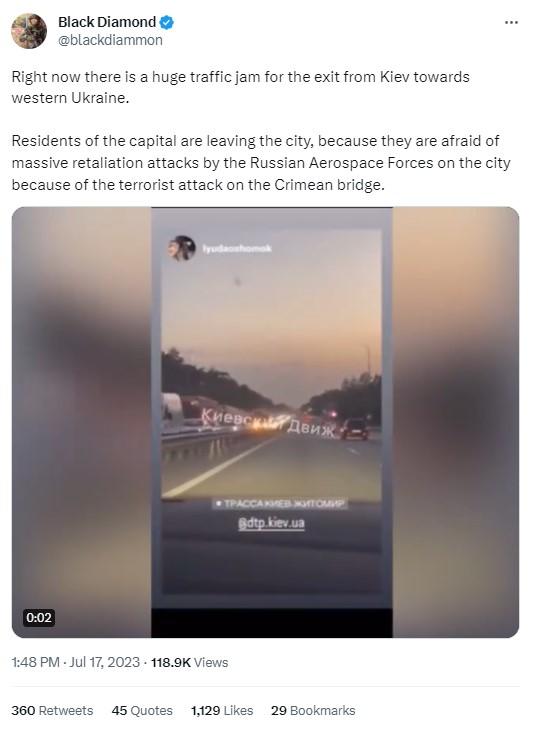 (Source: Twitter screenshot taken on Thu Jul 20 13:14:24 2023 UTC)
The video posted on Twitter in 2023 (pictured above) is the same video that was posted on Facebook in 2022 (pictured below). Both include the same profile picture and Instagram handle, @lyudaoshomok. The video also has the location tag "ТРАССА КИЕВ ЖИТОМИР," which means "ROUTE Kyiv ZHYTOMYR," and is also tagged with @dtp.kiev.ua. That's a crowdsourced traffic website that describes their service this way:
We, Ukrainians, are road traffic participants every day. Every traffic accident, state of emergency, cases of rudeness and violence create threats to people's lives and health.

The project started as a civil position of one person, but over the years of work it has grown into friends, participants and supporters. A huge number of caring people who read, watch, share, learn, distribute take part in the project every day. As a result, we are all more responsible for what is happening in our country.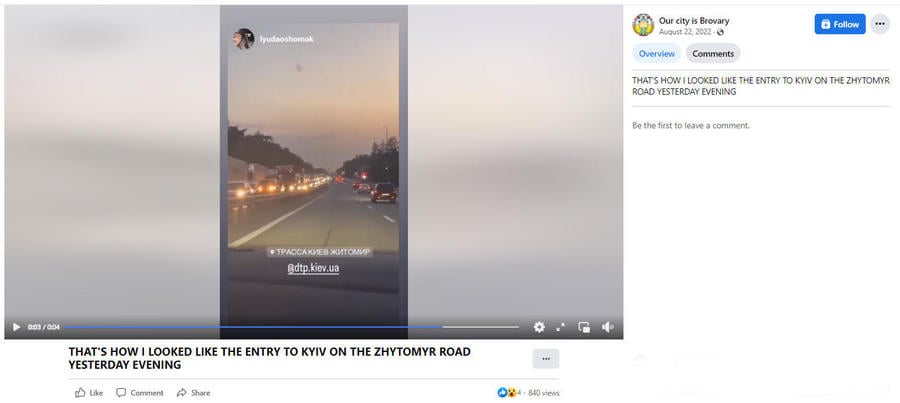 (Source: Facebook screenshot taken on Thu Jul 20 13:14:24 2023 UTC)
The Kerch Strait Bridge, a strategic link and supply line for Russia that connects the Crimean Peninsula to Russia, was attacked again on July 17, 2023. CNN reported that a Ukrainian official claimed Kyiv's responsibility for the attack, which was carried out with naval drones. This is the same bridge that had been previously attacked on October 8, 2022.
Other Lead Stories fact checks about the war in Ukraine can be found here.