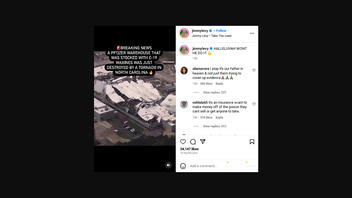 Was a Pfizer manufacturing site in North Carolina that was damaged by a tornado "stocked with" COVID-19 vaccines? No, that's not true: A Pfizer spokesperson told Lead Stories that COVID-19 vaccines are not made or stocked at the facility.
The claim appeared in a post published to Instagram on July 19, 2023. It included a video that contained text reading "🚨Breaking News A Pf!3zer Warehouse That Was Stocked With C-19 Waxines Was Just Destroyed By A Tornado In North Carolina 🔥." Many of the words seemed intentionally misspelled to avoid detection by social media platforms. The caption of the post read:
HALLELUYAH! WONT HE DO IT 💪
This is how the post looked on Instagram at the time of writing: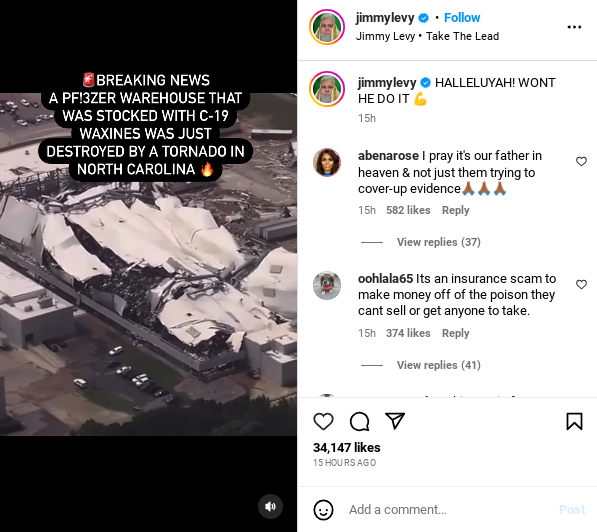 (Source: Instagram screenshot taken on Thu Jul 20 14:31:27 2023 UTC)
The tornado
On July 19, 2023, a tornado with estimated peak winds of 150 mph, hit both Nash County and Edgecombe County in eastern North Carolina. That area contains Rocky Mount, a city in North Carolina where a Pfizer manufacturing facility is located. The tornado severely damaged the building and other structures in its path, such as a stretch of Interstate 95. Although several people were injured, there are no reports of any deaths caused by the tornado at the time of writing.
A Twitter thread posted on July 19, 2023, by Pfizer's official Twitter account confirmed that a tornado did hit the company's Rocky Mount manufacturing facility and that those who worked there were safe. The thread also said that the company was "assessing the situation to determine the impact on production."
Pfizer statement
In an email sent to Lead Stories on July 20, 2023, Steven Danehy, a Pfizer spokesperson refuted the claim:
The Pfizer Rocky Mount site has never manufactured nor stored our COVID-19 vaccine.
Pfizer Rocky Mount manufacturing site
According to Pfizer's website, the Rocky Mount manufacturing facility that was impacted by the tornado is "one of the largest sterile injectable facilities in the world." The Pfizer website continues:
At this facility, a wide range of products are produced, including anesthesia, analgesia, therapeutics, anti-infectives and neuromuscular blockers. These products are available in small volume presentations, such as ampules, vials and syringes, and large volume presentations, such as IV bags and semi-rigid bottles.

More than 400 million units leaving the Rocky Mount site annually help treat patients around the world.
Related Lead Stories fact checks
Lead Stories regularly debunks claims related to COVID-19 and COVID-19 vaccines. Those fact checks can be found here. Lead Stories fact checks specifically related to Pfizer can be found here.