STORY UPDATED: check for updates below.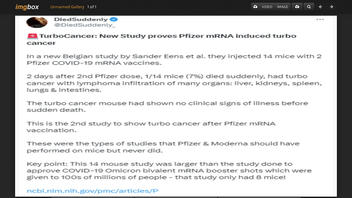 Does a new study prove that the Pfizer mRNA COVID-19 vaccine causes "turbo cancer"? No, that's not true: The study cited in the social media post doesn't show that the Pfizer mRNA COVID-19 vaccine induces something called "turbo cancer." Additionally, a cancer expert wrote, "'Turbo cancer' is not a thing." It's not a recognized medical term.
The claim appeared in a post on Twitter (archived here) published on July 7, 2023, titled "🚨TurboCancer: New Study proves Pfizer mRNA induced turbo cancer." The caption of the post says:
In a new Belgian study by Sander Eens et al. they injected 14 mice with 2 Pfizer COVID-19 mRNA vaccines.

2 days after 2nd Pfizer dose, 1/14 mice (7%) died suddenly, had turbo cancer with lymphoma infiltration of many organs: liver, kidneys, spleen, lungs & intestines.

The turbo cancer mouse had shown no clinical signs of illness before sudden death.

This is the 2nd study to show turbo cancer after Pfizer mRNA vaccination.

These were the types of studies that Pfizer & Moderna should have performed on mice but never did.

Key point: This 14 mouse study was larger than the study done to approve COVID-19 Omicron bivalent mRNA booster shots which were given to 100s of millions of people - that study only had 8 mice!

https://ncbi.nlm.nih.gov/pmc/articles/P
This is what the post looked like on Twitter at the time of writing: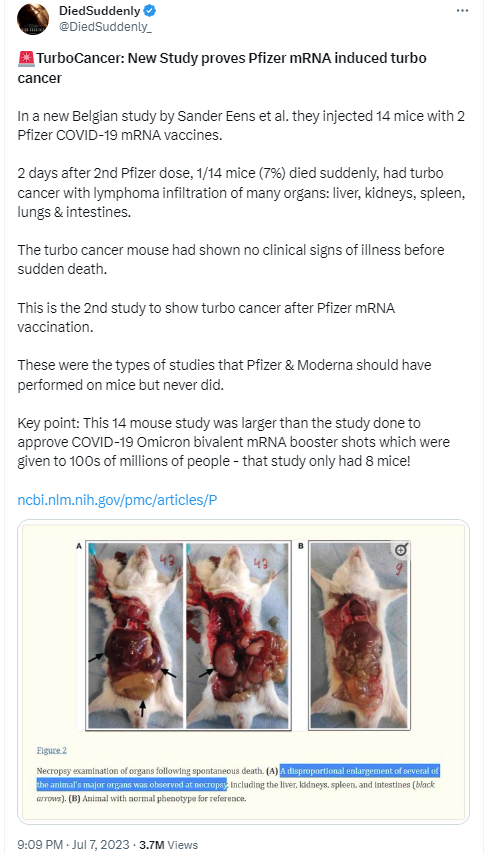 (Source: Twitter screenshot taken on Mon Jul 10 17:04:25 2023 UTC)
The study
The study cited in the post, "B-cell lymphoblastic lymphoma following intravenous BNT162b2 mRNA booster in a BALB/c mouse: A case report", makes no mention of any condition called "turbo cancer." In addition, the study never links the Pfizer COVID-19 vaccine to cancer. There are three different times in which the study says that it can't prove the vaccine causes cancer (emphasis ours) :
The emergence of malignant lymphoma is one of such rare adverse events that has raised concern, although an understanding of the mechanisms potentially involved remains lacking.
In spite of their undisputed success in decreasing COVID-19-associated hospitalizations and mortality, with over 13 billion doses administered globally, a variety of adverse events associated with COVID-19 vaccination have been reported among the general population. The emergence of malignant lymphoma following mRNA COVID-19 vaccination is one of such rare adverse events that has raised concern, although evidence for causality and a deeper understanding of the mechanisms potentially involved are lacking.
Although strong evidence proving or refuting a causal relationship between SARS-CoV-2 mRNA vaccination and lymphoma development or progression is lacking, vigilance is required, with conscientious reporting of similar cases and a further investigation of the mechanisms of action that could explain the aforementioned association.
Pfizer
In a July 10, 2023, email to Lead Stories, Pfizer global media relations provided this statement from the company in response to the claim from the social media post:
As part of the ongoing safety monitoring system held by international regulators and Pfizer's own monitoring systems, there has been no observation suggesting a causal association between this (COVID vaccine and cancer). Vaccine safety remains of utmost priority for Pfizer and BioNTech and every event, even if rare, is considered.

With hundreds of millions of people vaccinated with the Pfizer-BioNTech COVID-19 vaccine to date, the benefit-risk profile of our vaccine remains positive.
Centers for Disease Control and Prevention
Press officer Dave Daigle with the Centers for Disease Control and Prevention (CDC) provided the public health agency's response to the claim in a July 10, 2023, email to Lead Stories. It said:
To date, CDC has detected no unusual or unexpected patterns of cancer following immunization that would indicate COVID-19 vaccines are causing or contributing to the condition. CDC continues to recommend that everyone who is eligible should get vaccinated.
The CDC says everyone ages 6 months and older should receive updated COVID vaccines
Food and Drug Administration
The U.S. Food and Drug Administration told Lead Stories in a July 11, 2023, email that there's nothing to support the cancer claim in the post. Carly Pflaum, a press officer at the FDA, provided the agency's response. It said:
Extensive monitoring of adverse events reported after vaccination with authorized and approved COVID-19 vaccines to the Vaccine Adverse Event Reporting System (VAERS) does not show a safety signal for any type of lymphoma or other cancers, including aggressive tumors.

COVID-19 vaccines have undergone--and continue to undergo--the most intense vaccine safety monitoring in U.S. history. The FDA and CDC stand firmly behind the safety and effectiveness of the mRNA COVID-19 vaccines, which are fully supported by the available scientific data. Staying up to date on vaccination is the best way to reduce the risks of death and serious illness or hospitalization from COVID-19, in addition to providing a modest benefit in the prevention of infection.

The evidence is overwhelming that the benefits of vaccination against COVID-19 clearly outweigh the risks. However, like every other medical intervention, there are potential adverse effects from vaccination. Reports of death or serious adverse events from COVID-19 vaccines are rare and are far outweighed by the benefits of these vaccines for every age group.
Vaccine Adverse Event Reporting System
In the United States, VAERS, which the CDC co-sponsors with the FDA, operates as a crude early warning system and not as a database for the quantification of specific outcomes following vaccination.
Anyone with internet access can add a report to the VAERS list of reports. The public access link to it expressly warns against unwarranted conclusions based on VAERS material because the list only provides a tally of unverified notes about any health event people experience after they are vaccinated.
The list itself cannot be used to prove or quantify, since all it shows is a chronological correlation, not the causal link that would be more difficult to establish. It's the equivalent of a police precinct's running "blotter" reports that may serve as a starting point for police work, not an endpoint.
What is "turbo cancer"?
Dr. David Gorski, a surgical oncologist with the Cancer Biology Program at Wayne State University's School of Medicine, dismissed the notion of "turbo cancer" in an article published December 19, 2022, in Science-Based Medicine called "Do COVID-19 vaccines cause 'turbo cancer'"? He said:
Over the last several months, antivaxxers have been claiming that COVID-19 vaccines cause 'turbo cancer', cancers (or cancer recurrences) of a particularly aggressive and fast-growing variety diagnosed in younger and younger patients. 'Turbo cancer' is not a thing, and the evidence cited is as weak as any antivax 'evidence', including anecdotes and misinterpretation of epidemiology.
Memorial Sloan Kettering Cancer Center
The Memorial Sloan Kettering Cancer Center calls the idea that mRNA vaccines can cause cancer a myth. The hospital's website says:
None of the vaccines interact with or alter your DNA in any way, and therefore cannot cause cancer.

Messenger RNA (mRNA) is not the same as DNA and cannot be combined with DNA to change your genetic code. Here's now mRNA vaccines actually work:

The mRNA vaccines use a tiny piece of the coronavirus' genetic code to teach your immune system how to make a protein that will trigger an immune response if you get infected. The mRNA is fragile and it delivers the instructions to your cells to make antibodies against SARS-CoV-2. The mRNA does not enter the nucleus of the cell -- the part that contains your DNA.

Therefore, there is no truth to the myth that somehow the mRNA vaccine could inactivate the genes that suppress tumors.
Additional Lead Stories fact checks of claims related to vaccines can be found here.
2023-07-11T21:03:29Z

2023-07-11T21:03:29Z

Adds response from the FDA and VAERS explanation.

2023-07-11T02:01:40Z

2023-07-11T02:01:40Z

Returns headline to original version

2023-07-11T01:36:02Z

2023-07-11T01:36:02Z

Headline revised to clarify Lead Stories' findings.