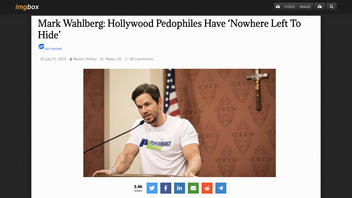 Did the actor Mark Wahlberg declare war on "Hollywood pedophiles" in July 2023, announcing that they have "nowhere left to hide"? No, that's not true: The purported quote came from a source with a rich history of spreading false statements, and the actor's representative refuted the claim. Lead Stories found no evidence that the purported event ever took place.
The story originated from an article (archived here) published by The People's Voice on July 12, 2023, under the title:
Mark Wahlberg: Hollywood Pedophiles Have 'Nowhere Left To Hide'
The piece continued:
Hollywood actor Mark Wahlberg told hundreds of people at a Sunday school meeting in Los Angeles that a small yet powerful group of Hollywood insiders has declared war on the 'evil' entertainment industry elite who traffic in children, and 'Hollywood pedophiles have nowhere left to hide.'
Here is what the article looked like at the time of writing: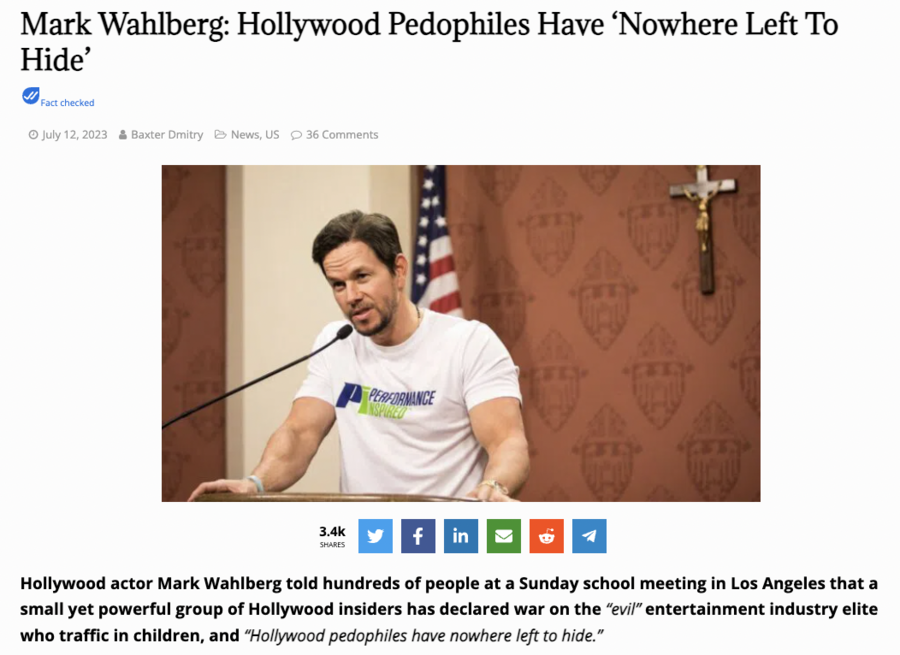 (Source: The People's Voice screenshot taken on Fri Jul 14 19:05:34 2023 UTC)
Wahlberg's representative told Lead Stories via email on July 14, 2023:
This story is completely false.
Lead Stories did not find any evidence suggesting that the actor actually said what the People's Voice piece attributed to him. The article failed to mention the exact date and precise place of the supposed event. It did not quote testimonials of eyewitnesses.
The photo of Wahlberg in what appears to be a church reused as an illustration in the article in question was not taken in 2023.
According to TinEye, the image first appeared in a 2017 Chicago Sun-Times article, now available only in the archived version. It was a report about "an Archdiocese event at the UIC Pavilion billed as a night of faith-based discussion and live music to engage young people," during which "Wahlberg credited his Catholic faith with helping get his life on track during his adolescence, when he served time in prison for assault and battled substance abuse."
The Chicago Sun-Times article did not discuss either pedophilia or the culture of Hollywood.
Wahlberg's Instagram account did not show the alleged remarks posted on July 9, 2023, which was the Sunday before the article's publication.
A search for terms Wahlberg and pedophiles on Google News does not show credible media reports covering the purported "news."
A search for the actor's last name and the quote attributed to him in the headline produces no relevant results on Google News or on other webpages, except for the duplicates of the claim. Just like the People's Voice piece, they did not provide verifiable details proving that the event actually happened.
Lead Stories also reached out directly to the actor via his social media. If we get a response, this article will be updated as appropriate.
While journalistic investigations (for example, here) have revealed real cases of sexual abuse in the entertainment industry, those stories were the result of a long, meticulous process of evidence-gathering, not obscure assumptions without supporting independent evidence. Rumors of powerful pedophile rings continued to proliferate on social media even after the 2016 "Pizzagate" theory that nearly led to violence in the offline world was debunked.
The People's Voice has a lengthy record of publishing false stories in the past. It describes itself as a resource "comprised of various web pages operated by Fact Checked Limited," but it has nothing to do with fact-checking.
As of this writing, its website contained a liability disclaimer, saying:
FACT CHECKED LIMITED AND/OR ITS SUPPLIERS MAKE NO REPRESENTATIONS ABOUT THE SUITABILITY, RELIABILITY, AVAILABILITY, TIMELINESS, AND ACCURACY OF THE INFORMATION, SOFTWARE, PRODUCTS, SERVICES AND RELATED GRAPHICS CONTAINED ON THE SITE FOR ANY PURPOSE. TO THE MAXIMUM EXTENT PERMITTED BY APPLICABLE LAW, ALL SUCH INFORMATION, SOFTWARE, PRODUCTS, SERVICES AND RELATED GRAPHICS ARE PROVIDED 'AS IS' WITHOUT WARRANTY OR CONDITION OF ANY KIND.
Other Lead Stories fact checks about Hollywood can be found here.