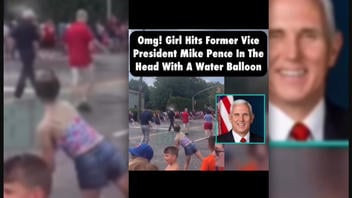 Did a young woman blindside former vice president Mike Pence while he was walking in a parade, hitting him squarely in the back of the head with a water balloon? No, that's not true: The video shows the Stewart Manor 4th of July Parade in Hempstead, New York, where throwing water balloons is part of a long standing tradition -- not a furtive disrespectful attack. The silver-haired politician walking in the parade who was waving and giving thumbs-up to the crowd just before he was beaned with a water balloon is not Mike Pence but Nassau County, New York, Executive Bruce Blakeman.
The video was filmed during the 4th of July Parade in the village of Stewart Manor. Nassau County Executive Blakeman posted the video on Twitter and Facebook on July 12, 2023, congratulating the young woman's throw in his caption, which also tagged the New York major league baseball teams:
The @Mets and @Yankees could certainly use her!
The video was reposted many times with claims that the man who was hit with the water balloon was Mike Pence. One example was posted on Instagram on July 14, 2023, by comedian DL Hughley. It was captioned:
Naahhhhh... not cool.




She gotta helluva arm though 👀🤷🏾‍♂️


#TeamDL
The video had text captioning that reads:
Omg! Girl Hits Former Vice President Mike Pence In The Head With A Water Balloon
This is how the post appeared at the time of writing: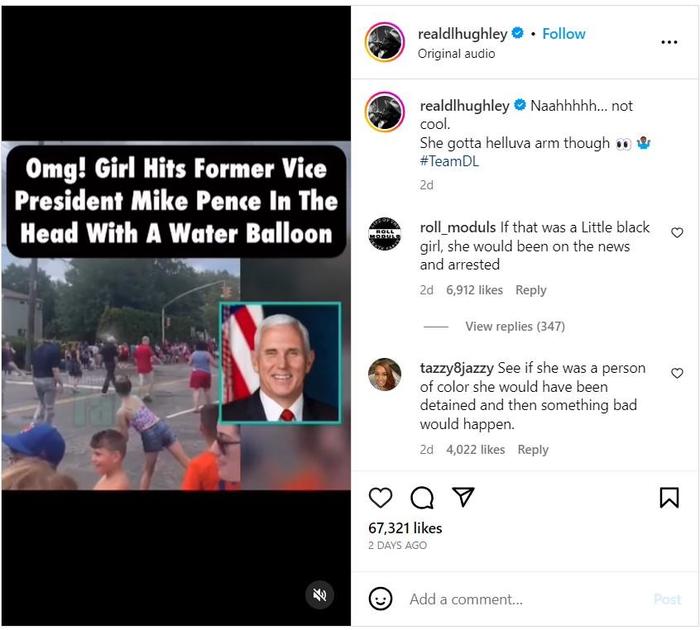 (Image source: Instagram screenshot taken on Mon Jul 17 14:52:09 2023 UTC)
A July 4, 2023, article published by CBS New York explains the parade's water balloon fight has been a village tradition for nearly 20 years. The article, titled, "Water balloons help make a splash at annual Stewart Manor's annual 4th of July parade," includes an embedded video with additional footage of the wet streets and onlookers armed with coolers full of balloons and super soakers. The village of Stewart Manor is in the town of Hempstead in Nassau County on Long Island, just over 20 miles from New York City.
Hempstead town receiver Jeanine C. Driscoll made a July 5, 2023, post on Facebook, decorating the caption with water balloon emojis and American flags, and tagging town officials who were pictured in her photos. Posed in front of a fire engine below is the group who were walking in the parade with Blakeman (in black) when he was hit by the water balloon.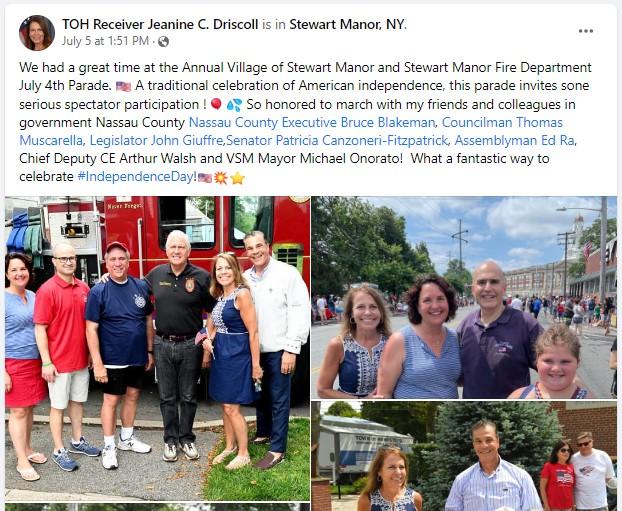 Mike Pence did walk in a parade on the 4th of July, he was campaigning for the 2024 presidential election in Urbandale, Iowa. Several tweets with photos from the day's events were posted (one example embedded below) to Pence's Twitter account.
What an amazing and patriotic morning in @CityofUrbandale, IA! @KarenPence and I had the best time walking in the Urbandale 4th of July Celebration Parade as we celebrate Freedom today and every day! 🇺🇸#IndependenceDay pic.twitter.com/uIujK7C0m1

-- Mike Pence (@Mike_Pence) July 4, 2023