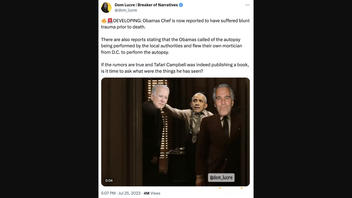 Did Tafari Campbell, the Obamas' personal chef, suffer "blunt force trauma" prior to his July 2023 drowning death? No, that's not true: The Massachusetts State Police told Lead Stories that there were "no external trauma or injuries" observed in Campbell after his body was found in Edgartown Great Pond near former President Barack Obama's home on Martha's Vineyard.
The claim appeared in a post on Twitter on July 25, 2023, (archived here) which opened:
🔥🚨DEVELOPING: Obamas Chef is now reported to have suffered blunt trauma prior to death.

There are also reports stating that the Obamas called of the autopsy being performed by the local authorities and flew their own mortician from D.C. to perform the autopsy.

If the rumors... https://t.co/ELAADnCcOQ
This is what the post looked like on the platform formerly known as Twitter at the time of writing: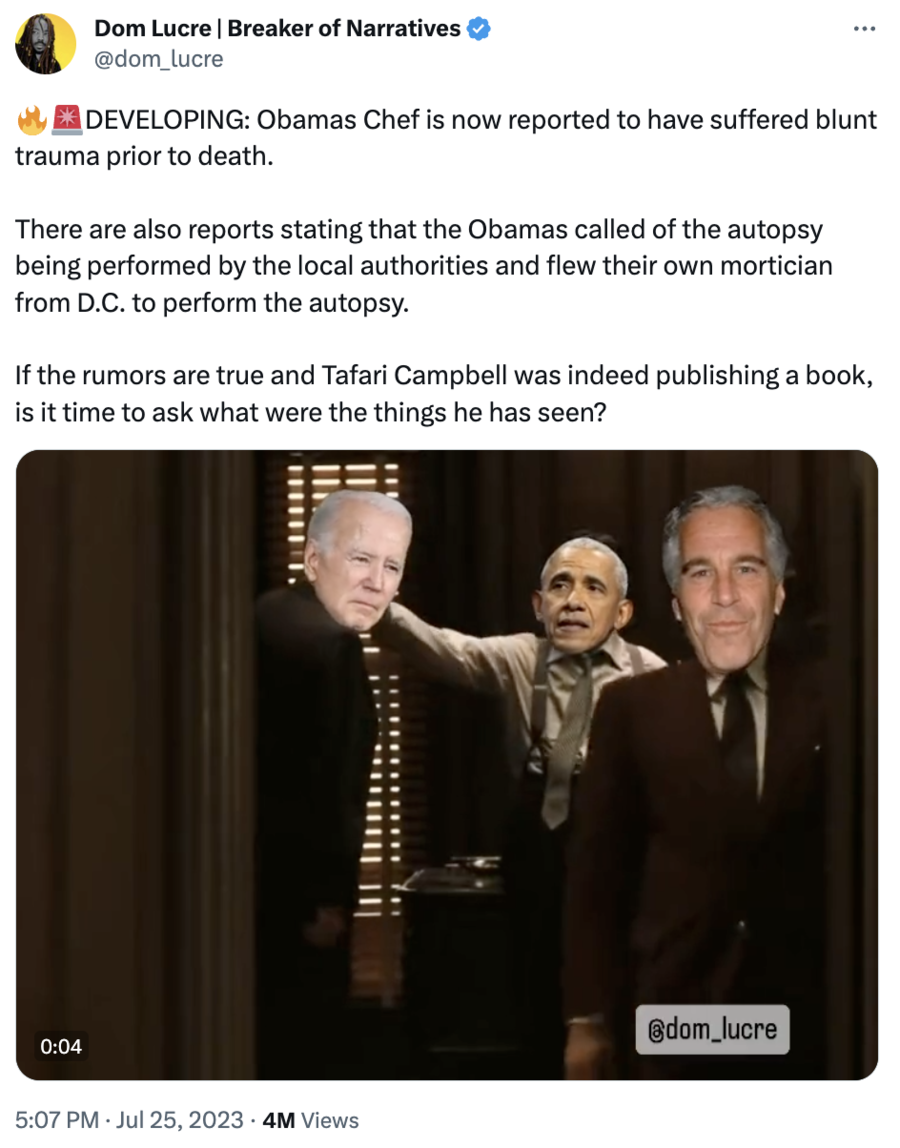 (Source: Twitter screenshot taken on Thu Jul 27 20:35:03 2023 UTC)
The post does not specify what "reports" it refers to, nor does it give any sources for any part of the claim.
The claim that "Obamas Chef is now reported to have suffered blunt trauma prior to death," is false. "The on-scene observation of the victim by State Police personnel and the post-mortem examination by the Office of the Chief Medical Examiner revealed no external trauma or injuries," Dave Procopio, director of the media relations unit in the Massachusetts State Police confirmed to Lead Stories via email on July 27, 2023.
The Obamas did not "call off" the autopsy for Campbell, who drowned while paddle boarding at their property on Martha's Vineyard on July 23, 20223. A physical and internal examination of Campbell was conducted by the Office of the Chief Medical Examiner for the state of Massachusetts, Procopio told Lead Stories.
He explained that the "initial post mortem" that was conducted on Campbell is described as such because "an autopsy generally includes a physical examination of the body and internal organs, as well as toxicology tests to determine whether indications of any substances are present in a decedent's blood." The results of the toxicology tests are not yet finalized, which Procopio said was "standard" because "they generally take several weeks."
Other Lead Stories fact checks about Tafari Campbell and the Obamas can be found here.