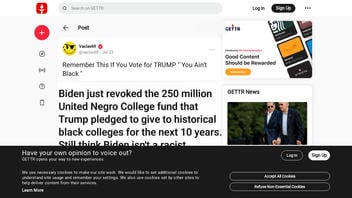 Did President Joe Biden take away $250 million in funding for the United Negro College Fund (UNCF) that is dedicated to historically Black colleges and universities (HBCUs)? No, that's not true: The Biden administration has provided funding to HBCUs and other minority-serving institutions (MSIs) during his presidency. The federal government, however, does not provide any funding to HBCUs through the UNCF, which is a nonprofit organization.
The claim appeared in an image on Gettr published on July 23, 2023. The text in the image opened:
Biden just revoked the 250 million United Negro College fund that Trump pledged to give to historical black colleges for the next 10 years.
This is how the post looked on Gettr at the time of writing: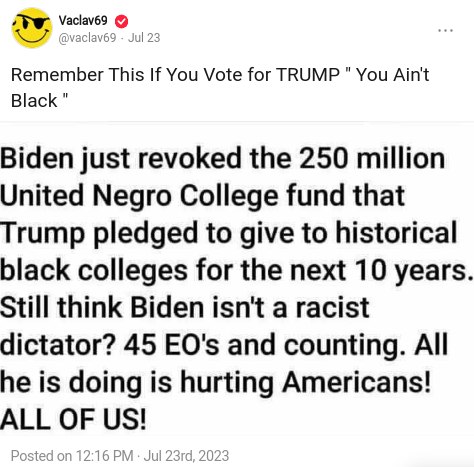 (Source: Gettr screenshot taken on Thu Jul 27 14:26:56 2023 UTC)
Lead Stories could not find any legislation signed by Biden that calls for the removal of $250 million in funding toward HBCUs. The $250 million discussed in the claim seems to refer to funding mandated by the Fostering Undergraduate Talent by Unlocking Resources for Education Act, also known as the FUTURE Act. The act was signed by former President Donald Trump in 2019 and provided a combined funding amount of $255 million for HBCUs and MSIs that began in fiscal year 2020. At the time of the writing of this fact check, the $255 million provision is still in effect.
Biden has actually championed HBCU funding during his time in office. As explored in a Lead Stories fact check published in 2021, Biden proposed that these institutions receive tens of billions of dollars in funding. Lead Stories spoke with Lodriguez Murray, UNCF senior vice president of public policy and government affairs, for that fact check. Murray told us that "The president is not the government," explaining that although Biden suggested much higher figures to fund HBCUs and other MSIs, Congress was responsible for significantly lowering the proposed amounts.
In total, the Biden administration has said that it has committed close to $6 billion in HBCU funding, which includes the $2.7 billion promised to HBCUs through the American Rescue Plan. In January 2022, Cedric Richmond, the Biden administration's former director of the White House Office of Public Engagement and an HBCU graduate, said that HBCUs should expect even more funding from the administration.
Additionally, the UNCF does not receive federal funding. Thus, any funding meant for the UNCF does not originate from the federal government.
Other Lead Stories fact checks related to HBCUs can be found here.